British Military Fitness Co-Founder Harry Sowerby
The BMF co-founder on creating something new and changing people's lives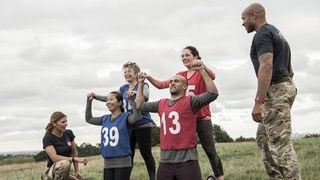 (Image credit: unknown)
Where there's sweat, there's brass. Health and fitness is big business, so Coach has interviewed clever entrepreneurs to find out how they found new ways to meet the public's demand.
RECOMMENDED: Tough Mudder Founder Will Dean on Building an Empire
Harry Sowerby, 44, is co-founder and MD of British Military Fitness. British Military Fitness launched in 1999 and now employs 400 instructors across 140 venues, delivering outdoor group fitness classes for all abilities to 13,000 weekly participants. Harry lives with his wife and their golden labrador in London.
What is British Military Fitness?
BMF was started by me and two fellow soldiers in June 1999. We deliver outdoor fitness classes to the public, with the motivation you'd expect from the British military. It's not belittling, it's empowering. We use bibs; blue for beginner, red for intermediate and green for the mega fit. There are 10 to 15 people in a class. All the trainers have a British Military background and wear their regiment's belt. We started in Hyde Park and Battersea with two classes and now we have 400 instructors, 13,000 weekly participants and 140 venues.
RECOMMENDED: Outdoor Fitness Classes in London
Where did the idea come from?
We were bored on the set of Saving Private Ryan, thinking there must be something better we could do. I'd returned from my army PTI [personal training instructor] course and my co-founder was training his girlfriend. She said, "You should do this for a job."
We invented an entire fitness industry. We didn't copy anyone, it's totally original.
How hard was it to get it off the ground?
Everyone said, "You're mad, it'll never work." Army guys said, "Who'd pay for that?" My dad was happy I was doing anything by that point. The three of us egged each other on. Friends rallied with PR, turning up to be photographed, and giving their time to help us launch. We had no funding, no five-year plan, no business plan, just a class plan. The three of us put in £1,000 each. We spent £1,000 on an advertisement in the Evening Standard and waited. Ten people came to the first one. We made loads of mistakes: we once handed out flyers by High Street Kensington Tube with a date on – wrong.
What have you learnt from your customers?
They're not all the same. We deal with individuals with low self-esteem, or who are overweight, or mega-fit triathletes and we have to make them all feel a part of something. One lady turned up who was massively overweight. We turned her away to get a doctor's note. She came three times a week for a year, and I took her with a group hill-walking in Wales. She was dancing on the table. I said, "You're looking amazing." She said, "It's the first time I've worn jeans for 14 years."
Why is BMF so popular?
It's a shared experience, a bit like the army. We concentrate on the social side; we've had weddings! Every instructor has been at the point when he feels he can't go any further – these people are starting their fitness journey, we know how it feels to be on the edge. We've changed people's lives, and that's a big deal.
What's your own interest in health and fitness?
In the army, I wanted to be fit, to be in teams and run up hills. You don't need to be the fittest, but if you're fit you get loads of rest while you wait for everyone. Fitness affects your life; you're not getting fit drinking and talking about it with your mates. If you're not fit enough to hill-walk with friends, or to be part of a surfing weekend, you drift away from your group.
What do you wish you'd known when you started?
We expanded too quickly and didn't have the business acumen to control it, which was almost our downfall. We should have consolidated in London first. Now we've got a business plan. No one else is in charge and I've got no regrets about it being hard.
What's next?
There'll always be a demand; people want the personal touch. Next is corporate classes – we'll come to your office if you can't come to us.
Sign up for workout ideas, training advice, reviews of the latest gear and more.