Fitness Blogs: The Top 10 #MotivationGurus
Check out the top 10 top health, beauty and fitness blogs, picked by Women's Fitness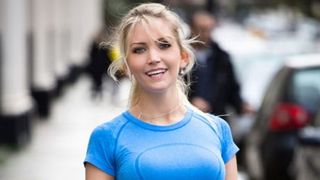 (Image credit: Unknown)
There's a lot to love about the internet – ASOS, Ryan Gosling memes and hilarious cat GIFs for a start. There are definitely days when we can waste hours clicking on websites dedicated to fun stuff, but not actually learn a thing. But, a wealth of research tells us that the web is a force you can harness for fitness and weight-loss gains, whether it's tweeting about your slim-down goals or checking in to gyms on Facebook. The University of South Carolina recently found that Tweeting your fitness goals may help you lose weight. And if you know where to look, you'll find an army of fitness, health and beauty gurus bursting to share their expert knowledge with you. They're called bloggers – and (as well as our magazine, obvs) they'll be your trusted guides and companions on your wellness journey.
Need some fresh reading material to fire up your grey matter and inspire you to a better body? We've found 10 top bloggers in the fitness, health and beauty arenas to liven up your log-on. Get clicking.
The Fashionable Fitness Guru: Fitness On Toast by Faya Nilsson
Finally! A fitness blog combining street-smart style with serious workout goals is here. Faya is a Swedish personal trainer in London with an interest in nutrition and fashion, and Fitness On Toast brings her passions together. Her friendly, genuine tone makes you want to sit up and take notice, and her street-style photos of cute workout gear and sassy everyday outfits are inspiring. "A lot of fitness advice sites seem to have an agenda to sell you something. I wanted Fitness On Toast to be an unbiased, honest, organic view on fitness, nutrition and fashion – all in one single, friendly and accessible place," says Faya. Mission accomplished. fitnessontoast.com
The Beauty Guru: The Burgundy Book by Rema Gouyez Benallal
You'll never miss a beauty beat thanks to Brit-in-Canada Rema, who created the blog as an avenue to showcase her obsession for all things beauty. "A lot of the time I tell stories about the beauty finds that have stolen my heart," says Rema. "I won't just talk to you about the shade and price of a product – I'll tell you the story of how we fell in love and why my newest perfume has actually become a character in my day-to-day life."
Daring with colour and style, Rema is ahead of the curve in trends and, best of all, pokes fun of herself along the way. Our kind of gal. theburgundybook.com
The Motivation Guru: Live Hard by Joel Snape
Anyone who's interested in making their life better (who isn't?), listen up. Men's Fitness contributing editor Joel is using his blog Live Hard to prove just how easy it is to get more out of life. "My interests are quite varied, so it's about connections between often very different fields that more specialised people might miss," explains Joel. "Say, the similarities between deadlifting and trying to write a novel, or how making the perfect Sunday roast is quite similar to learning to play guitar really, really well."
After reading the clever posts covering work/life balance, social skills and weight lifting, you'll wonder how you never saw the simplicity in being the best you can be, without sacrificing any of the things you love. "I'm trying to get across the idea that all your goals can actually tie together," Joel adds. "Work hard, play hard, party hard – live hard." livehard.co.uk
The Eco Guru: A Brighter Shade of Green by Yanar Alkayat
Beauty blogs aren't all about colour pops and achieving dramatic looks. A Brighter Shade of Green approaches beauty from an everyday perspective – think natural make-up – with an eco twist that's as good for your health and the environment as your image. "I think the range of posts is unique as they are divided under inner health, outer beauty, style and green living," explains Yanar. "It's a space where articles on yoga and meditation can sit alongside tips on how to recycle old clothes."
If you're interested in being kind to your body and the planet when washing your hair, choosing a lippie or anything else beauty and lifestyle-related, check in on this blog to keep your green feet on track. brightershadeofgreen.co.uk
The Nutrition Guru: The Harcombe Diet by Zoe Harcombe
When it comes to the best way to eat for inner and outer health, there's so much conflicting advice that it's hard to know what to believe. Author Zoe couldn't agree more, which is why she blogs. "I write to challenge conventional thinking and to show how much bad science prevails in this field," she says. "It's meant to provoke thought, to stimulate debate, as much as to educate and influence people."
If you're looking for straightforward health and nutrition guidance in an easy-to-digest, helpful format then Zoe's blog fits the bill. Her vigilance in sourcing her information (she even conducts her own studies!) instils confidence. zoeharcombe.com/blog
The Running Guru: Lazy Girl Running by Laura Fountain
Running is probably one of the most accessible ways to get active, and Laura proves how keeping record of your progress can take you the extra mile – literally and figuratively. 'When I started I had no clue how to run or blog, but five years on I've run five marathons,' she says. 'Sometimes I'm not sure whether the blogging kept the running going or vice versa but they've definitely complemented each other.'
Laura went on to write ebook The Lazy Runner about her transition from a couch potato to a fully-fledged marathon runner. Her blog is perfect for all kinds of runners, from newbies and beyond, and it covers everything from training to kit reviews, with some great light-hearted humour thrown in for good measure. It's refreshing to see through the eyes of a serious runner who isn't afraid to have some fun. lazygirlrunning.com
The Health Guru: Mark's Daily Apple by Mark Sisson
Author of The Primal Blueprint and former elite endurance athlete Mark Sisson has helped transform lives through his books and blog, both offering tips and information on simple lifestyle tweaks that can boost your health. The blog is packed full of easy recipes, real-life transformation stories and Q&As, but it's Mark's own story that makes this blog essential reading.
"I was forced to retire early due to injury and illness," he explains. "I 'fixed' myself by calling upon my biology background and desire to be as fit and strong as I could with as little struggle and sacrifice as possible. Using evolutionary biology and modern genetic science, we provide lifestyle suggestions that can help flip the hidden genetic switches we all have to build strong, fit bodies."
Get on board if you're interested in improving your health and want to explore the paleo lifestyle trend. marksdailyapple.com
The Fitness Guru: Gubernatrix by Sally Moss
Strength athlete and Cambridge graduate Sally shares her impressive knowledge about resistance training on her blog. It began before she left her nine-to-five office job to become a trainer, so the posts she writes answer a lot of the questions she was asking when she first fell in love with strength training – and the ones that confuse us now! "I started my blog almost six years ago to connect with like-minded people and share my burgeoning knowledge," Sally says. "I aim to inspire others and be a trustworthy voice of reason in an environment full of myths and misconceptions."
The perfect mentor for ladies who lift, Sally now competes in powerlifting, Olympic lifting and strongwoman competitions. gubernatrix.co.uk
The No-Excuses Guru: The Grit Doctor by Ruth Field
The Grit Doctor is exactly what you need if you want to get into shape, but find yourself doing everything but. If you're ever in need of motivation to lace up your running shoes, just visit this blog. "It's aimed at anyone who has a sense of humour and is ready to ditch their excuses and tackle whatever it is in their lives that needs changing," explains Ruth. "It's different to other blogs in that there is no sugar coating."
Ruth is a mother to twin sons so she knows what it's like to squeeze fitness into a hectic lifestyle. Want to know how she does it, as well as write top-selling books like Run Fat B!tch Run? Log on. gritdoctor.wordpress.com
Food: Stonesoup by Jules Clancy
If you're on a mission to conquer the kitchen, head to Stonesoup, a blog that's perfect for beginners and budding foodies alike. You'll find a huge database of recipes that use just a handful of ingredients (usually no more than five) and take mere minutes. "I started the blog way back in 2005," says food scientist Jules. "It's focused on helping people become the best cook they can be without spending hours in the kitchen. My recipes are super simple and can be made in minutes."
Stonesoup offers encouragement, inspiration and ideas, and is packed with tips and tricks to help you eat healthier, tastier meals. All of Jules' recipes also cater to loads of dietary requirements, from gluten-free to paleo. Plus, when you sign up to the weekly newsletter, you'll score a free recipe ebook. thestonesoup.com
This article first appeared in Women's Fitness
Sign up for workout ideas, training advice, reviews of the latest gear and more.
Former deputy editor of Women's Fitness
Amanda Khouv formerly worked for Women's Fitness magazine, which briefly shared a website with Coach. Khouv began working for Women's Fitness as editorial assistant in 2012, working her way up the masthead, finishing as deputy editor between 2015 and 2018.