January Challenges To Get Your New Year Health Kick Started
Try one of these month-long challenges to start 2023 in healthy fashion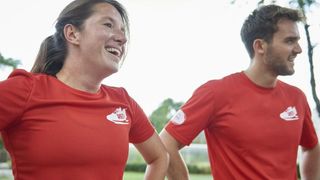 (Image credit: Red January)
If your list of New Year's resolutions is topped by one or more that relate to your health and fitness, then one of the best ways to start working on them is to sign yourself up to a January challenge.
Doing so will give you a clear goal to work towards as you start your health kick, which will help you avoid the all-too-common strong start followed by a drop in commitment by mid-January, which results in many resolutions becoming a distant memory well before February. Here are a selection of great January challenges to help you get 2023 off on the right foot.
RED January
Take a fitness challenge and it's reasonable to expect you'll get fitter – but happier too? Research by the University of Oxford found 54% of 3,069 people who registered as RED January participants in 2020 "experienced significant improvement in their happiness and a reduction in anxiety".
The idea is to be active every single day of January, doing whatever takes your fancy. So you can take up a new sport and stick to it for at least a month to see if you like it. Or you could try as many different types of exercise as possible for each of the 31 days. This challenge also raises money for Sport in Mind, the mental health charity that uses sport to empower and improve people's lives.
Sign up to take part in RED January
JanuRun
Previously called Running Off Christmas, JanuRun raises money for Great Ormond Street Hospital Children's Charity and involves running 31 miles (50km) in January. You can split that distance over the month any way you want, whether it's logging a mile a day, two to three 5Ks a week, or doing one ultramarathon. Although if you're new to running, the latter probably isn't the best approach. It's free to sign up, then all you've got to do is get out there and run – the fundraising aspect will help motivate you to keep going through the month.
Sign up to take part in JanuRun
Dry January
After the (probably) alcohol-heavy festive period, the idea of taking a month off the booze becomes attractive for many people, and using January to take stock of your relationship with alcohol can definitely be beneficial for your long-term health too. From improving the quality of your sleep to a boost in your energy levels, Alcohol Change UK says you can expect to enjoy some of the benefits after just a week or two off the booze. It can be hard to change if you drink out of habit, but these Dry January tips may help and if you're a beer drinker there's always non-alcoholic beer, the best examples of which are surprisingly good nowadays. But the key is to use this challenge to make a lasting change to your drinking habits, and this advice for the end of Dry January may help you do just that.
Sign up to take part in Dry January
Veganuary
Let's be clear: a vegan diet is not necessarily healthier than any other, but the reality is that, for many people, avoiding animal products for a month is likely to result in a healthier diet as they dramatically up their intake of vegetables, beans and pulses. Of course, you may be persuaded by the ethical arguments for veganism, but whatever the reason, Veganuary is a great way to expand your cooking repertoire and get a clearer picture of how much your diet is dominated by animal products. Just make sure you put some time into planning, or the month might turn into an inadvertent calorie-restriction crash diet, which entirely misses the point and will also be a straight-up awful experience.
Sign up to take part in Veganuary
Just Water
How much water do you drink a day? If you're struggling to answer that question, the answer is probably "not enough". But that's where this straightforward challenge from charity WaterAid can help. Say goodbye to fizzy sugary drinks, see ya later to wine and hello to 31 days of just drinking water. The purpose is really to raise money for the charity's important work, but you'll inevitably cut down on liquid calories as well, especially if you're partial to a tipple or heap sugar in your tea.
Sign up to take part in Just Water
Coach's 30-Day Exercise Challenges
We have five 30-day fitness challenges you can try at any time of the year, but they make for a great way to motivate yourself through January, if only because you get a day off at the end since January is 31 days long. There's a squat challenge which culminates in doing 250 squats in one sitting, a plank challenge which works its way up to a three-minute plank, a press-up challenge which builds the strength to knock out 100 press-ups, and a burpee challenge which is a great one to start with because it scales to any ability – established by a max rep test on day one. If focusing on one move for a month leaves you cold, work on your core with our 30-day abs challenge.
Sign up for workout ideas, training advice, reviews of the latest gear and more.