Build Upper-Body Muscle And Burn Fat With Just Six Moves
This strength and conditioning gym session will get your muscles working and your heart pumping to build lean muscle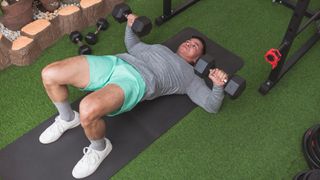 (Image credit: MDV Edwards / Shutterstock)
Want to build muscle and burn fat at the same time? Including weighted movements in your conditioning workouts is one of the most effective ways of achieving this and Alex Rennie, head of fitness at London-based studio Rowbots, has designed an exclusive workout that does just that.
His workout uses an EMOM (every minute on the minute) format and involves six rounds of six exercises. "There's some push and pull upper-body strength work, a bit of work on the assault bike to jack up the heart rate and some active recovery work in the hollow holds, while hitting your core," says Rennie.
"With any time-focused workout, there's a sense of urgency to get your reps done and earn your rest. It's a great way to crank up the intensity when training solo."
How To Do This Workout
Start a timer, complete the reps of the first exercise, then rest until the timer hits one minute. When the next minute begins, start the next exercise and continue in the same way. Once you finish all six exercises you've completed one round. Repeat the whole thing until you've completed six rounds in total.
"Ideally, you want to work for 40 seconds max each minute, resting for 20 seconds between movements," says Rennie.
You'll need a pair of medium-heavy dumbbells, two medium-heavy kettlebells and an air bike, or another cardio machine that has a calorie metric on the display, such as a rowing machine or Ski-Erg.
Reps 12
Lie on your back with your knees bent and feet flat on the floor. Hold dumbbells above your chest with your arms extended and palms facing forward. Press through your heels to lift your hips so your body is in a straight line from your shoulders to your knees. Hold this position throughout. Bend your elbows to lower the dumbbells, letting your elbows move out to the sides, until your upper arms rest on the floor. Press the dumbbells up powerfully to return to the start.
2 Kettlebell gorilla row
Reps 8 each side
Stand with two kettlebells on the floor in front of you. Keeping your back flat and a slight bend in your knees throughout, hinge at your hips and take hold of the kettlebells. Lift one kettlebell to your chest, drawing your elbow past your torso. Squeeze your shoulder blades together, then lower the kettlebell to the floor. Repeat on the other side, alternating sides with each rep.
3 Crush-grip dumbbell curl
Reps 20
Hold one dumbbell in front of your thighs with your hands on either end of the dumbbell. Keeping your upper arms pinned to your sides, bend your elbows to lift the dumbbell to your chest. Lower under control.
4 Air bike
Calories 10-16
Power the air bike using your arms and legs until you hit your chosen calorie target.
5 Narrow-incline dumbbell press
Reps 12
Lie with your back on a medicine ball or other slightly raised object, with your knees bent and feet flat on the floor. Hold dumbbells above your chest with your arms extended and palms facing forward. Engage your core, back and glutes. Keep your elbows close to your body as you lower the dumbbells to your chest, then press them back up powerfully.
Time 40sec
Lie on your back with your arms extended behind you, upper arms close to your ears. Extend your legs and lift them off the floor, along with your shoulders. Press your lower back into the floor and hold this position.
Sign up for workout ideas, training advice, reviews of the latest gear and more.
Lucy is an experienced health and fitness journalist, and was formerly health editor for TI Media's portfolio of women's titles. Lucy qualified as a level 3 personal trainer with Train Fitness in 2016, and also holds qualifications in pre- and post-natal fitness, as well as in nutrition for exercise.