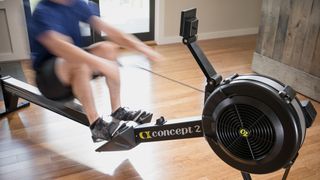 (Image credit: Concept2)
If you have space for only one cardio machine in your house, it's difficult to make a case for anything other than the rowing machine. Owning one of these means you can get a low-impact, full-body workout as well as improving your cardiovascular fitness, any time you want.
There's also one straightforward stand-out pick which isn't the most expensive rowing machine – the Concept2 RowErg. It's used by Olympians and is hardy enough to feature in commercial gyms.
You can still find a good machine for less, and rowing machines have also caught up with the best exercise bikes and best treadmills by connecting to subscription apps for follow-along video workouts. These are especially useful if you need a primer on rowing form and could do with some help planning your workouts (although our rowing workout plan does the same and it's free). Hydrow is our top pick of this type of rowing machine, but Echelon and ProForm offer a similar experience for less money.
Peloton has released its connected rowing machine, the Peloton Row, in the US, and the brand's exercise bikes and treadmills really are best in class. However, we haven't been able to test it yet and won't include it on this list until we do.
If you'd like to know more about the types of rowing machines available and the range of features on offer we have a buying guide below which is full of expert advice and the benefit of our experience reviewing rowing machines.
We review rowing machines in our homes rather than in testing "labs". We believe this approach is better because we discover those little details which can help you differentiate between models to find the best rowing machine for you and your living arrangements. Things like how it sits in a living room. How long the lead is if you need one. Whether it moves when you're going all-out, and whether the noise is going to make you nervous about disturbing your neighbours first thing on a Sunday morning.
As well as the rowing machines we've reviewed, we've added some extra recommendations in case the models we've tried don't quite suit your budget or needs.
The Best Rowing Machines
1. Concept2 RowErg
RRP: $990 / £990 | Resistance: Air | Size: 96in x 24in x 41.9in / 244cm x 61cm x 106.5cm (L x W x H) | Folding: Separates into two pieces for storage, 25in x 32.9in x 54in / 63.5cm x 83.8cm x 137.2cm | Max user weight: 500lb / 227kg | Connectivity: ANT+ and Bluetooth | Cost of connected app: N/A
Professional grade
Exceptional value
Reliable
Open connected app experience
Utilitarian
Loud
If you're really into indoor rowing, the chances are you'll have spent most of your time on a Concept2 RowErg, formerly known as the Model D. It's the best-selling rowing machine in the world and the standard machine for indoor rowing competitions, so it's a good shout for the best rowing machine full stop. It's the obvious pick for a home gym.
The RowErg is built to handle multiple intense workouts every day for years on end (that's why so many gyms have them). Concept2 is also great at giving advice on maintenance and can supply spare parts, so there's every chance your rower will last as long as you're fit to use it. The machine also separates into two parts, which stand up on their ends for easier storage.
The RowErg is fitted with a PM5 console. The LCD screen looks a bit old-fashioned compared with the built-in touchscreens on high-end connected rowers, but the monitor is backlit, easy to read, and displays advanced information such as watts and your force curve. It also connects with a smartphone and new models come with a device holder so you can add an extra screen.
The RowErg plays nice with many different apps, so you're not locked into one extremely expensive subscription app. Recently Fiit, one of the best workout apps, released rowing workouts for the RowErg, which may well also make Concept2's machine the best connected rowing machine as well – but we'll have to wait for our reviewer to finish his testing first. Watch this space.
You'll also find a lively community of Concept2 owners on Facebook and if you track your workouts in the Concept2 logbook, you can pit yourself against others over standard distances like 2K. There are also challenges to enter every month.
---
Best connected rowing machine for most people
RRP: $1,895 / £1,595 | Resistance: Magnetic | Size: 80in x 19in x 43in / 203cm x 48cm x 109cm (L x W x H) | Folding: No, can be stored upright (with purchase of storage kit), 26.5in x 30in x 82in / 67cm x 76cm x 209cm (L x W x H) | Max user weight: 375lb / 170kg | Connectivity: Bluetooth / WiFi connected, App | Cost of connected app: $38 / £38 a month
Much smaller than first Hydrow
Polished, easy-to-use software
Classes are varied and enjoyable
There are cheaper connected rowers available
Lacks really tough levels of resistance
We loved the original Hydrow, and you'll find it further down this list, but the second version is smaller, cheaper, and still delivers the same engaging and immersive experience.
The technique sessions for beginners are extremely well done and ensure you'll get the most out of the machine, and there are live classes along with on-demand workouts of varying lengths and goals to keep you coming back for more. The app also contains other types of exercise sessions like yoga and Pilates.
The advantage Hydrow has over the Concept2 is that while it can deliver a similarly tough workout, it also has the ability to offer more serene sessions where you row along a scenic river without an instructor in your ear the whole time. It helps that the magnetic resistance is about as quiet as you can get from an indoor rower.
Even though it's 30% smaller than the original, taller rowers won't find it cramped – both Hydrows are rated as appropriate for people with an inseam of up to 36in. The most noticeable difference is the size of the screen, which is 16in compared with 22in on the original. It results in a less immersive experience when rowing along a virtual river, but it's still a sizeable screen and it doesn't affect your enjoyment of the live and on-demand trainer-led workouts.
While there are cheaper machines with more affordable apps, this is one case where you definitely do get a superior experience if you pay more money.
Read more in our Hydrow Wave review
---
Best budget rowing machine
RRP: $399 / £329 | Resistance: Magnetic | Size: 65in x 20in x 29in / 166cm x 51cm x 74.5cm (L x W x H) | Folding: Yes, 18in x 20in x 63in / 45cm x 51cm x 160cm (L x W x H) | Max user weight: 220lb / 100kg | Connectivity: Bluetooth | Cost of connected app: Free
Small and easy to manoeuvre
Folds up for easier storage
Works with companion workout tracking app
Easy to assemble
Limited range of resistance levels
Design feels cramped
Pedals and seat feel low-quality
Handle is small
Beginners or people who just want to engage in a bit of light cardio at home can save a lot of money by sticking with budget rowing machines. You sacrifice build quality and, because they use cheap magnetic resistance, the feel of the stroke is uniform; however in our experience this type of rower is also light and folds up so it can be taken in and out of a corner easily. It's especially easy to lift the lightweight rail on this Bluefin model.
Bluefin's effort further distinguishes itself with Bluetooth connectivity so you can connect your own heart rate monitor and upgrade the screen by connecting the machine to the bespoke app. It's a bare-bones experience and there are no connected workouts, but it will be a welcome affordable option for many and it doesn't cost much more than our best cheap pick, below.
Read more in our Bluefin Fitness Blade 2.0 review
---
Best cheap rowing machine (UK only)
RRP: £259.99 | Resistance: Magnetic | Size: 180cm x 52cm x 49cm (L x W x H) | Folding: Yes, 71cm x 52cm x 127cm (L x W x H) | Max user weight: 100kg | Connectivity: None | Cost of connected app: N/A
Excellent value
Solid and stable
Folds for easy storage
Nowhere to put a phone or tablet
Aspects of design feel basic
This is as cheap a machine as we're prepared to recommend, but will happily put our name behind this one after using it without issue for six months. The problems with it are minor and it gets the major things right: it's quiet, the seat is comfy for long periods and a 6ft (1.8m) rower didn't feel cramped. The rail also folds up and the whole thing fits neatly in a cupboard.
There are no built-in workouts to follow or even a phone holder to let you follow other rowing workouts, but the easy-to-read display has most of the important metrics: time, distance, calories, stroke count and strokes per minute. Only splits (time per 500m) are missing. If you're looking to spend as little as possible, but still get a usable machine, look no further.
Read more in our JLL R200 review
---
A more-affordable connected rowing machine
RRP: $999 / £1,199.99 | Resistance: Magnetic | Folding: Yes, 39.9in x 20.4in x 60.6in / 101.5cm x 52cm x 154cm (L x W x H) | Connectivity: Connects to Echelon Fit app, pairs with HRM | Size: 84.6in x 20.4in x 40.9in / 215cm x 52cm x 104 (L x W x H) | Max user weight: 300lb / 136kg
Beginner-friendly
Easy to assemble
Good all-round build quality
Quiet operation
Big footprint
Heavy
Experienced rowers/exercisers may feel it is lacking
Echelon is well established in the world of connected home cardio machines and features in both our best exercise bikes and best treadmills round-ups. Its schtick is to forgo the built-in screen, so as long as you already have a tablet or smartphone to use you save considerable money on the hardware. The rower itself offers a combination of cardio machine and live and on-demand classes via a subscription app.
We found it to be a high-quality, easy-to-use machine with, in a stroke of design genius, buttons to change the level of magnetic resistance on the handle. While there aren't as many rowing classes as spinning ones, the Echelon Row still delivers the same slick and enjoyable experience we've come to expect. The classes also focus on developing your rowing technique, which is very welcome, and you can also choose to row virtually along scenic rivers of the world if you fancy a change of pace.
You'll have to pay handsomely with a continuing app subscription and supply your own screen – ideally a tablet, although our reviewer found using a phone was still engaging.
While the experience doesn't match that of the Hydrow, it costs significantly less and still supplies a great experience.
Read more in our Echelon Smart Rower review
---
An even more affordable connected rowing machine which folds
RRP: $799 / £799 | Resistance: Magnetic | Folding: Yes, 44.5in x 21.7in x 28.8in/ 113cm x 55cm x 73cm (L x W x H) | Connectivity: Connects to iFit appSize | Size: 86.6in x 22.1in x 45.7in / 220cm x 56cm x 116cm (L x W x H) | Max user weight: 250lbs / 113kg
Wide range of resistance levels
Sturdy and stable
Foldable
Connects to iFit app for rowing and non-rowing workouts
Basic on-board workouts
No built-in screen
Heavy
Design is underwhelming
If the price of the Echelon still makes you wince, we can vouch for another option that costs even less. The ProForm 750R costs less than Echelon, but more importantly the monthly subscription for the iFit app is much cheaper at $15/£10 a month.
There are plenty of on-demand workouts to choose from, and the resistance on the rower is adjusted automatically in line with the trainer's demands. However, there are no live classes to join so if you find live leaderboards motivating, it may be worth paying more for the Echelon Row or Hydrow.
The machine itself is sturdy and the toughest of the 24 magnetic resistance levels provides a stern test. It doesn't shift when you're giving it your all but perhaps its most appealing feature, for apartment dwellers at least, is that the 750R folds up easily – although it's a little unwieldy to move once folded. The other design oversight is that the device holder can press a smartphone's buttons when you don't want it to, so you're better off using a tablet.
While it's not perfect, the savings on the rowing machine and the monthly app subscription make it a compelling option.
Read more in our ProForm 750R review
---
Best budget rowing machine with air resistance
RRP: £495 | Resistance: Magnetic | Folding: Yes, 51.2in x 21.7in x 61.9in / 130cm x 55cm x 157cm (L x W x H) | Connectivity: Connects to heart rate monitor | Size: 90.6in x 21.7in x 34.7in / 230cm x 55cm x 88cm (L x W x H) | Max user weight: 298lb / 135kg
Looks great
Straightforward set-up
Good value
Self-powered
Basic workout programmes
Highest level of resistance is a little lacking
Noisy
This is a solid and stylish mid-range rower, with a good-sized screen and a comfortable seat with a smooth action. Its one frill is a good one – it will easily and reliably connect to a Polar heart rate monitor (sold separately) so you can add heart rate training to your repertoire, keeping tabs on your pulse rate and zone on the clear back-lit display.
The eight levels of magnetic resistance – on top of that provided by the fan – will provide more than enough of a challenge for beginners and casual rowers, although we found it shifted a bit on a hardwood floor when we gave it some welly. One other feature we like is that it's self-powered so you don't have to set it up near a plug or run wires a long way – ideal if you plan to use it in a garage.
JTX also sells a more expensive rowing machine, the Ignite Air, with just air resistance and a handle on the flywheel to adjust the damper setting. That's a similar set-up to the Concept2, and one which gives a more natural feel to the stroke. The Ignite Air lacks the connectivity of the Concept2, however.
Read more in our JTX Freedom Air review
---
Most beautiful connected rower
RRP: $2,495 / £1,995 | Resistance: Magnetic | Folding: No, can be stored upright (with purchase of storage kit), 33in x 25in x 85.8in / 84cm x 63.5cm x 218cm (L x W x H) | Connectivity: Bluetooth / Wifi connected, App | Size: 85.8in x 25in x 33in / 218cm x 63.5cm x 84cm (L x W x H) | Max user weight: 375lb / 170kg
Great for beginners
Live and on-demand workouts
Companion smartphone app
There are cheaper alternatives
Large and bulky
Noisy
It's bigger and more expensive than the Hydrow Wave but connects to the same app – so who would want the original Hydrow? People with money who want a beautiful device in a beautiful space, that's who, and there's nothing wrong with that. With its sweeping lines it's certainly the sleekest-looking rowing machine we've come across, and the expansive 22in touchscreen is almost the match of Peloton's 23.8in one.
According to Hydrow's CEO, the first Hydrow also has a differently constructed seat, with 12 individual rollers on two axes rather than the six on the Hydrow Wave. It's not something our reviewer noticed, in truth, but it's an extra reason to splurge if you're looking for one.
Read more in our Hydrow review
---
9. WaterRower Performance Ergometer
Best water rowing machine
RRP: $1,499 / £1,2750 | Resistance: Water | Folding: No, can be stored upright | Connectivity: Bluetooth with multiple apps | Size : 86.2in x 22.1in x 36.3in / 219cm x 56cm x 92cm (L x W x H) | Max user weight: 695lb / 315kg
Iconic design
Natural stroke feel
Connects with multiple apps
Tank needs to be drained to be stored
Yes, this is the rower the Francis Underwood character uses in House of Cards, but it doesn't just have luxe looks and pop-culture kudos, it's got the British Rowing seal of approval too. There are a few types of WaterRower available but we recommend this one, which comes equipped with Bluetooth and a power meter (you can pick accessories to add to the basic model if you like, or choose the model in the type of wood you prefer).
That opens access to SmartRow, a free app (Hydrow, Echelon et al take note) to help you monitor and develop technical aspects like your force curve, as well as follow workouts and compete against other SmartRow owners. If studio classes are more your thing, you can pay a subscription to the CityRow app (the CityRow rowing machines are made in partnership with WaterRower) and get your fill of boutique classes. If good looks are a factor for you, opt for one of the sleek and classy solid-wood models and accessorise.
The main downside of the WaterRower is that you can't alter the resistance without adding or removing water from the drum. All that water also makes it pretty heavy, too, so don't plan on moving it in and out of a corner every time you want to use it.
---
A well-built and more affordable water rower for the UK
RRP: £699 | Resistance: Water | Folding: No, can be stored upright | Connectivity: Bluetooth connects to heart rate monitor and app | Size (cm): 83.7in x 20.3in x 36.7in / 212.5cm x 51.5cm x 93cm (L x W x H) | Max user weight: 331lb/ 150kg
Great rowing experience
Connects to heart rate monitors or apps over Bluetooth
Easy to build and store
Uninspiring design
This rower impressed us with its combination of smooth action, comfortable seat and challenging feel. There's also Bluetooth connectivity so it can be used in tandem with the Kinomap app for guided workouts and live-action videos to row along with. The H2Oar didn't slip or shift even when we were giving it some welly, but despite its heft it can also be easily wheeled around and tipped on its end without draining the tank, allowing you to store it out of sight between workouts. It's not as attractive as a wooden water rower, but it's cheaper than the best-known brand, WaterRower.
Read more in our DKN H2Oar Water Rower review
Rowing Machine Buyer's Guide
Types of rowing machine
Rowing machines can be categorised by the type of resistance they offer – air, magnetic or water. Each has a distinctive feel and sound.
When you row on an air rower, air passes through a flywheel, and typically the amount of air allowed to flow through is controlled by a damper at the side of the wheel, which can be moved up and down. Having the damper on high enables you to use the rower for a strength workout, whereas a low setting gives a lighter, faster feel that's great for cardio. The main drawback of air resistance rowing machines is that they can be noisy.
The resistance in magnetic machines is provided by – wait for it – electromagnets. This type of resistance is found at the cheaper end of the market, and on high-end connected rowers. Magnetic resistance tends to be quieter than air or water rowers and it's easier to change the resistance level – there's usually a dial within easy reach on cheaper models. Basic magnetic resistance can suffer from a uniform action, though, where the feeling of pressure stays the same throughout the stroke. It isn't to everybody's taste so it's a good idea to try one before committing. Connected machines are able to improve the feel of the stroke to better replicate rowing on water with a combination of eddy current brakes and software.
The third and most stylish option is a water rower – the solid wood ones in particular can look great in your living room. They have a smooth feel and a distinctive whooshing sound which many people love. The disadvantages are that they can be heavy and expensive. There's no easy way to alter the resistance, either – you have to pour more water into the tank or drain it.
Elite rowers tend to favour air resistance machines, according to world champion rower Matthew Tarrant, who is the founder of rowing training platform RowElite. In part that's because of the feel of the stroke. "You tend to feel most of the resistance during the first half of the stroke as you build the acceleration and move the flywheel," he says.
Tarrant points out that the rowing machines most widely used by international rowing teams are the Concept2 and the RP3, both of which use air resistance. "Water rowers and magnetic machines are more for commercial use at the moment."
What are the key features to look for on a rowing machine?
"My three main features are a comfy seat that slides up and down, a clear monitor that displays the relevant information, and the ability to check my resistance level [on an air rower] using the drag factor," says Tarrant. "Having a seat that moves freely will help alleviate any excessive pulling on the hamstrings, a clear display helps you to stay consistent and accountable, and being able to see your drag factor means you can be certain that you're always working with the same level of resistance rather than just trusting a damper setting."
In truth, most casual exercisers won't need (or want) to set a specific drag factor, which measures the speed at which the flywheel slows down. A low to medium damper setting an air rower will suffice (between 3 and 5 on a Concept2).
Check which statistics are displayed on the monitor before buying, especially if you are serious about rowing. If you will be taking part in indoor rowing competitions where there are standard metrics, the industry-standard Concept2 is your best bet. Keep an eye out for the inclusion of a heart rate metric as well: this indicates the machine can sync with a heart rate monitor. This can be a highly useful feature, especially when training to improve your cardio fitness.
How much do you need to spend?
The price range of rowing machines is wide, going from low three figures up to several thousand. Unusually, it's not the case that the best rowing machine is the most expensive. The Concept2 RowErg doesn't hit four figures, yet is considered among the best on the market. That's not half bad for a machine that Olympians train on and that is used for setting world records in indoor rowing.
So why pay more? The more expensive rowing machines offer HD touchscreens, sophisticated companion apps, online fitness and rowing programmes, and interactive classes, although it's possible to find pretty decent free resources online. Much will depend on whether you want a highly reliable, no-frills rower, or a slick and immersive experience, although bear in mind the latter will entail a monthly app subscription on top of the purchase price.
If you row on the water as well as indoors, you'll probably have come across dynamic rowing machines. Instead of moving your body backwards and forwards on a monorail, these machines are designed so that your feet come towards you, mimicking the feel of rowing on the water. Some rowers swear that they are kinder to your back too.
The best-known dynamic rower, the RP3, costs a lot more than most static rowers but is radically different and may be worth the money if you take competitive rowing on water seriously. If you'll only be rowing indoors and haven't had rowing training, you might well struggle to master the distinctive motion and probably wouldn't find the hefty price worth paying.
If you're looking to spend as little as possible, you can still pick up a pretty decent rowing machine for half of what the Concept2 costs. If you just want to sweat, these rowers fit the bill, though do try to have a go on them before buying because some cheaper models can be a bit uncomfortable.
Other features to look out for
Some machines fold up or stand on end for storage. If you don't have much space, this could be a game changer. Some rowers can be very heavy too. It's something to bear in mind when considering delivery options, especially if you live in a top floor flat.
Finally, think about the sound of the machine. If you want something that just purrs gently, a magnetic rower is your best option, though you may find the sound of the water or air rower pleasingly mesmeric.
Whatever kind of machine you have in mind, and whatever budget you have, we've got the perfect rower for you in this round-up, ordered from least expensive to most.
Sign up for workout ideas, training advice, reviews of the latest gear and more.