Vodafone Smart 4 Power review
Could the Vodafone Smart 4 Power be a cheaper alternative to your smart phone?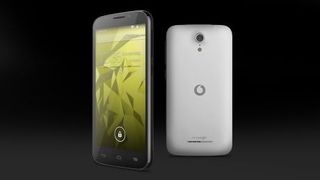 (Image credit: Unknown)
Vodafone recently released its own-brand 4G handset, Smart 4 Power, but at £120 with only 4GB of memory, a less-than-HD screen and a low-resolution camera, is it a suitable alternative to the more expensive smart devices?
The phone itself is fairly chunky, heavy and has a white back – not ergonomically ideal for a fitness device. After two weeks of daily use, the back cover was scuffed and marked – you should definitely invest in a case and a plastic screen protector with this phone. Besides from the white colour, the general aesthetics of the phone are generic and there's nothing extraordinary or innovative about the design. It's actually a little dull at first glance and at 162g it's pretty bulky for an Android device.
Want to hear the best of Spotify playlists? Click here
The Smart 4 Power only has 4GB of internal memory meaning you can download all the fitness and health apps you need, but your media storage options will be limited. You can insert a 32GB memory card (unlike the iPhone), which then automatically syncs together so all your data is immediately transferrable - even apps can be moved which is useful.
Click here to learn how to make the best workout playlist
A big bonus to the Smart 4 Power is that you can remove and uninstall all apps completely, even the original standard apps – this gives you the opportunity to truly customise your device and the freedom to choose what you want on it and how it's displayed.
Want to know more about fitness apps? Check out these Kickstarter fitness projects
It works with 4G and being that it's the first of Vodaphone's own brand products to do so, it works very well. Its best feature is the battery life, though. We used it for nearly three full days with data, Bluetooth and everything else on
On the downside, the camera is rubbish (it's only 5MP), it's fairly weighty and the design is forgettable. Yet this phone is cheaper than most, has a powerful processor, can be individually customised to suit you, and best of all won't run out of juice halfway through a long gym session, run or cycle.
Vodafone Smart 4 power, £120 PAYG.
Key Features of Smart 4 Power
Dimensions 141 x 71.4 x 9.5mm
Weight 162 g
Screen 5.0" qHD multitouch screen
Camera 5 MP + front camera
Platform Android™ 4.4, KitKat®
Processor 1.3GHz Quad-core, MTK 6582M, MTK 6290 (LTE modem)
Memory 4GB ROM + 1GB RAM, MicroSD slot (up to 32GB)
Battery 3000 mAh
Networks GSM/EDGE/3G/HSPA+/LTE-CAT4
Sign up for workout ideas, training advice, reviews of the latest gear and more.
Niamh interned for Men's Fitness UK (which predated and then shared a website with Coach) in 2014, writing a series of articles.