The Best Camping Chairs: Folding Seats For Your Next Trip To The Great Outdoors
Avoid sitting on the damp ground with these smartly designed portable outdoor chairs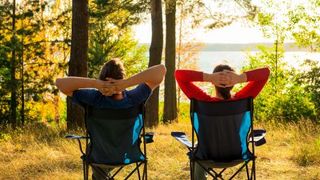 (Image credit: Unknown)
Camping makes for a terrific holiday – and it never hurts that you're saving a few quid on hotels and holiday homes – but any experienced camper will tell you that a chair is worth spending money on, saving you from a numb bum from sitting on the ground and sore legs from squatting over the stove. Fortunately, there are plenty of foldable camping chairs available to make you more comfortable.
There are a few decisions to make when choosing your chair. You could opt for a chunkier, heavier one which tend to be more comfortable and durable, but they're more expensive and take up more car-boot space. Cheaper lightweight chairs or stools may be preferable if you'll be moving between pitches, or if you're unlikely to use them beyond the odd music festival and an annual garden barbecue. Some are made of fully waterproof material like Textilene; some have fancy headrests, cup holders and the like; some offer options for the whole family.
One last thing to remember is that they tend to sit low, so if you're tall or have any movement restrictions it's best to try the chair before buying if you can. Whatever you go for, we recommended buying chairs that come with their own carry bags which are useful when it comes to storing them. Just remember to wipe your chair clean after each trip and let it dry thoroughly, so it doesn't go mildewy.
---
The Best Camping Chairs
Vango Kraken 2 Oversized
Best For Campsite Holidays
There's no doubt standard camping chairs can feel flimsy or cramped, particularly if you're on the heavier side – but this plus-size seat scores high for comfort. The Kraken 2 can hold up to 180kg and, with legs that neatly unfold into a geometric design that supports weight evenly, feels much sturdier than other chairs. The back panels are comfortably padded and the carry bag is sturdy. It's a top-quality options, as long as you have the boot space to spare.
Buy from Vango | £60
---
Regatta Isla Chair
Best Budget Camping Chair
Unless you opt for the funky pink tropical colour over the black, there's no real stand-out feature to the Regatta Isla Chair – it's just a reliable option that won't set you back too much. It's a lightweight, comfortable chair that holds up to 100kg and folds away easily after use.
Buy from Cotswold Outdoor | £25 (currently reduced to £20)
---
Milestone Camping 12080 Stool
Best Camping Stool
A stool will never be as comfortable as a chair, but it's a far more portable option and if you're trying camping for the first time this year it's a cheaper and more versatile option. This model is lightweight but can support up to 80kg. It won't be comfortable to sit on for too long but it'll help you take the weight off after a long day of hiking or running after the kids.
---
See related
Coleman Low Recliner
Best For Small Cars (And Sunbathing)
This camping recliner from Coleman is far lighter and more portable than a standard camping chair. Weighing just 4kg, it's ideal for small car boots, although it's fair to say you need to be reasonably limber to climb in and out of a chair that sits this low to the ground. The recliner can be set to any one of five positions, including flat-on-your-back sun-lounger if you want to catch a few rays during your camping trip (don't forget the sunscreen!). It comes with a shoulder strap to make carrying it easier, as well as a padded neck support for added comfort.
---
Eurohike Kids Animal
Best For Kids
If you ask us, this bug-eyed giraffe looks like it's just spent a hedonistic few days camping at Glastonbury, but the kids won't have that frame of reference so they'll probably just think it's fun. This mini-person-sized chair comes in a carry bag and weighs just 1.2kg, so younger campers will have no problem shifting it back and forth from the car. It may be lightweight but it can bear 56kg in weight, so it should last your whippersnappers a good while.
Buy from Millets | £15 (currently reduced to £9)
Sign up for workout ideas, training advice, reviews of the latest gear and more.