Stroll With It: The Best Men's Walking Boots
Tackle all terrains without fear in these sturdy walking boots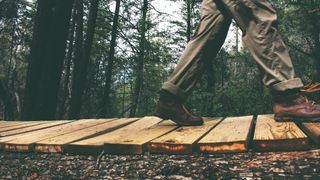 (Image credit: Unknown)
Some of the best ways for Brits to spend a weekend – or longer – on home shores are hiking adventures. Sure, there are no 8,000m-high mountains or punishingly hot jungles, but the stunning scenery of the Scottish Highlands or Lake District, to take just two examples, leaves no visitor short-changed.
To tackle the rolling hills, plunging valleys and muddy, muddy tracks of the UK you'll need the right footwear. That means a sturdy pair of waterproof walking boots, so amble your way through our top picks, or stride past to our buyer's guide, then start enjoying the beauty on your doorstep.
---
The Best Walking Boots
Swiss brand On is more known for running gear but has taken its talents into the hiking arena, launching the excellent Cloudrock boot. The waterproof boot is lightweight and ideal for fast hiking, while the brand's signature pods on the sole have extra grip compared with those on On's running shoes; these make for an enjoyably cushioned ride, even if they do have an annoying habit of picking up dirt and small pebbles in the gaps. The Cloudrock is also one of the best-looking boots on this list, especially the cocoa and red design, and it's comfortable to wear around town as well as on the trails.
Buy from On | £180
---
Hoka One One Sky Kaha Gore-Tex
Committed trail runners will already be familiar with Hoka, which makes highly cushioned but surprisingly lightweight shoes that are ideal for pounding out long runs on mountainous terrain. The brand has recently moved into the hiking sphere, and the Sky Kaha bears all the hallmarks of a Hoka shoe. It's also waterproof and has a Vibram Megagrip outsole which provides reliable traction on a range of terrain. It's a terrific hiking shoe, with the light, smooth ride being the stand-out feature when we tried it for a long walk around Epping Forest.
Buy from Hoka | £180
---
Merrell Thermo Rogue 8in Gore-Tex
The Thermo Rogue boot comes in 6in and 8in variants, but we've opted for the larger version because who doesn't want an eye-catching extra couple of inches of protection from the elements? That protection comes from a waterproof Gore-Tex membrane and 100g of lightweight Primaloft insulation (yep, the synthetic down used in puffer jackets), which will keep your feet toasty warm in the dead of winter.
Buy from Merrell | £200 (currently reduced to £140)
---
If you're planning on tackling some tougher terrain but don't want to lug around the extra weight on easier hikes, try this hi-riser, which occupies a useful middle ground. The well-spaced and chunky tread gives a firm footing on a variety of terrain, while an Ortholite footbed, gusseted tongue and flexible forefoot (which takes its cues from Salomon's trail running range) should keep your dogs from barking. The nubuck leather/textile combo on the upper also offers a mix of durability and breathability, and the whole shebang's waterproof thanks to, wait for it, Gore-Tex.
Buy from Salomon | £180
See related
Depending on how you look at it, the Keen Targhee EXP is either a beefed-up hiking shoe or a stripped-down hiking boot. The Mid version of the Targhee has more ankle support than the standard Targhee, making it an ideal option if your hike involves some rough trails and hills but avoids the truly treacherous terrain that requires a full boot. The Targhee EXP has a breathable waterproof membrane and the insole is designed to provide extra support for the arch of your foot. Thanks to a narrow fit, it's wise to order half a size up.
Buy from Keen | £119.99
---
American brand Danner now ships directly to the UK from its website, which is great news for fans of top-notch boots. The Mountain 600 is one of Danner's most popular, offering style and substance with a waterproof suede upper, durable Vibram outsole and a comfortable midsole made of rubberised EVA foam.
Buy from Danner | $180 (around £138)
---
Berghaus Hillmaster II GTX
The original Hillmaster, made by Brasher, was one of the most popular walking boots in Britain, and the follow-up does it full justice. Brasher is now owned by Berghaus, which has continued the Hillmaster line with this seriously comfortable, yet hard-wearing and fully waterproof (yes, there's a Gore-Tex liner) leather boot.
Buy from Berghaus | Buy from Go Outdoors | £165
---
LeChameau Chameau-Lite LCX Low Boot
When a shoe's sole is developed in collaboration with Michelin, you know the manufacturer is serious about grip. We've walked in LeChameau's LCX on paved paths, grass and forest trails, and never once felt in danger of slipping. The boot feels secure to wear too, with memory foam in the upper section that moulds to your foot and an ultra-stable ankle section – but despite being packed with high-tech features, the LCX weighs in at just 625g and is pleasant to wear for hours at a time. LeChameau recommends buying a size up from what you normally wear, which was borne out by the size 12 we tried.
Buy from LeChameau | Buy from Joules | £249
---
This barefoot boot is tough, waterproof and so flexible you can roll it up to shove it in a backpack pocket, which is a bonus you won't get with any other boot on this list. The Tracker FG is not for everyone, but if you've fully embraced the barefoot style of shoe then it's the hiking boot you want. The outsole has hard-wearing lugs to find grip, and there's a removable thermal insole that you can use to keep your feet warm while hiking during cold snaps.
Buy from Vivobarefoot | £142
Walking Boots Buyer's Guide
As with all important purchases there are a few key questions to ask before you select your walking boots. To help, we asked Max Wallder from Merrell and Chris Dykes from Cotswold Outdoor for answers.
What's the best material for a walking boot upper?
Walking boot uppers are your first line of defence against the elements and provide the support you need when tackling treacherous terrain. A synthetic upper is likely to result in a more comfortable, lightweight boot, while leather is the traditional option and, if treated right, should last for many years.
"Synthetic materials are generally lighter, more breathable and in recent years a very durable option compared with more traditional materials," says Wallder. "Although leather is widely considered to be the most durable option it is heavier and less breathable."
What is Gore-Tex and why is it used in so many boots?
As soon as you start investigating walking boots you'll see the term Gore-Tex crop up with almost every pair you check out. The reason is simple – no-one likes wet feet.
"Gore-Tex is a waterproof, breathable fabric membrane that is microporous by nature so it allows water vapour to pass through while remaining completely waterproof to the outside elements," says Wallder. "When used in footwear, it helps to keep your feet dry and comfortable."
Are different outsoles better suited for different terrain?
Once you've sorted your upper it's time to turn your attention to the sole. You'll want to pick an outsole that's perfect for the walking you'll be doing.
"Harder compounds offer increased durability whereas a softer compound offers increased grip," says Wallder. "The more spaced out and deeper the lugs are, the better they are for cutting through terrain to grip what's underneath and to shed dirt. The more surface area the greater the durability, particularly on harder terrain."
How versatile is your boot likely to be?
Boots are often classified by seasons – as in one, two, three or four seasons – indicating how suitable they are for different weather conditions and terrains.
"A one-season product may be a summer-use sandal," says Wallder, "whereas a four-season product would be a crampon-compatible mountaineering boot that can be used in extreme winter conditions.
"When buying a walking boot, most British customers would choose a three-season boot because it's the most versatile and it's suitable for year-round use in the UK. Breathable features make it good for the spring and summer, while advanced gripping systems and support mean that they can also manage in the winter."
Yes, you read that right. For a walking boot that can handle all four seasons in the UK, plump for a three-season boot.
How much should you spend on a boot and in what ways do they improve as they get more expensive?
"You can spend anything from £50 to £400-plus," says Dykes. "It all depends where you are going and what you are going to do – whether that's walking along a canal path or winter mountaineering in the Cairngorms.
"The variation in cost comes from the way the boot is made and what materials it uses. For example, waterproof membranes like Gore-Tex often come at a higher price . Sole units can also affect the cost because some are harder-wearing than others. The construction of boots will also vary, and some will offer much greater support than others."
How long should a walking boot last and what should you do to help maintain it?
"It depends on the type of boot, but if looked after walking boots can last more than 20 years," says Dykes. "Tips to keep the boots lasting as long as possible include keeping the boots clean, reproofing them and letting them dry naturally rather than using radiators."
How do you know when it's time to replace a walking boot?
"You will notice your boots becoming less comfortable and they may begin to leak," says Dykes. "If you're unsure, ask one of our in-store experts for their advice."
Sign up for workout ideas, training advice, reviews of the latest gear and more.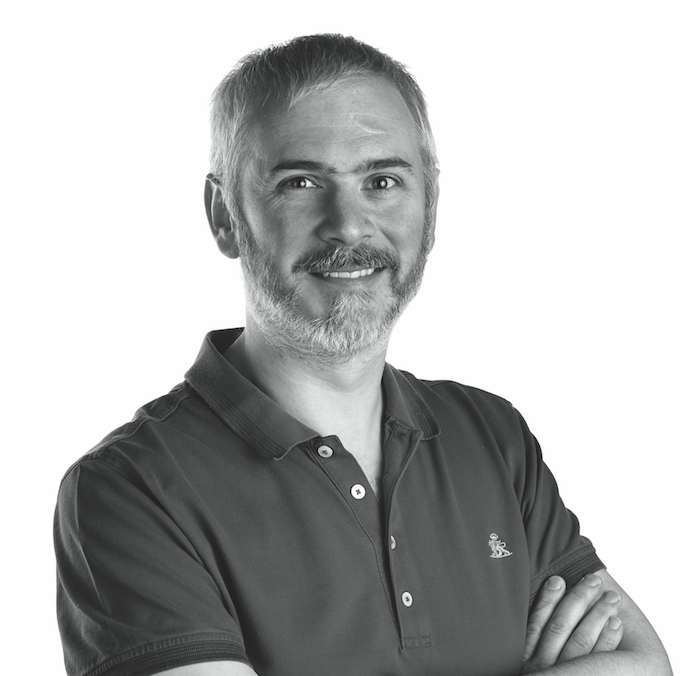 Subeditor and contributor
As Coach's subeditor, Chris is responsible for the accuracy and consistency of all the articles on the site, and occasionally contributes stories. Chris was managing editor on Men's Fitness UK – Coach's former sister title – for 12 years, and is now a freelance writer and editor working on The Guardian, the i, Virgin Media's TV Edit and more, alongside Coach.