I've Used The Wahoo Kickr Steer And Here's What I Honestly Think
Wahoo's latest version of RGT increases racing immersion, but its turbo training accessory is an expensive gimmick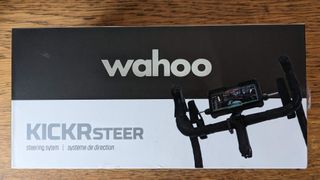 (Image credit: Charlie Allenby / Future)
Wahoo built its reputation on being a disruptor. The American brand tore up the turbo trainer rule book when it launched the Kickr back in 2012, bringing direct drive machines to the masses and starting the decline of wheel-on trainers.
Today, with the sixth-generation Kickr, second-generation smart Kickr Bike and suite of indoor training accessories – from gradient simulator Kickr Rise to its Kickr Headwind smart fan – it has established itself as the dominant indoor cycling hardware manufacturer.
Wahoo isn't content with owning the hardware market, though. In 2019 it acquired the workout app Sufferfest and last year it added the virtual environments of Road Grand Tours (RGT) to its training app portfolio. The pair have been bundled together and repackaged as Wahoo X, a product whose aim is to challenge rival Zwift with a superior combination of tailored training plans and the chance to race against others online.
Today Wahoo has announced its latest turbo training accessory the Kickr Steer, alongside updates to Wahoo RGT. Designed to be used in parallel with Wahoo RGT and the Wahoo RGT Remote app, the Kickr Steer enables riders to navigate their way around a course for the first time, rather than simply riding in a straight line and relying on the software's auto-overtake.
We spoke to Wahoo product manager Tyler Harris who pointed out that, until now, the only way to control an avatar would be to change your power output. "To really take it to the next step, you need to be able to steer and navigate through the course that you're on, to make that more fun and introduce elements of strategy and everything else that you think about riding outdoors."
The leg work of the new feature is undertaken by the Wahoo RGT Remote app. It uses a phone's built-in gyroscope, which reacts to being tilted in either direction, sending a signal to the app and changing your avatar's direction as a result. The Wahoo Steer is a "dumb" device, meaning it isn't connected to the app at all: it's essentially a handlebar-mounted platform for a mobile phone to rest on while running the Wahoo RGT Remote app. Two attached paddles tilt the platform from side to side.
Before getting into what it's like to use, it's worth clarifying a few things. You don't need a Kickr Steer or even a phone running the Wahoo RGT Remote app to use the new function. If you have a Wahoo Kickr Bike, the buttons on the hoods of the handlebars can be programmed to perform a similar function. Alternatively, you can use the A and D buttons on your computer's keyboard.
Currently, routes on Wahoo RGT are all loops, unlike on Zwift where you can change course by selecting a different path when arriving at junctions. The functionality is more about altering your position on the road.
"Under the hood, the road is broken up into about 30 different lanes," says Harris. "If you don't steer, you'll stick to one lane."
While changing lane might not seem important if you're just free riding, Harris believes that it can make all the difference when racing, allowing you to hit the apex of corners, employ tactics when racing in a group such as boxing other riders in, and sit in someone's slipstream before overtaking them with a burst of speed.
He also adds that the Kickr Steer can't be used to navigate on Zwift right now, but "there's no reason why Zwift could not take the same hardware piece and apply that approach to their game".
Wahoo Kickr Steer Price And Availability
The Wahoo Kickr Steer was released in February 2023 and costs £89.99 in the UK. It is available direct from Wahoo (opens in new tab) and many third-party retailers.
A Wahoo X annual membership and Kickr Steer bundle is available for US$199.99/£179.99.
The Set-Up
All Wahoo RGT users will get the update to the software as standard, so I'll concentrate on the Wahoo Kickr Steer. The unit comes in two main parts: an aluminium mount that attaches to your handlebars and has the same mounting point as those used by GPS head units; and a separate platform which can easily be clipped on and off, and which the paddles connect to.
As you're going to be applying some force through the paddles, Wahoo recommends swapping out a standard mount for the aluminium alternative. It features a Wahoo-style mounting bracket as standard but includes a Garmin alternative that you can switch to if you plan on using a Garmin head unit when using your turbo training bike outside. Weight weenies (opens in new tab) beware: the Kickr Steer's aluminium head unit mount is 66g heavier than the plastic one that comes as standard with the Wahoo Elemnt Roam V2, while it is also lacking the same sleek lines, meaning it will most probably create more drag too.
Setting up the platform and the paddles is relatively straightforward, and two Allen keys are supplied to make all the necessary adjustments.
It's worth noting that the Kickr Steer only works with dropped handlebars.
The Experience
Steering outside relies on you to turn the handlebars or lean from side to side. The user experience of the Kickr Steer involves neither of these. Yes, you press a paddle down to adjust your positioning on the virtual road, but it bears no resemblance to the real world and therefore doesn't add any more realism to your on-bike positioning when training indoors.
Instead, the Kickr Steer is best viewed as a controller that enables you to move your avatar wherever your hands are positioned on a set of dropped handlebars, and it's these actions that improve the realism. You are able to sit in someone's slipstream to conserve your energy before springing an attack or carve your way through a corner. But, like eRacing itself, it takes a bit of getting used to. I found that there was a slight lag when turning, and to turn harder, you had to hold the paddle down for longer rather than apply more pressure – making it a skill of timing.
It was only when racing or in a group situation that the Kickr Steer and updated Wahoo RGT software made sense. I was able to undercut a fellow rider and make a break through a corner, cover someone's path to stop them from passing me and generally feel more engaged in the whole experience, rather than solely focusing on my power output.
Unfortunately, thanks to the lack of users on Wahoo RGT compared with Zwift, when free riding or following an ERG-based workout, the steering functionality is a bit pointless. You have to be unlucky to get stuck behind another rider, and you're best leaving the auto overtake on unless practising your cornering technique.
Is The Kickr Steer Worth It?
Wahoo has made some great turbo trainer accessories that have enhanced the indoor training experience. The Kickr Steer isn't one of them, though.
While it's right to highlight steering as the next frontier in training app immersion and the functionality of the updated Wahoo RGT is sound, the experience it offers is too niche. It will only benefit those who race indoors (a minority of turbo trainer users), and race indoors on Wahoo RGT at that – narrowing the pool even further.
Throw in an £89.99 price tag for a platform that allows you to slightly tilt your phone, and it's something for those who want marginal gains regardless of the cost.
The updated racing mechanics on Wahoo RGT meanwhile certainly make for a more realistic and tactical experience than those found on Zwift – where it's purely about putting down the power and holding on – and it's more immersive. Only time will tell, though, whether it's enough to draw people away from the established racing leagues and different experience categories on Zwift.
Sign up for workout ideas, training advice, reviews of the latest gear and more.
Charlie Allenby is a journalist with a passion for pedalling. He contributes features and buying advice about cycling, and is Coach's dedicated turbo trainer reviewer. He is also Coach's chief whey and casein protein powder tester, trying as many brands as possible.
Charlie's first book, Bike London (opens in new tab), is out now. He has written for The Guardian (opens in new tab), The Independent (opens in new tab) and BikeRadar (opens in new tab), among others.