Fleur East X Dare 2B: I Tested The Strictly Come Dancing Finalist's New Activewear Range
The range brings a playful splash of color to your workout wardrobe, but does it live up to the hype?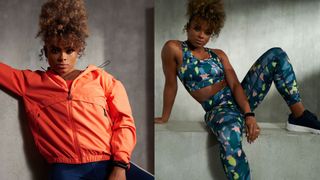 (Image credit: Dare 2B)
While many know Fleur East for her dazzling Strictly performances, her X Factor days or her morning slot on UK national station Hits Radio, few know her from her background as a qualified personal trainer.
According to East, fitness is still one of her big passions, and she has collaborated with retailer Dare 2B to release an activewear range that she says "works as hard as you do"—she claims that it can stand the test of any workout.
The fun, colorful women's gym wear range was launched in March 2023 and it includes sports bras, shorts and leggings, priced from £20 to £100, available to buy from various online retailers. The range includes items made with recycled materials, a boon for those who like their workout gear to be more environmentally friendly.
I tested several items from East's range including two sports bras, two pairs of leggings, shorts, a vest top and a jacket to see if they live up to the hype. I wore them for a number of different activities from runs up to six miles (10km), to low-impact stretching and strength training. All items were tested vigorously, and each was used for more than one activity.
While I loved some of the items, I found others didn't quite offer enough support or had other small issues.
Swift Lightweight Waterproof Jacket
For me, the star of the show is this jacket. A lightweight, waterproof jacket, it's presented as a post-workout layer for getting you home warm and dry. However, I found it very useful as a waterproof running jacket to keep me comfortable in cold, wet conditions typical of Scottish springtime.
On an easy run in heavy rain, I found the jacket kept me dry without being too warm or uncomfortable. The full zip is an added bonus, making it easy to regulate your temperature—between rain showers that is. And let's not forget the hood, which successfully kept the rain out of my eyes.
For warmer wet days this jacket would be too thick, but while the temperatures are low this is exactly what I want in a running jacket.
To top it off, the jacket has two big zip pockets. Perfect for storing your phone, gels and other essential items.
Sprint Up 2-in-1 Shorts
I'm a big fan of any pair of shorts with a compression layer built in. In the endless fight against shorts that don't cause chafing, it's my go-to style.
As many runners know, shorts that don't ride up your thighs are rarer than hen's teeth, so when these arrived I was eager to try them on my six-mile (10km) speed session.
Disappointingly, a few minutes into my run I realized these were not an exception to the rule—the outer material bunched up around every third step. However, the compression shorts remained put, so thankfully there was minimal damage to my skin. These shorts are definitely on the shorter and tighter side, which may have helped them stay in place.
The lightweight and quick-drying material kept me dry and comfortable during the heavy rain showers encountered on my run. I gave them another shot at the gym where they performed well, proving comfortable and flexible during a lower-body weights workout and a session on the elliptical. (Don't miss our round-ups of our favorite tried-and-tested running shorts and gym shorts.)
Swift Sports Bra & Don't Sweat It Sports Bra
The Swift Sports Bra (medium impact) and Don't Sweat It Sports Bra (low impact) were both tested on low-impact activities. As a regular user of high-impact sports bras, both felt quite unsupportive to me and I couldn't really differentiate between the support levels.
Both were perfect for yoga and low-impact strength training, not to mention stylish, if that matters to you. The Swift Bra comes in colors and patterns to match the leggings in the collection, and the Don't Sweat It Bra also comes in a whopping 23 different colors, one to match every gym look.
Again, these are suited to low-impact activities and would not be supportive enough for running—take a look at our pick of the best running bras for more supportive options.
Ardency Vest
This lightweight vest made with recycled materials is a useful addition to East's range. The fabric was comfy for high- and low-impact activities, serving me well both on my sprint sessions and stretches.
It comes in the same pattern as The Swift Bra and matching leggings. I'd recommend sizing up because the top is a little on the tight side.
Influential Tight
If you prefer lightweight second-skin-style leggings to supportive, compressive leggings then these are a great pick. Although they have a tight fit, the sleek material is light and airy and allows for maximum movement and mobility.
I tested these for both running and weight training at the gym. For both activities the tights proved comfortable and the lightweight, quick-drying material was perfect for exercising in rainy conditions. (Looking for more leggings? Head over to our selection of the best running leggings and women's gym leggings.)
Legitimate Legging
Another lightweight pair of leggings, these felt ever so slightly softer than the Influential Tight, though it's hard to tell the difference between the two. If you're looking for compressive, sculpting leggings, then these probably aren't for you.
Performance-wise, they proved to be comfortable, squat-proof and they fit me well. Much like the Influential Tight, these leggings allow for an unrestricted range of movement, making them ideal for yoga or Pilates (see our pick of the best yoga leggings for more like this). There is a hidden key pocket on the inside of the waistband but neither of these leggings have proper pockets.
The new range from Fleur East and Dare 2B is fun and colorful, and offers good value, but the majority of the items are best suited to low-impact sports. Runners, look elsewhere.
Sign up for workout ideas, training advice, reviews of the latest gear and more.
Lois Mackenzie is a fitness writer working on news, features, reviews and buying guides for Coach and sister site Fit&Well. Lois is a hill walker and avid runner who is training for her first marathon. Before joining Coach, Lois worked as a senior SEO reporter at Newsquest Media Group.