Peloton Apparel's Pre-Spring Collection Put To The Test
We put Peloton Apparel's kit through its paces in a spin class and on a run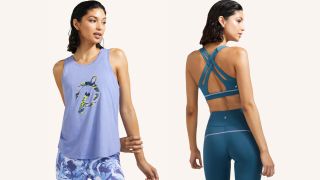 (Image credit: Peloton Apparel)
Storms Eunice and Franklin may have left us feeling that sunnier days are a long way off, but Peloton Apparel's new pre-spring collection features pastel-toned activewear to brighten the dullest of running wardrobes and drabbest of weathers.
The collection is available now in the UK and includes a range of styles for both men and women. For women, there's a choice of leggings (from £76), bike shorts (£52), long workout tops (£50) and bras (from £44), as well as loungewear (from £76) to wear when sheltering from the great British weather. For men, the range includes lined shorts (£64), loungewear (£92), and Peloton branded tops (from £46). The range is created for those in-between days where leaving the house requires multiple layers.
But what is it like on the move? We got our hands on the dusky blue Move Mission leggings, Move Mission Bra and Flow Racer Tank, and put the set through its paces in a spin class and on a run. Here's what we thought of it.
What Is Peloton Apparel Like On The Bike?
Like all the best women's gym leggings, the high-waisted Move Mission leggings didn't budge on the bike, even when moving between standing and sitting positions, helped by the drawcord waistband which allows you to pull the leggings tight against your stomach. The fabric is buttery-soft against the skin, although with no padding I'm not sure I'd want to spend hours in the saddle wearing them.
The bra was supportive enough for the spin class, with a scoop neck that didn't come too low, and a cross-back with thick shoulder straps to offer additional support. It has removable padding and fits well, although the straps aren't adjustable. It's available in an inclusive range of sizes, from XS to 3XL.
The leggings and bra have contrast lavender top-stitched seams and Peloton logos in pastel colours, which make for an attractive finish. The main downside is that sweat patches show up prominently, partly because of the lighter-coloured fabric. It may not bother you (who cares what you look like at the end of a spin class?) but if you're worried it might cause you embarrassment, shop for darker kit elsewhere.
The tank looks great. It has a marble print Peloton logo on the front, which matches the branding on the leggings and bra, and deep armholes for a relaxed fit. That said, it comes up very long, and it's well worth sizing down if you're not into the oversized fit. I'm a UK 8 and found the small size extremely long and nothing like it looks on the model.
What Is Peloton Apparel Like On The Run?
Peloton kit is said to be designed for all activities and instructors often wear the apparel during classes on the Tread, Peloton's treadmill, so we wore them out for a casual 5K.
Again, the leggings stayed put and thanks to the drawcord they didn't bunch or shift. However, they lack drop-in pockets on the legs for your phone, gels and running gloves, which we think should be a feature of the best running leggings. There is a small pocket on the waistband which is handy for your keys or credit card, but if you head out wearing these, you'll need a running belt.
As the Peloton bra offers only medium support I left it at home. When measured against the best running bras, the Peloton bra isn't especially compressive, and would probably offer only enough support for runners with an A or B cup size.
Again, the tank was comfortable, and the relaxed fit meant I could move freely as I picked up the pace. However, if you are running in the spring, you'll probably want something you can layer underneath a long sleeve, and the baggier fit might make this difficult.
The kit is high-quality and looks great, and it's available in inclusive sizing. It's nice to see an alternative to monochrome colours, too. Nevertheless, it would be nice to have some high-impact Peloton bras in the collection for larger-busted women.
---
More Peloton Coverage
Sign up for workout ideas, training advice, reviews of the latest gear and more.
Jane McGuire is a fitness enthusiast, with years of experience writing about running shoes, sports bras, and just about everything in between. When she's not training for a marathon, you'll find her walking the dog (and documenting it on Instagram).