We Tried The New Peloton Guide Workout Camera
Peloton's new connected strength trainer can track your movements and tell you which muscles need more attention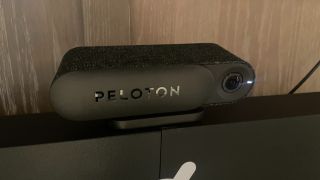 (Image credit: Nick Harris-Fry / Future)
Peloton has built a loyal fanbase of customers who use its Tread and Bike cardio machines, but the company knows that not everyone wants to run or cycle, which is why its app includes other types of workout, like strength, yoga and Pilates sessions.
If you prefer weights workouts, then the new Peloton Guide workout camera might be of interest. The Guide tracks your movements during workouts to ensure you're doing exercises correctly and shows you on screen side by side with the Peloton instructor so you can check your form.
During each section of a workout the camera counts your reps and fills up an icon shaped like a bead of sweat accordingly. If you complete enough reps during the time given you'll fill the icon and get a point. At the end of a workout the points are tallied and you're awarded a badge based on how well you did.
We tried a Guide workout at a Peloton press event in London and found that watching ourselves on screen made it a lot easier to check and correct our form during trickier exercises like single-leg deadlifts. Naturally this will be more useful for those who aren't already gym regulars and confident in their technique, though it's always worth perfecting your form.
The instructors remain as motivational as ever, dropping gems like "squeeze your glutes or no-one else is going to squeeze them", while having the sweat icon to fill with each exercise encourages you to work right to the end of the time allowed, rather than dropping your weights and resting as soon as the instructor tells you there are three seconds left of the set.
The Peloton Guide will also track the workouts you've done and which muscles you've worked, and start recommending sessions that hit neglected areas of your body. If you're someone who always skips leg day in order to focus on glamour muscles like the abs and biceps, this will be a useful prompt to work on your full-body strength.
You don't need much space to use the camera – you just need to be one metre away from it – though the set-up works best if you can place it beneath or above a TV screen to show the workout and movement tracking.
The Guide also has a mic so you can control the Peloton app with your voice. For those nervous about bringing another camera and mic into their home, you can slide the front cover of the Guide across to block the camera and there's a switch on the back that makes it easy to turn the mic off.
The Peloton Guide is available now and costs £275. You will also need a subscription that costs £24 a month, a price that will rise to £39.99 in 2023 to come into line with the Tread and Bike subscriptions.
That's a hefty chunk of change given that you can get a subscription for the Peloton app alone for £12.99 a month, which gives access to the video workout library, even if you don't get the movement tracking and other features of the Guide. The workout experience is a little better when using the Guide and you get five user accounts with the subscription rather than just one with the app subscription alone, but it's an expensive upgrade.
You can also pay £495 to get a full Peloton Guide kit including weights – dumbbells in sets of three that you can pick in line with your fitness level – and a mat plus the camera. It's not bad value given the weights we tested were of high quality, but you'll find great options for less in our best dumbbells round-up.
The new Peloton Guide offers similar benefits to smart fitness mirrors like VAHA, which also let you follow workouts and see yourself on the same screen, but at a much lower price. Workout mirrors cost at least £1,000 and some are nearer £2,000, and while the Guide doesn't have a screen it makes use of the TV screen you probably already have in your front room.
Sign up for workout ideas, training advice, reviews of the latest gear and more.