How to Match Craft Beer and Food like a Pro
Make your favourite craft booze taste even better with these perfect food partners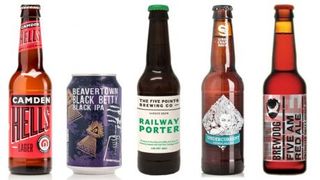 (Image credit: Unknown)
Whether you're sinking a few with colleagues after surviving a challenging week at work, or cracking one open at the finishing line of an exhausting long-distance run, it's easy to think that an ice-cold beer could never taste any better than it does when toasting a triumph.
But it can. The secret lies not in what you're drinking, but what you're eating. Get your beer and food combo absolutely spot-on, and you've secured a ticket to one hell of a mouth party, with complementary tastes enhancing the flavours of everything in your bottle and on your plate.
To give us a crash course in getting it right, we asked Stephen Beaumont, author of The Beer And Food Companion, to match five of our favourite after-work craft beers with their perfect foodstuffs.
Camden Hells Lager and… Pork
Beaumont says "Knowing how well Bavarian beer styles generally pair with pork, I'd drink this alongside the crispy pig knuckle known as Hax'n. The beer's hoppiness will cut through the fat and its malt backbone will complement the succulent flavours of the pork."
Feel guilt-free OK, this cut of pork may look like a fatty lump, and it essentially is, but that's not as terrible as it sounds. A study carried out at McMaster University in Canada found there was no link between saturated fats found in dairy and meat produce and ill health. Then again, if chewing on a knuckle still isn't your thing, try our super-simple pulled pork recipe instead.
Camden Hells Lager (4.6%), £1.89 waitrose.com
Beavertown Black Betty Black IPA and… Chocolate
Beaumont says "The dark malts and liquorice flavours in this beer create something a lot like an anise-flavoured boiled sweet. This brings a temptation to pair it with something likewise liquorice-y, but instead I'm going to opt for a dark chocolate mousse. The citrus and anise flavours of the beer will actually add depth and complexity to the taste of the pudding."
Feel guilt-free Want the proof that chocolate can be good for you? Check out our muscle-building brownie recipe.
Beavertown Black Betty, £2.89 beerhawk.co.uk
Five Points Railway Porter and… Beef
Beaumont says "Traditionally designed, with plenty of roasty flavours and just a hint of smokiness, this is a porter that cries out to be enjoyed alongside roasted meat. Instead of the traditional Sunday joint, however, I'd be inclined to pair it with a slow-cooked beef brisket – perhaps even one braised in the very same beer."
Feel guilt-free Crammed with protein and workout-boosting creatine, beef is a brilliant pre- and post-exercise meat. Just ask boxing legend Muhammad Ali, who scoffed two large steaks and 12 eggs the morning after beating George Foreman in 1974. Perfect your own steaks with our flame-kissed tutorial.
The Five Points Brewing Co Railway Porter, £2.45 eebria.com
Siren Undercurrent Pale Ale and… Pizza
Beaumont says "The keys to this beer are the sharp grapefruitiness of the hops and the smooth, silken body provided by the oats, alongside a malty fruitiness that holds it all together. With a relatively modest strength of 4.5%, it's also well positioned for refreshment, which is why I'd partner it with a pizza alla diavola, topped with plenty of hot sausage and peppers."
Feel guilt-free Pizza, the ultimate diet-ruiner, you say? Not if you're following our healthy and dead delicious DIY pizza recipe.
Siren Undercurrent, £2.69 beerhawk.co.uk
BrewDog Five AM Red Ale and… Nuts
Beaumont says "Although moderate in strength at 5%, this ale has a lightness and dryness of body that I think makes it perfect for the cocktail hour, with its gently fruity maltiness and dryly bitter finish teasing and provoking the appetite. I'd be quite happy enjoying it alongside a bowl of mixed and roasted nuts, but for added sophistication, thinly sliced rye bread and artichoke dip would work very well."
Feel guilt-free Good for your heart, great for your skin, high in protein… get to know your nuts with our guide.
BrewDog 5 AM Red Ale, £2.39 beerhawk.co.uk
Stephen Beaumont' book The Beer and Food Companion is £19.99 from amazon.co.uk
Sign up for workout ideas, training advice, reviews of the latest gear and more.
Craft beer drinker, Devonian, fisherman and former content director of Coach online, Chris contributed style coverage and features between 2016 and 2019.