21 Healthy Snacks To Buy
Steer clear of crisps and biscuits – pick up one of these healthy alternatives instead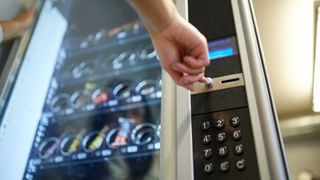 (Image credit: Unknown)
Preparation is one of the key ingredients of a healthy diet. If you always have healthy meals in mind or even prepped in advance, it's easier to avoid fast food or a ready meal when dinner time rolls around.
Even if you stick to this resolutely with your main meals, however, snacking can still stymie your attempts to eat healthily. Because when the taste for something sweet or salty strikes, it's hard to ignore. Fortunately, a bit of prep can once again save the day, because if you load up your cupboard or desk drawer with the snacks below, you can be assured you're eating something healthier than crisps or chocolate.
Maybe not that much healthier, because for a snack to be satisfying it still needs to hit that sweet or savoury spot, but there will be some kind of redeeming nutritional feature to each of our top snack picks. We promise.
---
A mix like this can be a great option if you're trying to limit your snacking, because it tricks the brain into thinking you've had more to eat thanks to the wide variety of flavours and textures. These 100g bags come in three varieties, the cashew, goji and chocolate goldenberry being the most exciting.
The vegan mix contains a variety of handy vitamins and minerals, and while a 40g serving is relatively high in calories with 223 and sugar at 8g, that's normal for a snack full of nuts, seeds and dried fruit – all of which are healthy in other ways. Just make sure you stick to the serving size and don't nail the whole 100g in one go.
---
Eatlean Protein Cheese Snack Bars
There are very few things in this life that can claim to be the equal of chocolate, but cheese is one of them, so it makes sense that a cheese bar is just as satisfying as a chocolate bar. That's even the case with low-calorie, high-protein cheese as it turns out, because these snacks are a savoury delight, and each 30g bar contains a mere 51 calories and 11g of protein.
Buy from Eatlean | £2.50 for one bag of seven bars, £25.50 for 12 bags of seven bars
---
Crazy Jack Organic Apricots
The Crazy Jack range is laden with healthy fruit and nut snacking options, but the dried apricots are the pick of the bunch. They're darker, softer and sweeter than other dried apricots we've snacked on, and contain just 70 calories per 40g pack while bringing you one step closer to your five-a-day too. There is 14.6g of sugar in a pack, and although that's the naturally occurring stuff you don't need to worry about as much, it's probably still not wise to eat several packs a day.
---
Plant Pops Popped Lotus Seeds
One thing we enjoy about hunting down healthy snacks is discovering a new ingredient – new to us, anyway – that makes something munchable a bit better for you. Case in point: popped lotus seeds, which we didn't even know existed before trying Plant Pops. These puffy little treats come in at under 100 calories a bag and certainly deliver on flavour, especially the smoked chilli variety. There's nothing else that really stands out in terms of nutritional benefits or drawbacks, so we'll have a little gripe about the design of the packets, which are infuriatingly hard to open.
Buy from Plant Pops | £21.60 for 24 20g bags
---
Alesto Veggie Protein Power
This own-brand snack from Lidl costs just 69p for a 28g packet, and it packs a punch in both the protein (8.5g) and fibre (3g) departments. You're getting a mix of roasted edamame beans, puffed chickpeas and baked cashews, with a spicy chilli, lime and sea salt coating. Each pack contains 134 calories, which is not bad at all considering the satisfying hit of protein, fibre and flavour you're getting.
Buy in-store at Lidl | 69p for 28g pack
---
Another snack that comes it at under 100 calories a bag, Burts Lentil Waves didn't wow us with their flavours, which are little bland – but they did provide a satisfyingly salty hit to tide us over to our next meal, something aided by the over 2g of protein per pack as well. Of the three flavours, the Sour Cream & Chive was the standout.
Buy from Burts | £10.50 for 16 20g bags
---
The Foodie Market Paleo Bar Almond & Cashew
You'll find this date-filled bar in store at Aldi. Each 45g bar is made up of just four ingredients – dates, almonds, cashew nuts and almond oil – and although the calorie count is reasonably high at 203, you're getting a highly satisfying snack thanks to the 4g of fibre and 6g of protein. However, with 16g of sugar in a bar, mostly from the dates, this is more of a treat to be enjoyed on active days than something to make a desk-drawer standby.
Buy in-store at Aldi | 49p for a 45g bar
---
They might not look the most appetising, but these vegan bites come in a range of delicious flavours – apple and beetroot is definitely our favourite. We seriously recommend dividing the pack up as soon as you receive it, though, because if you find you've scoffed the lot you'll have eaten the calorie equivalent of dinner and your max recommended daily intake of sugar in one sitting – not to mention a fiver's worth of snack. Ouch. A couple of the little cubes will take care of your afternoon munching.
Buy from Protein Works | £4.99 for 140g bag
---
There are just 75 calories in the 25g packs of this delicious dried meat – and we would advise opting for the 25g pack, because if you get the 70g one you're definitely going to end up munching through 70g of biltong in one sitting. While the calorie count is low, you have to be a little careful with your salt intake for the rest of the day when you snack on this because 25g contains 1.3g of salt, which is 21% of your recommended daily intake. But each 25g pack also contains a solid 12.5g of protein, which helps to make this about as satisfying a post-workout snack as you could hope for.
---
We're not saying chemical-y names on ingredient lists are bad – ascorbic acid, for instance, is just another name for vitamin C – but we are saying an ingredient list that reads like a smörgåsbord of healthy snacks is good. Two dates, nine almonds, half an apple, raisins and cinnamon artfully arranged on a plate might sound like a smug Instagram post, but it's what's in Apple Cinnamon, the tastiest flavour of these bars. One thing to be wary of, however, is that once you turn that lot into a bar you have to put in writing that there's 19g of sugar (two-thirds of your daily maximum) and more than 200 calories. Really, they're only marginally more healthy than a chocolate bar and other unhealthy snacks, but they are sensationally tasty.
---
Prodigy Chunky Chocolate Bar
This is one of the stronger entrants in the category of healthy chocolate bars, with just 6.9g of sugar and a magnificent 7.8g of fibre in each 35g bar. The bars also only contain 193 calories each, which isn't low enough to call them a low-cal treat, but it's certainly an amount that qualifies them to be part of a balanced diet. We're not going to come out and say they're as delicious as a real chocolate bar – it would be difficult for that to be the case, given that a standard 51g Mars Bar contains over 30g of sugar – but Prodigy's bars are tasty enough that you won't miss the real deal too much on your snack break, and that high fibre count means your hunger pangs will be well satisfied. The bars come in an Orange Chocolate With Baobab flavour, which has slightly more fibre and three calories fewer, but we preferred the taste of the Chunky Chocolate option.
---
Boundless Activated Nuts And Seeds
Adding nuts and seeds to your diet can bring real benefits, so if trail mix doesn't do it for you these handy snack packets of those very foodstuffs come highly recommended. We honestly don't know if the activated (as in, they're germinating) nuts and seeds Boundless sells are that much better for you, but frankly that's by the by. The nutritional numbers are solid, with each flavour coming in under 200 calories and packing between 5g and 8g of protein. Unlike their dry roasted cousins, there's minimal salt here and little saturated fat, which is the one you want to watch (trans fats are the ones you want to avoid). Of the four flavours available we recommend cayenne and rosemary, which delivers an aromatic, herby taste with a little kick in the aftertaste, and the very moreish turmeric and smoked paprika.
---
If you've got a roaring hunger, these tasty treats will sate the savage beast in your stomach – the whey or plant-based protein will help to fill you up (about 10g of protein with the whey, 5-7g otherwise), as will the healthy serving of fibre (somewhere between 4-6g). There are eight flavours in the original range, with cherry bakewell being our favourite if only for the well-executed novelty factor. There's also a new breakfast line which adds gluten-free oats to the mix, plus smaller packets that clock in at under 100 calories.
---
Look, chocolate isn't inherently bad for you, as long as you eat an appropriate amount. Conversely, nuts – a perennial healthy snack pick – are highly calorific if you inhale multiple servings in one sitting. You can either develop willpower or have I Love Snacks apportion out appropriately-sized servings for you. Of the six options, we'd highly recommend the dark Belgian chocolate (119 calories), the smoked Californian almonds (152 calories) and dehydrated mango (85 calories).
---
There is a lot to like here. From the rip-and-tip (into our mouth) opening on the packet, to the few grams of protein and gram or so of fibre, to the bonanza of micronutrients, to the fact that the 25g packet really does tide you over. The flavours are great, although anything sweet does come with a lot of natural sugars, but you can always opt for the ever-so-slightly salty Sesame Sprinkles (with only 0.2g salt) or Chilli Bites. Beware the latter though – we love spicy foods but these tickled our tonsils something rotten.
Buy from Munchy Seeds | £2.50 for 5 25g mixed flavour packets
---
This is a textbook example of a snack that isn't exactly healthy, but is sensationally tasty and certainly better than grabbing a Mars Bar. Kind Bars are relatively high in protein and fibre, which will help ensure you won't need another snack after you've finished the first one, and the prevalence of nuts in each means that the fat is mostly of the "good" unsaturated kind. While they are sugary and contain around 200 calories per bar (for reference, a standard Mars Bar is 230), Kind Bars are widely available and a decent option when your snack drawer is empty and you pop to the shops for a mid-afternoon pick-me-up.
---
Rude Health Cornitas Black Bean
Our advice here is to only get the 30g packets of these tortilla chips, which are a mix of black bean (30%) and corn to make them slightly healthier than your standard triangular treats. The reason we'd avoid the 100g packets is that it is impossible to leave any of the chips uneaten because they are so darn tasty. They are a healthier alternative to standard tortilla chips, with less than half the fat, and far more protein and fibre than, say, a pack of Doritos.
---
Well & Truly Crunchy Smokey Paprika
There are several salty options in the Well & Truly range, but forget all others and grab as many bags of these paprika-flavoured Nik-Nak-alikes as you can handle, because they are a taste sensation. They're not really that much healthier than crisps apart from containing half the amount of fat, but they're so delicious any relative nutritional benefit really is just a bonus.
Buy from Well & Truly | £10 for seven 100g packs
---
Bounce Balls are available in pretty much any supermarket nowadays, making them a great option when you're stuck for snacks. There's an impressive range of flavours (our top pick is Cacao Orange) and each is high in protein, contains a decent amount of fibre, and has a fat profile that leans heavily towards the unsaturated kind.
See related
---
Yushoi Snapea Rice Sticks
These salty sticks are as winning a combination of rice and green peas as we've ever come across. They will mush up and stick in your teeth long after the packet is empty, but that just prolongs the enjoyment. The standout flavour is Soy & Balsamic Vinegar, and in terms of nutrition you're getting around half the fat and twice as much fibre and protein as with regular crisps.
Sign up for workout ideas, training advice, reviews of the latest gear and more.
Coach is a health and fitness title. This byline is used for posting sponsored content, book extracts and the like. It is also used as a placeholder for articles published a long time ago when the original author is unclear. You can find out more about this publication and find the contact details of the editorial team on the About Us page.