High-Protein Snacks: Quick And Easy Protein Hits
Don't fancy a shake? Get an instant hit of the essential muscle-builder with these high-protein snacks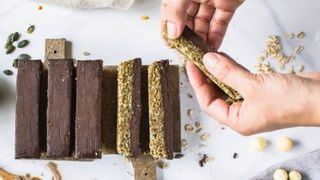 (Image credit: unknown)
When you start a new exercise regime, the first change you're likely to make to your diet is to increase your protein intake to help your body repair and rebuild muscles.
Most of your protein intake should come from your main meals, but eating snacks high in the stuff is a savvy move – not only because it will help you hit your daily targets but also because protein makes you feel fuller for longer. Biscuits might seem satisfying in the short term, but after half an hour you'll be tempted to dip back into the pack for more, while a protein-rich snack will actually keep hunger at bay until your next meal.
Read on for a list of the best high-protein snacks, plus some recipes to make your own protein-rich nibbles.
12 High-Protein Snacks (Protein Content Per 100g)
Roasted soy beans (36-40g): If you can find roasted soy beans in your local supermarket it's worth stocking up because they're chock full of protein and fibre, which should ensure hunger doesn't strike again before the next mealtime.
Beef jerky (30-40g): These delicious dried strips of meat are the perfect high-protein pick-me-up, but it's worth checking how much salt and sugar your favourite variety contains, since jerky can be alarmingly high in both.
Pumpkin seeds (30g): Roasted and salted pumpkin seeds are a snack fit for a king – the high protein content is just a bonus. You can also eat them plain, if you want to be even more healthy.
Peanut butter (25g): There are high-protein versions of peanut butter out there which contain over 30g per 100g, but even the bog-standard stuff is still rich in protein as well as healthy unsaturated fats.
Almonds (21-25g): Almonds were reportedly President Obama's snack of choice when in office, and for good reason. They're high in protein, unsaturated fats and vitamin E, which helps keep your skin glowingly healthy.
Hazelnuts (15g): As well as packing in the protein, hazelnuts contain around 10g of fibre per 100g.
Brazil nuts (15g): Brazil nuts are one of the best dietary sources of selenium, which your body needs to support its immune system.
Walnuts (15g): Another excellent nut that can fulfil your high-protein snack needs, walnuts also contain the essential fatty acid alpha-linoleic acid, which can help reduce the risk of heart disease.
Boiled eggs (12.5g): Let's be honest, you're not going to make any friends if you start peeling an egg at your desk, but if you work from home or have your own office, they are a fine source of protein.
Cottage cheese (10g): If you can handle the gooey/chunky texture, cottage cheese is a great low-fat pick for snack time. Spread it on oatcakes for some extra fibre.
Roasted chickpeas (7-10g): Drain a can of chickpeas, sprinkle on some salt and pop them in the oven for half an hour at 180℃ and you have an easy snack full of protein and fibre.
Greek yogurt (9-10g): Make sure you get proper Greek yogurt (Total is the most widespread brand), rather than "Greek style", which contains half the protein.
High-Protein Snack Recipes
Quick, easy and exceptionally tasty, these flapjacks have a strong claim to be the very best protein snack out there. Peanut butter and protein powder bulk up their muscle-building credentials, while acacia honey adds sweetness.
Step away from the oven, because all you need to make these brownies is a blender and a fridge. Best make sure it's a powerful blender though, because Wicks hasn't skimped on the ingredients that need blitzing – these brownies contain all manner of nuts, dates and berries, along with three squares of 90% cocoa chocolate. Or four. Or five. It all depends on how disciplined you are.
Another absurdly simple recipe to add to your snacking arsenal. Four ingredients – peanut butter, honey, protein powder and oats – one blender and two hours in the fridge should set you up for snacks for seven days.
If you want your protein snack to be square-shaped and full of tasty almond butter and dried apricots, then try these almond butter and apricot protein squares! The clue really was in the name. It takes a little heat to melt the butters (yes, that's butters plural, high times indeed), but then you just mix everything together and shove it in the oven. Easy, delicious and calorific – this is a recipe for those undertaking a lot of training.
Save this chocolatey treat for a truly special snack break, maybe after your toughest lunchtime workout of the week. It contains a mammoth 26.2g of protein per serving as well as a chunky 294 calories, so it's best consumed when your body really needs to refuel after some intense training. The use of tofu bumps up the protein content of the recipe and also makes it one of the more interesting snacks on the list – people will be amazed you've used tofu and assume you're a culinary whizz, even though the recipe mainly involves blending.
If you only have a couple of minutes to spare you might assume that precludes you from making your own high-protein snack, but you'd be oh so wrong. Grab a mug, shove some protein powder, milk, cocoa powder and baking soda in it, and pop it in a microwave. Less than a minute later you'll be done, although you should probably let the cake cool before tucking in.
High in protein and fibre, these tasty balls are an immensely satisfying snack that will keep hunger at bay until your next meal. They're also exceedingly simple to make: just blitz the ingredients in a blender and set the balls in a freezer, before drizzling them with chocolate. Remember – drizzle, don't drench.
Shop-bought protein bars can be very good, but they can also be filled with unexpected ingredients which we can neither pronounce nor fathom. You check out our protein bar guide to find out which the best ones are, or just make your own using this superb recipe.
See related
A big claim, but one we think this recipe lives up to. Blend the ingredients and put them in a freezer. A couple of hours later you'll have a whole tray full of delicious peanut butter bars. The only hard thing about making these bars is stopping yourself from eating the whole lot in one go.
A jar of this granola works as a desk snack just as well as it does for breakfast, with the peanut butter, almonds and pumpkin seeds in the recipe bumping up the protein count, and the maple syrup satisfying your sweet tooth.
Almost everything is improved by a sprinkling of desiccated coconut and these tasty mini-cakes are pretty awesome even before the coconut covering is added. Almonds, pecans and peanut butter provide the protein in this recipe.
Sign up for workout ideas, training advice, reviews of the latest gear and more.