Whip Up A Post-Workout Treat In Minutes With This Protein Mug Cake Recipe
Satisfy your sweet tooth and boost your protein intake with these super-simple cake recipes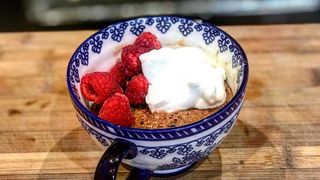 (Image credit: Unknown)
Four ingredients, three minutes, a microwave and a mug. That's all you need to make this chocolate protein mug cake recipe from Multipower ambassador David Templer. That's insanely simple, right? It doesn't get any simpler, right? WRONG! Templer has also created a vanilla protein mug cake recipe that uses just three ingredients, knocking at least 20 seconds off the overall prep time.
Both these recipes are below, although really they are more or less the same bar the flavour of protein powder and your choice of toppings. Both protein mug cakes contain under 150 calories and 24g of protein, although toppings will bulk up the calorie count.
Chocolate Protein Mug Cake Recipe
Put a mug on your scales and pour in 30g (three scoops) of chocolate whey protein powder.
Add 5g of cacao or cocoa powder and less than a gram of baking powder – just fill the end of a teaspoon.
Mix the dry ingredients together well, then pour in 60ml of milk – coconut, unsweetened almond or whatever your regular white stuff is.
Mix it all in so there are no lumps. Don't worry if it looks thick – it's supposed to.
Pop your mug in the microwave. If you want the entire mixture to be firm, put it in for one minute. If you want it to be a bit moist and for there to be a bit of a liquid in the middle of it, go for 45-50 seconds.
Enjoy it as is or top it off with some Greek yogurt and fresh berries, although doing so will probably push you over 150 calories.
Vanilla Protein Mug Cake Recipe
The method is exactly the same as with the chocolate mug cake recipe but you ditch the cocoa/cacao powder and swap the chocolate protein powder for vanilla. That's one fewer ingredient in total than the chocolate mug cake, which makes the vanilla version 25% easier to make.
Once you're created your vanilla protein mug cake, Templer's recommended topping is salted caramel ice cream.
Multipower Rich Chocolate Whey Protein Isolate, £27 for 900g, buy on multipower.com
Sign up for workout ideas, training advice, reviews of the latest gear and more.