The Best Low-Calorie Snacks That Will Fill You Up And Taste Great!
Shop-bought savoury treats that are under 100 calories but still satisfy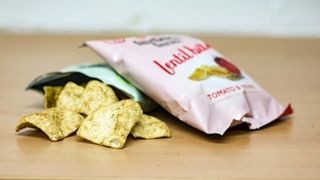 (Image credit: Unknown )
Snacking is one of life's great pleasures and any diet plan that bans food between meals is going to be tough to stick to. Breakfast, lunch and dinner are all very well, but for true satisfaction from your daily diet a mid-morning and afternoon pick-me-up is nigh on essential. Even Public Health England's 400-600-600 calorie guidelines for your three main meals leaves room snacks and drinks.
For some reason, though, snacking is synonymous with unhealthy foods like biscuits, cakes and crisps – but it doesn't have to be this way. To help transform your snacking mentality, we've hunted down all the best low-calorie shop-bought snacks. And by low we mean under 100 calories in a serving. That means we are only including tasty snacks that are actually satisfying, because there's little point in restricting yourself to a 100-cal snack if you need to have at least three of them to silence the hunger pangs.
We've gone for shop-bought options below but naturally you can also… scratch that, should regularly chow down on a piece of sweet, juicy fruit or grab a handful of nuts.
The Best Low-Calorie Snacks You Can Buy
Eatlean Protein Cheese Snack Bars
This cheese snack bar comes in at just 51 calories. We could stop there, couldn't we? You're already sold. But we won't, because it's worth saying that the low-calorie, protein-heavy cheddar used is pretty damn tasty… even if it's not quite, you know, normal cheddar. The 11g of protein in each 30g bar is also unlike normal cheese, though in a good way.
Buy from Eatlean | £2.50 for one pack of seven bars, £25.50 for 12 packs of seven bars
Crazy Jack Organic Apricots
These are not just dried apricots. These are the tastiest, softest dried apricots we've ever had. Which is probably partly because they're pretty sugary at 14.6g per 40g pack, but that's the naturally-occurring kind of sugar you get in fruit. So still sugar, but not really bad sugar… right? Each pack only contains 70 calories too and counts towards your five-a-day.
Buy from Sainsbury's (also available at other supermarkets) | £2.50 for 5 pack
Plant Pops Popped Lotus Seeds
Want something a little different for your snack drawer? How about popped lotus seeds? These puffy balls come in three flavours – Himalayan salt or smoked chilli for savoury fans, and peanut butter for those who like a mix of sweet and salty. Each bag comes in under 100 calories, and they're an enjoyable satisfying addition to any afternoon. If pushed we'd choose the smoked chilli flavour as our favourite.
Buy from Plant Pops | £21.60 for 24 20g bags
Lentil Waves
Lentil crisps are a great alternative to the usual potato variety, because using lentils rather than the simple spud adds a little extra protein and fibre to each pack. Burts Lentil Waves aren't as flavourful as Fairfields Farm Lentil Bites, but they are another strong option and come in three solid flavours – lightly salted, sweet chilli and the pick of the bunch, sour cream and chive. Each pack contains fewer than 100 calories and over 2g of protein.
Buy from Burts | £10.50 for 16 20g bags
Boka Cereal Bars
A good place to start when looking at any food packaging is the traffic light system which rates the fat, saturates, sugars and salt content against reference intake advice. The colours on this packet are uniformly green, but that's not the healthiest part of these bars as far as we're concerned. That would be the almost 6g of fibre you get in each oat-based bar. They are not as delicious as calorific fruit and nut-based bars, and the combination of sweeteners and whey protein may not be to everyone's tastes, but if you have a protein bar habit you're trying to break then these will help wean you off.
Buy from Sainsbury's | £2 for four 30g bars
Satisfied Snacks Roughs
The first thing you'll notice about this snack is that it comes in a can. Not as big as a can of baked beans, but a can nonetheless. Satisfied Snacks chose this because, unlike plastic or other packaging, it's recycled easily no matter how behind the times your council is. As to the snacks, they're as delicate as seaweed thins, but with a bit more crunch to them. We didn't think they'd fill a snack-sized hole after one bite, but if you eat one at a time you'll graze for a fair while and end up feeling full – we reckon that'll be the protein-packed chickpeas in the recipe. Of the three flavours we tried, the red pepper and walnut had the pleasant sweetness of the peppers, while the tomato and feta was a bit cheesy and the beetroot and goat's cheese was more distinctively cheesy, making it the tastiest. Most importantly, Roughs are pretty damn healthy – one can is under 100 calories and counts as one of your five-a-day.
Buy from Satisfied Snacks | £3.99 for a sample pack of four 20g tins
Fairfields Farm Lentil Bites
These lentil crisps are tastier than any sub-100 calorie snack has a right to be, especially if you opt for the zingy jalapeño and lime flavour. They're not that much healthier than standard crisps, but the extra protein and fibre they contain means a small serving size of just 20g still satisfies.
Fairfields Farm Lentil Bites 20g x 18 (Jalapeno Lime)
£24.99 (£69.42 / kg)Buy now
Buy from Fairfields Farm | £13 for 18 20g bags
Yushoi Snapea Rice Sticks
Peas are the key ingredient in these savoury snacks, which contain a mere 88 calories per 21g pack if you opt for the superb soy and balsamic vinegar flavour. There's 2.8g of fibre in each pack, which helps ensure your stomach won't demand another pack. It's unlikely the same will be said of your tastebuds.
See related
Nim's Beetroot And Parsnip Vegetable Crisps
Tip of the hat to Nim, whoever Nim is, for keeping the calorie count down to a mere 59 calories per 18g serving of these veg crisps. The fibre count, meanwhile, is sky-high at 3.75g, and a pack counts as one of your five-a-day.
Buy from Nim's | 95p for one 18g bag
Metcalfe's Skinny Popcorn
If you can stick to serving sizes then any popcorn is a solid low-calorie pick, but no-one sticks to serving sizes with a snack this moreish, so it's best to opt for Metcalfe's mini packs. The 17g packs of sweet and salty flavour contain 82 calories and a solid 1.7g of fibre. Metcalfe's popcorn also has the advantage of being available in most supermarkets so you can find a pack in a pinch, and it's cheaper than many of the packaged healthy snacks you'll find.
Buy from Tesco | £1.79 for six 17g packs
Sign up for workout ideas, training advice, reviews of the latest gear and more.