Healthy Crisps: The Most Satisfying Snacking Alternatives
Um, well, healthier alternatives to crisps at least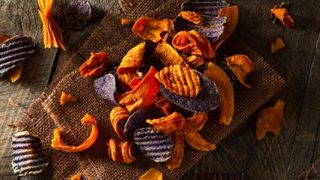 (Image credit: Unknown)
The UK loves crisps, so much so that plenty of worthy lifestyle goals have been sabotaged by the siren rustle of the crisp packet. Even though some brands have tried to make the typically high-fat, high-salt snacks more nutritious, these little flakes of potatoey heaven remain firmly in the unhealthy camp because they're so easy to overindulge in.
No one is expecting you to quit crisps cold turkey (one of the least popular flavours, that), though – the occasional pack of crisps can fit quite happily in a healthy diet, and besides, there are plenty of healthier alternatives to add some variety. Be warned, though, not all these options are that much healthier, so Coach has run the rule over them to help you pick.
---
Katie's Food Co. Banana Crisps
Behind the veneer of healthy buzzwords on the packet like vegan and gluten-free – which crisps often are anyway – what you have here is a banana crisp which, on the face of it, is marginally less healthy than a potato one. Compared with Walkers ready salted it has almost 5g more saturated fats per 100g and 1.63g more salt per 100g. One thing in its favour, however, is that it counts as one of your five-a-day which never hurts – although we wouldn't make it a daily staple.
It's a decent-tasting snack, and the Thai sweet chilli flavour packs a nicely balanced spicy, sweet and unusually vinegary hit. Katie's has also done a good job of cutting the banana thin enough to look like a crisp, although it doesn't quite match the crunch of the potato variety. Consider these a way of adding a bit of variety to your snack drawer, rather than a healthier substitute.
---
Impossible beauty standards aren't just for humans, they also apply to fruit and veg. But Spare is taking some of this discarded produce, slicing it and air-drying it to make virtually fat- and salt-free crisps. The fruit varieties – apple (also available with cinnamon) and pear (or pear and ginger) – are a touch chewy, but the beetroot (or beetroot and apple cider vinegar, if you fancy) are legitimately crispy and they're our recommendation. Each 22g bag clocks in well under 100 calories, counts as one of your five-a-day and is also high in fibre. The only downside is that each has around 10g of sugar, about a third of the recommended maximum daily intake. While we'd never warn you off whole fruit because of the sugar content, things get a bit less clear-cut once the fruit is processed.
Buy from Muscle Food | 75p for a 22g bag
---
Fairfields Farm Lentil Bites
Here's a highly reassuring fact: the Fairfields Farm farmers grow potatoes and make crisps, so you can be confident that since they're well acquainted with what makes crisps so satisfying, they won't turn out an alternative that doesn't match up. This effort is made mostly from lentil and chickpea flour, comes in two flavours (tomato and herb, and – our favourite – jalapeño and lime), and is crunchy in a prawn cracker kind of way. It's a solid effort that we'd happily eat again and perhaps it's this moreishness that has led Fairfields Farm to package these lentil bites in 20g bags, keeping the calories under 100 per pack. Otherwise, they're not that much healthier than crisps, with a bit less fat and a touch more protein and fibre.
Buy from Fairfields Farms | £13 for 18 20g bags
---
If you like cheese puffs but are trying to go without in an effort to eat a little healthier, we are about to rock your world. These cheesy puffs are mostly made from black-eyed pea flour and rice flour, and are legitimately healthier. And tasty. And cheesy. Well, if you pick that flavour at least – sweet chilli and salt and pepper are also available, the latter being our favourite. But with regard to how healthy Bepps are, it's worth taking a moment to compare cheese-flavour Bepps to Cheetos. Per 100g, Bepps have 16.6g fat versus 23g for Cheetos, while protein is 15g against 5.6g and fibre is 4.4g compared with 1.6g. It's also worth noting Bepps are sold in single-serving packets which clock in at 91-92 calories. If that's not a healthier crisp, we don't know what is.
---
Rude Health Cornitas Black Bean
How healthy these corn-based crisps are will be entirely dictated by your choice of packet size. Choose the 30g pack and you're looking at a perfectly acceptable 0.5g of saturated fats, 0.59g of salt and 118 calories, as well as a welcome 3.5g of fibre and 3.4g of protein. Choose the 90g bag and you're looking at three times that because you will not stick to the recommended 30g serving size of these deeeeeeeelicious nacho substitutes. Alternatively, try the not-so-moreish chickpea and lentil flavour for a better chance of avoiding gluttony.
Buy from Rude Health | £20 for 24 30g bags
---
Well & Truly Crunchy Smokey Paprika
Some crisps tickle the tastebuds of all age groups – your Walkers, your Pringles, your Doritos. Others, however, don't stay with you into adulthood. Take Nik Naks, for example: once you hit your mid-to-late teens, it's almost like you stop seeing them on the shelves. And that's a bit of a shame because Nik Naks are pretty great, and Well & Truly's healthier version of them are pretty great too. The crunchy sticks are packed with flavour – one member of the Coach team was actually overwhelmed by the paprika punch, calling it "a bit much", but more courageous crisp fans will be delighted. They're pretty similar to crisps on all nutritional fronts bar fat, coming in at around half the total fat you'll find in a serving of Paprika Pringles. Or indeed Nik Naks, if you're still eating them.
Buy from Well & Truly | £2.50 for four 30g packs
---
Nim's Beetroot And Parsnip Vegetable Crisps
These are straight-up healthy. No fat, no saturates, no salt, just 59 calories' worth of air-dried vegetables that count as one of your five-a-day and contain 4g of fibre. Like us you'll probably find that the crunch is a bit soft, the parsnip is pretty bland and it's only the sweetness of the beetroot that saves the experience. But like us, you'll probably finish the bag anyway and leave the experience satisfied (thanks, fibre). There are also fruit crisps available in three flavours (apple, pear or pineapple) if you can get your head around sweet crisps.
Buy from Nim's | £1.25 per 18g bag
---
Any flavour of Snack a Jacks is a decent bet for your afternoon snack – after all, they all have far fewer calories and less saturated fat than crisps – but we recommend the salt and vinegar ones, because they are so mouth-tinglingly vinegary. One common problem with ditching crisps for healthier options is that they can skimp on flavour, so an option that packs a proper taste punch is a welcome find. Another plus point for Snack a Jacks is their ubiquity and price. These aren't a niche option you have to visit a health food store to find – they're everywhere in various pack sizes, and they cost about the same as regular crisps.
---
Yushoi Snapea Rice Sticks
Who'd have thought combining rice and green peas could create such a satisfying salty snack? These sticks come in six flavours, with Soy & Balsamic Vinegar the stand-out, and each pack contains half the fat and double the fibre and protein of regular crisps. A winner all round.
See related
If you all desire from your crisp replacement is the delicious taste of salt on your tongue, these will fit the bill. They're a mere 24 calories a pack, largely because there's hardly anything in there ("thin" is in the name, to be fair), so unless you're very disciplined you'll be back raiding the snack drawer before you know it.
Sign up for workout ideas, training advice, reviews of the latest gear and more.
Jonathan Shannon has been the editor of the Coach website since 2016, developing a wide-ranging experience of health and fitness. Jonathan took up running while editing Coach and has run a sub-40min 10K and 1hr 28min half marathon. His next ambition is to complete a marathon. He's an advocate of cycling to work and is Coach's e-bike reviewer, and not just because he lives up a bit of a hill. He also reviews fitness trackers and other workout gear.