Sort Out Your Snacking With This Peanut Butter Protein Balls Recipe
Switch out the biscuits for these tasty high-protein treats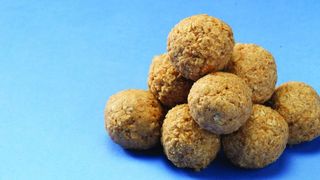 (Image credit: Future)
Supermarket shelves are rife with high-protein snacks these days, and these can be a decent option in a pinch – but there's no need to subject yourself to the expense of shop-bought snacks because it's very easy to make them yourself.
Whether you want to make your own protein flapjacks, protein bars or protein balls, it doesn't take much effort at all to create your own snacks, as you'll see in this protein flapjack recipe and protein bar recipe. This protein ball recipe may be the easiest of the lot, because it only has two steps in the method section. Even then we've had to stretch it a bit because a one-step method just looks silly. Stick everything in a blender, let it set for a few hours. Boom. You're done.
A batch will keep well in the fridge, so you have a healthy snack to turn to whenever hunger strikes. As well as being high in protein, the balls are full of fibre. Both fibre and protein help to keep you feeling full so you can bid those mid-afternoon hunger pangs goodbye.
The recipe below calls for vanilla protein powder, but you can swap in whatever your favourite flavour of powder is. If you haven't found a preferred brand of protein powder, our round-up of the best protein powders has plenty of flavour options to choose from.
Peanut Butter Protein Balls Recipe
Method
Mix all the ingredients together in a food processor (or by hand in a bowl) and form into walnut-sized balls.
Place the balls in the fridge for a couple of hours until they harden.
Ingredients (Makes 10-12 Balls)
180g peanut butter
90g agave honey
1 scoop of vanilla or other protein powder
45g porridge oats
Nutritional Information (Per Ball)
Calories 133
Protein 5g
Fat 8g
Carbohydrates 12g
---
More Recipes
Sign up for workout ideas, training advice, reviews of the latest gear and more.
Between 2010 and 2016, Ben was the deputy editor of Men's Fitness UK, which predated, and then shared a website with, Coach. Ben also contributed exclusive features to Coach on topics such as football drills, triathlon training plans and healthy eating.