Healthy Vegan Breakfast Recipes From Chef Day Radley
Add bliss bowls, chia puddings, tofu scrambles and crepes to your morning repertoire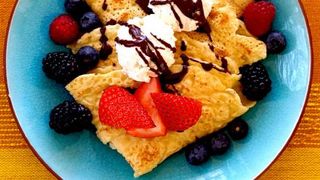 (Image credit: Unknown)
More of us are eating vegan meals than ever before, but making them is a different matter. For the uninitiated, vegan cooking is littered with proverbial banana skins. Take breakfast for instance. A fruit salad sounds like an easy solution, but no. "Don't get up in the morning and just have a fruit salad because by nine o'clock you will be hungry again," says chef Day Radley. "Fruit will give you that energy boost, but you need to add in nuts or oats for sustained energy, to keep you fuller for longer."
If you're eager to know more, you'll be delighted to know Radley is sharing her expertise to know Radley is sharing her expertise through the Vegan Chef School (opens in new tab). As well as teaching aspiring pro chefs, Radley has launched an online course for home cooks (opens in new tab), with the next group starting on 1st April.
The course costs £140 and covers seven areas including easy meals, one-pot dishes, delicious desserts, tasty tofu and – drumroll please – healthy breakfasts. We asked for Radley's advice on preparing healthy morning meals and she gave us plenty of ideas along with three recipes from the course.
Make It The Night Before
If you're partial to a lie-in, or aren't the most decisive in the morning, you'll be pleased to know there are plenty of make-in-advance vegan breakfasts like overnight oats and chia puddings. "You can make them the night before and then in the morning your breakfast choice has already been made," says Radley. "You just need to grab it from the fridge! Try soaking oats with grated apple, raisins and a pinch of cinnamon. You can even pop it in a Tupperware box to eat on the way to work." For a more exotic flavour hit, try making her tropical chia pudding with coconut and lime.
Tropical Chia Pudding Recipe (Serves Two)
Ingredients
1 medium banana
2 large dates (Radley uses medjool, which are soft – if yours aren't soft, soak them in just-boiled water for 10 minutes)
Zest of ¼ lime
120ml water
¼ cup (4tbsp) ground almonds (or coconut flour)
1tbsp chia seeds
2tbsp desiccated coconut
½tsp cinnamon
Method
Put the banana, dates, zest and water into a jug or bowl. Use a hand blender to blend till smooth.
Add the ground almonds and mix well.
Add the chia seeds and mix again. Pour this into two bowls or glasses.
To make the topping mix the desiccated coconut with cinnamon. Scatter on top of the puddings.
Leave the puddings in the fridge to thicken for at least one hour, or overnight.
Eat Fruit And Nuts Before A Morning Workout
For a pre-workout breakfast that won't weigh you down, whip up a fruity bliss bowl the night before, such as Radley's mango berry bliss bowl with mango purée, raspberries and ground nuts. It thickens overnight into a mousse-like texture. The fruit delivers an initial boost and the nuts will give you sustained energy.
Mango Berry Bliss Bowl (Serves Two)
Ingredients
30g cashew or brazil nuts
1 mango, around 200-300g
40g frozen or fresh raspberries, plus a few for the top
1tbsp ground flaxseed
Method
Using the chopper attachment of a hand blender (or food processor) blend the nuts until they are crumbs.
Cut and peel the mango, roughly chop it, add to the chopper (or food processor) and blend.
Add 40g raspberries and the flaxseed, blend once again.
Spoon into two glasses, ramekins or cups.
Break the remaining raspberries into pieces and put on top of the desserts.
Allow to rest overnight.
Use Tofu Or Soy For A High-Protein Breakfast
In search of protein-based vegan breakfasts? "A tofu scramble is an amazing way to start the day," says Radley, "if you've got time to make it."
For mornings when you're in a rush, a thick smoothie with soya yogurt offers a filling, protein-rich start to the day. "I know bodybuilders are always on the search for sources of protein, and soya yogurt is one of the few sources of vegan protein that doesn't have any carbs in it."
See related
Treat Yourself With Pancakes
At the weekend, whip up some vegan pancakes for an indulgent breakfast. They're tasty and, as long as you add toppings like fruit and nuts, healthy too.
Vegan Crepes Recipe (Serves Two)
Ingredients
80g potato starch or tapioca flour
80g gram flour
A pinch of salt
200ml plant milk
A little oil
Method
Heat a frying pan on a medium heat while you make the batter. Put the flours and salt in a jug or bowl and mix well. Add a third of the milk and mix, getting rid of the lumps. Add more milk, mix again and keep repeating this process until all the milk is incorporated.
Pour a small amount of oil into the pan and tilt the pan so the oil covers it. Pour some batter into the pan and tilt the pan again, so you get an even thin coating of batter.
Fry for a few minutes on a medium heat. Flip over, add a little more oil if needed and fry for another few minutes. Serve immediately with toppings of your choice.
Sign up for workout ideas, training advice, reviews of the latest gear and more.
Camilla Artault is a writer and keen runner. She has covered women's running gear – testing leggings, jackets, running bras, tops and shorts – for Coach since 2018, as well as interviewing experts and writing about a range of health and lifestyle topics.