Essential Marathon Kit To Help You Ace Your Big Race
Make sure your marathon memories are of a race run perfectly by getting your race-day kit sorted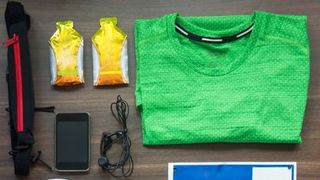 (Image credit: Unknown)
You've done the lung-busting tempo sessions, set your legs on fire with hill repeats and racked up an impressive number of slow, steady miles. Which means that the marathon – the actual thing you've spent all these months training for – is almost upon you. If you're like me you're feeling a combination of quiet confidence and nerves. So what do you need to know and do in these final days to get your preparation perfect?
As with many aspects of running a marathon, it's important to remember that anything you plan to do on the day should be tried and tested on your training runs. A running bag with more pockets than an East End snooker hall may look great, but if you've never run with a bag before you might end up with your shoulders and back as red as a fire engine.
Here are a few suggestions for what you'll need with you at each stage of the day.
Before The Race
London Marathon Plastic Sack
Important to remember, this: only the official kitbag with your race number label stuck to the front will be accepted at the start and whisked to the finish so it's waiting for you. Make sure everything you have for after the race – and everything you have on you before the race – fits inside.
Expendable Pre-Race Clothing
Bring an old sweater or hoodie that you can wear to keep warm after you've dropped off your bag, when you'll still have to spend 20 minutes or so huddled in one of the time-grouped paddocks. A cheaper alternative is a black bin bag with holes ripped for your head and arms.
Vaseline
Applying Vaseline to my nipples in public is one of the main reasons for running marathons – but as much as I enjoy receiving a globule of petroleum jelly from the latex glove of a St John Ambulance paramedic, I prefer to carry a little pack around with me and apply it before I start running. If you want to carry it with you during the race the plastic flip-top pack is best – the traditional tins are almost impossible to open mid-run. Apply to your nipples and any other sensitive areas that run the risk of being rubbed raw.
Lip Balm
Either use your trusty pack of Vaseline or bring a more specialised lip option. Even if it's not chilly, breathing through your mouth for the length of a marathon is a sure recipe for cracked lips.
Sunscreen
OK, it's a long shot, but London in April can be hot. It hasn't happened very often – most recent runnings of the London Marathon have been cool, calm and overcast, AKA perfect marathon conditions – but if the forecast is bright and sunny then pack some sunscreen, just in case. You don't want your post-race celebrations ruined by sunburn.
During The Race
Drinks
The London Marathon has water stations every mile from mile three through to 25, with Lucozade Sport on offer at miles five, ten, 15, 19 and 23. However, if you know that to go the full distance you must have your pina colada-flavoured amino acid booster, then make sure you're comfortable running while holding a water bottle, or use a running belt with built-in bottle holders. Just make sure you've practised running in one.
Gels
Lucozade Sport Carbo Gels are on offer at stations at 14 and 21.5 miles. If you plan on using your own gels, a belt with elastic slots works well. Always make sure you've tested your race gel during your final training runs to make sure it doesn't have any adverse effects, such as tummy trouble.
RECOMMENDED: The Best Running Gels And How To Use Them In Your Marathon Training
Headphones/Music Player
Many organised races have banned the wearing of headphones as a safety precaution. This isn't the case for the London Marathon because it is a closed-road race, meaning there is no traffic anywhere on the course. If you want to run whilst listening to music or podcasts, make sure your devices and Bluetooth headphones are fully charged. Don't have it too loud though – you'll miss out on all those thousands of people lining the streets cheering your name (if you've got it on your running vest).
Pace Band
If you're aiming for a specific time it's worth grabbing a pacing band either online or at the London Marathon Expo, where several stands will offer them for free, including the Lucozade stall. The band will list the time you need to hit at each mile or kilometre of a race to ensure you manage your overall goal. It's certainly easier than doing the maths while you're running.
After The Race
Snacks
Personal preference is key here, and it's hard to tell exactly what you'll feel like after completing the marathon. It's wise, as always, to stick to things you've tried before – a favourite protein bar or that old faithful, a banana, will taste incredible and reduce the risk of an upset stomach.
Drink
Again, stick with what you know and have it ready in your official plastic sack ready to devour. And maybe wait a little while before heading off for your first celebratory pint (at least 15 minutes).
Clothes
If it's a cool or cold day you will cool down very quickly – despite being fine in just a vest and shorts for the previous few hours. It's essential to have warm and dry clothes in your bag to put on and keep your body comfortable. And then you can put your medal back over your neck and keep it there – for the next few days at the very least.
Jack Warner is running the 2017 Virgin Marathon for Parkinson's UK. You can sponsor him and find out more about
Sign up for workout ideas, training advice, reviews of the latest gear and more.