Healthy Chilli Con Carne Recipe
Torch fat with this metabolism-boosting, healthy chilli con carne recipe from chef Adam Gray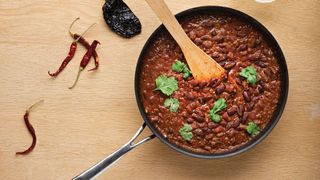 (Image credit: unknown)
It might just be the ultimate manly comfort food: hearty, spicy, filling – and extremely simple to prepare. But with a few effortless upgrades, chilli can also become a valuable weapon in the war on fat. The recipe here was provided by Michelin-starred chef Adam Gray and swaps beef mince for leaner lamb, while replacing white rice with brown basmati to help keep your blood sugar levels steady and avoid flab storage. Meanwhile, the capsaicin in the chillies helps to boost your metabolism, allowing your body to burn more calories.
Want to spice things up? Opt for the arbol chilli, which is packed with energy-boosting iron and has a smoky, slightly bitter flavour. For a milder meal – and a bonus hit of anti-inflammatory vitamin A – swap your regular red chilli for a rich, earthy black ancho.
Gray says… "Skip natural yogurt and make the Greek variety your go-to chilli condiment. It contains four times the protein but less than a third of the calories."
RECOMMENDED: More healthy, filling meals
Healthy Chilli Con Carne Recipe
Ingredients (serves 2)
500g lamb mince
4tbsp rapeseed oil
4 large shallots, finely chopped
2 garlic cloves, finely chopped
1 red chilli, deseeded and finely chopped
2tsp smoked paprika
3tbsp tomato purée
400g canned chopped tomatoes
150ml beef stock
1tbsp fresh coriander, finely chopped
1 bay leaf
400g canned kidney beans, drained and rinsed
Salt and pepper to taste
150g brown basmati rice
To make
Heat half the rapeseed oil in a large saucepan.
Add the garlic, chilli and shallots and cook. Meanwhile, brown the mince in a separate pan over a moderate heat in the remaining oil.
Add the mince and paprika to the shallots mixture and cook for a further five minutes.
Add the tomatoes and leave to reduce on a medium heat for five more minutes.
Add the beef stock and bay leaf and stir in the tomato purée, bring the mixture to the boil and leave it to simmer.
Once the sauce is beginning to thicken, add the kidney beans and cook for a further ten minutes.
Season with salt and pepper and add the coriander leaves.
Cook the rice according to the instructions on the packet and serve with the chilli.
adamgraychef.co.uk (opens in new tab)
Sign up for workout ideas, training advice, reviews of the latest gear and more.
Between 2010 and 2016, Ben was the deputy editor of Men's Fitness UK, which predated, and then shared a website with, Coach. Ben also contributed exclusive features to Coach on topics such as football drills, triathlon training plans and healthy eating.