20-Minute Meal Ideas From Super-Fit Personal Trainers
17 ways to go from empty to full of goodness in less than half an hour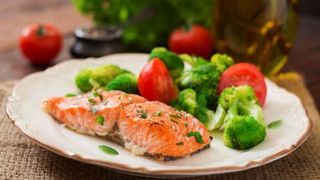 (Image credit: unknown)
How long does it take your local takeaway to deliver your dinner? Forty-five minutes? Thirty on a good day? We'll bet we can help you get a healthy, mouth-watering meal on your plate in far less time.
Don't believe us? Here's a bunch or healthy recipe ideas that take 20 minutes (or less) to prepare, all of which have been recommended by an array of super-fit PTs and will beat even the most gung-ho delivery driver for speed.
There's fish – a lot of fish, in fact – as well as pimped porridge oats, mean chicken sandwiches, killer quinoa ideas and veggie options that'll tickle the tastebuds of even the most devout meat-eater.
Take a look below and get your stopwatches ready. These things will hit your dinner plates before you can say "Fancy a Deliveroo tonight?"
Tom Forster, Personal Trainer And Co-Founder Of Plant-Based Protein Brand FIT DELIS
"One of my favourite speed meals is wok-fried tofu and vegetables – mushrooms, asparagus, broccoli, kale, edamame and green peppers – seasoned with hemp oil, garlic, salt, black pepper and chilli, and served on a bed of udon noodles or sticky rice. It takes less than 20 minutes and is full of all the good stuff."
Melissa Weldon, Head Of Training At Sweat It London
"This is super-simple. Gently heat some sesame oil, soy, red chilli, ginger and garlic in a pan until the garlic is soft. Then chuck in some thinly-sliced minute steak, mange tout, red onions, peppers and noodles. It's a great tasting, easy and healthy meal."
"Grilled fish and steamed veg. I get fresh fish delivered straight from Grimsby every week – sustainable and reliable sourcing is very important to me."
"I do a mean chicken sandwich. I debone a chicken leg and thigh, fry it in a pan and serve on sourdough with spinach, tomato, avocado and hummus. So simple, very tasty and pretty healthy."
Tee Von Zitzewitz, Trainer At Barry'sBootcamp London
"Tuna steak, asparagus and roasted parsnips. Tuna is great for protein, and the meaty steaks are perfect for anyone trying to reduce their meat intake. Asparagus provides fibre and vitamin A, as well as being a diuretic and it's full of antioxidants. And roasted parsnips are just delicious."
Simon Cowen, Personal Trainer At Fitness First
"Being vegetarian, my access to protein is somewhat limited. Rather than chugging down the generic protein shakes I prefer to go for Quorn meatballs. I love those things. I have them with onions, courgettes, leeks, mushrooms and peppers, and a bit of passata sauce flavoured with garlic, Peri-Peri and pepper. Stick some brown rice or quinoa on the side and that's the meal for me."
Jamie Lloyd, Strength And Conditioning Coach, Jamie Lloyd Coaching
"I like quinoa because it's really high in protein. I'll cook up a pan of it and add in red pepper, lemon, olive oil, spring onion, cucumber and chickpeas. Then I'll sprinkle on feta cheese. It's a great protein fix that can be eaten on its own for lunch, or with chicken or fish for dinner. Make a heap of it and portion the rest out for the week."
Olu Adepitan, Fitness Manager At BXR London
"It's my fish and dry coleslaw dish. Take an oily fish – salmon, mackerel, sardines, herring or trout work well – and season with garlic paste, mixed herbs, ginger and chilli powder. Place in some foil and bake for 20 mins on a medium temperature. After 12 minutes, add a few squirts of Fry Light Oil to a hot wok and stir-fry shredded cabbage, grated carrots, broccoli florets and sliced red onion for eight minutes. Serve and enjoy."
See related
Kaya Cansfield, Psycle London Ride Instructor
"Porridge oats with the works. I'm talking Pip & Nut Coconut Almond Butter, raspberries, blueberries and chia seeds. And I'm having it at any time of the day."
Rod Buchanan, Co-Head Of Barre At Psycle London
"Fish stir-fry. You can make that in under 20 minutes. I'll usually go for salmon or sea bass, lightly fried in coconut oil with a ton of veg and rice or gluten-free noodles. Chilli and garlic for taste, too. I'm now a massive fish lover – I used to be very into my meat protein but over the years I've found it much harder to digest. Fish fills me up without feeling bloated, and the oils you get from it are so beneficial to your immune system, muscles and skin."
Mark Crowhurst, Spin And T3 Instructor At TRAINFITNESS
"Microwaved home-made risotto. I found a great recipe for cooking risotto from scratch in the microwave rather than slaving over the stove and reducing the stock down. Add in chicken, mushrooms, peas, spinach, asparagus and a splash of white wine to top the flavours off, and you've got a great post-workout meal."
"I love eggs, so I'd say smoked salmon with scrambled eggs. It's easy, it's high in protein, and there's minimal mess to clear up if you're a lazy boy like me. I don't mind a couple of cinnamon and raisin bagels with peanut butter and banana on the side, too."
Richard Tidmarsh, Strength And Conditioning Coach And Founder Of Reach Fitness
"It's my seared tuna on chilli vegetables. You can quickly sear tuna by flash-cooking it for 30 seconds on each side, and you can pick up prepared vegetables from any supermarket, or pick your favourite vegetables and quickly chop them yourself. Then just add your favourite spices and what-not to give the veg loads of flavour. If you need some extra carbohydrates then you can add brown rice or noodles. Twenty minutes? More like six!"
Ollie Marchon, Ex-England Rugby 7s Player And Maximuscle Strength Coach
"My go-to meal has to be an omelette. They are so versatile and can be eaten at breakfast, lunch and dinner. By adding a variety of ingredients you can tailor each omelette to your specific goals. You can't go far wrong with some spinach, mushrooms, ham and cheese!"
Sandy Macaskill, Co-Owner And Trainer At Barry's Bootcamp London
"Baked salmon, carrots and cherry tomatoes. It takes about two minutes to prep. Slice a few lemons over the top of the fish – I love the lightly smoked fillets you get at Sainsbury's – and wrap everything in foil. Stick in the oven and it's ready in under 20 minutes. Also, it's very colourful, which is always important [because it means you're getting a variety of nutrients]."
Daniel Puddick, Personal Trainer And Founder Of Sundried Activewear
"Always a jacket potato with beans and cheese. It's quick and easy to make, keeps me feeling full, and I know I'm getting a good combo of protein, carbs, and fat when I eat it. I'm often so busy that I skip lunch, so it's great having a hearty meal like this which ticks all the right boxes and is ready so quickly. If I can make myself a fresh lunch rather than eating out of Tupperware I will, because eating fresh food is so much more satisfying. Plus, a hot meal in the winter is a must!"
Dan Lambert, Maximuscle Personal Trainer
"Most of my meals are made in under 20 minutes because I'm usually too busy (and too impatient) to stand around the stove, and my favourite has to be a Thai green curry. Throw loads of veg in a pan, add green curry paste, chilli, chicken breast pieces or prawns and some coconut milk, cook up some rice and boom: a high-protein, healthy fat-rich post-workout meal."
Sign up for workout ideas, training advice, reviews of the latest gear and more.
Craft beer drinker, Devonian, fisherman and former content director of Coach online, Chris contributed style coverage and features between 2016 and 2019.