Eight Things I Learned Running The Coast of Britain I Wish I Had Known Before I Set Off
Elise Downing, author of a new book about running around the coast of Britain in her 20s, gives us the benefits of her experience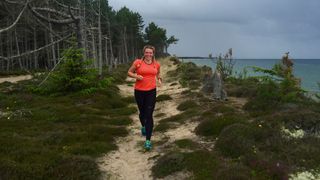 (Image credit: Unknown)
In August 2016, 10 months after setting off, I finished a 5,000-mile run around the coast of Britain. I was 24 at the time, and the first woman and youngest person to complete this self-supported. I think it was a bit of a surprise to everybody that I'd managed it – I wasn't an experienced runner by any means. Along the way I learned a lot about both ultra-running and taking on big challenges.
1. You Don't Need To Be The Best Runner To Go On A Running Adventure
At the time I decided to run around the coast of the UK, my running CV consisted of one very painful marathon where I was dressed as a Crayola crayon, spent the entire last eight miles in tears and was heckled by a child who shouted "crying crayon!" at me. But the good thing about a long-distance running adventure is that you don't need to be an elite athlete, go at a set speed or even cover particularly big distances each day.
You just need to be able to keep putting one foot in front of the other, at any pace, and eventually all those miles link up in one long chain. Anybody can do that!
2. Your Adventure Doesn't Have To Look Like Anybody Else's
I spent a lot of time, especially at the beginning of my trip, worrying if I was doing it "right". I was following other people online as they undertook huge challenges and compared mine to theirs endlessly. Why wasn't I running as far as them? Why wasn't I wild camping in as many remote places? Why wasn't I eating as much dehydrated food?
But the only thing I'd ever said I was going to do was run around the country. How I did that was entirely up to me and it didn't matter that it was different from how other people would have done it. Whatever you're taking on, it's your adventure and you have to do it in the right way for you.
3. It Doesn't Matter If Other People Think You Can Do It Or Not
I don't think any of my friends or family really believed that I could run 5,000 miles (unsurprising really, given the crying crayon incident) and they're still all a bit surprised that I managed it – but that's OK. Have a go at something even if it does seem totally out of character. It doesn't matter what other people think. You do have to be prepared for your friends to take the mick out of you quite a lot, but it's worth it when you get to prove them wrong.
See related
4. It's Really Useful If You Know How To Read A Map
I spent most of my run around the coast attempting to navigate using Google Maps, directions from strangers and various footpath signs. It would have been a lot easier if I'd learned how to read an OS map properly, not to mention safer. If you're going adventuring on your own, basic map reading is an absolute essential. Not only will it mean you spend a lot less time getting lost than I did, it could literally save your life. There are some great navigation courses specifically for trail runners out there.
5. You Can Eat Whatever You Want When You're Going Slowly Enough
Running a half marathon or a marathon, you'll probably have a few gels, maybe some sports chews, a carbohydrate drink perhaps. But slow things down enough and it opens up a full buffet of options. I was suddenly able to eat a Cornish pasty and immediately start running again. And it's actually really important – your body needs proper food when you're asking it to run for days/weeks/months. Slow down and eat more if you're going a long way.
6. People Genuinely Want To Help You
I planned to wild camp the entire way around the coast, mostly because I knew I couldn't afford not to. In the end I stayed with more than 200 complete strangers, from friends of friends to people who'd read my blog to B&B owners during the off-season. I worried that I was imposing on these people but I slowly realised that, for the most part, people only offer to help you if they genuinely want to. It was such a privilege to be welcomed into so many people's homes and one of the most special parts of the run.
7. You Need To Find Ways To Enjoy A Challenge
There are always going to be hard bits – for me, it was having wet feet for months on end that really got me down – but it's important to make a real effort to enjoy it too. You've chosen to do this thing, whatever it is, it should be at least a bit fun!
I played the Be Glad Game, where whenever I was feeling down I came up with five things to be glad about. They could be anything, something tiny like looking forward to putting my dry socks on at the end of the day, but it really helped me to focus on the positives. I knew I was so lucky to be able to take a year out of my life to go running, and I wanted to appreciate that.
8. Lots Of People Could Do It – But They Don't
I felt impostor syndrome all the time about the fact that I wasn't the best runner, or the most experienced adventurer. If I could do this thing, then so could anybody else, so I thought I didn't deserve any praise for it. But while I really do believe that anybody else could do what I did, the truth is that they haven't. Just being brave enough to get to the start line of a big challenge is a massive achievement and one worth recognising!
Elise Downing is the author of Coasting: Running Around the Coast of Britain – Life, Love and (Very) Loose Plans, published by Summersdale Publishers on 8th July, £9.99
Sign up for workout ideas, training advice, reviews of the latest gear and more.