New Route Announced for the Royal Parks Half Marathon 2021
Changes have been made to better manage the risks of COVID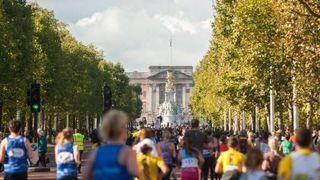 (Image credit: Unknown)
The Royal Parks Half Marathon has today announced a route change for the 2021 edition, which takes place on Sunday 10th October. The change of route, including the switch to a separate start and finish, has been made in order to ensure the race is as COVID-secure as possible. It follows the news that the 2021 Great North Run route will finish in Newcastle, rather than South Shields.
The new Royal Parks Half route sees runners start at the east end of The Mall, near the Admiralty Arch. Runners will now pass London landmarks such as Trafalgar Square, the London Eye and the Houses of Parliament in the first three miles, skirting Buckingham Palace and then joining the traditional route through Hyde Park and Kensington Gardens, towards the finish line on South Carriage Drive.
Persephone Deacon-Cole, project lead at The Royal Parks, explained the route changes: "First and foremost, the safety of the participants taking part in the race is paramount and the change in route will ensure that we can deliver a COVID-secure event adhering to government guidelines and social distancing measures as required.
"That being said, the exciting part for us is that the race will now start on one of the most iconic roads in the world – The Mall. It's an incredible way to welcome 16,000 runners back to our in-person event, and they will have the chance to experience an unforgettable backdrop as they start the race in front of Buckingham Palace."
See related
The extremely popular 13.1-mile race run on closed roads is the only half marathon to take place in central London in autumn. This is the first time the route has been altered since 2015. Despite the route changes, the race still takes runners through four of London's eight Royal Parks: Hyde Park, Green Park, St James's Park and Kensington Gardens.
The Royal Parks Half Marathon is always hugely oversubscribed, with all entries allocated by a ballot system. Although this year's race has been sold out for months, if you want to take part in it you can still sign up to run for one of 500 charities. You'll have to register soon though, because entries close on 20th August.
Sign up for workout ideas, training advice, reviews of the latest gear and more.
Camilla Artault is a writer and keen runner. She has covered women's running gear – testing leggings, jackets, running bras, tops and shorts – for Coach since 2018, as well as interviewing experts and writing about a range of health and lifestyle topics.