How to Take a Penalty
Everything you need to know about sinking a winning spot kick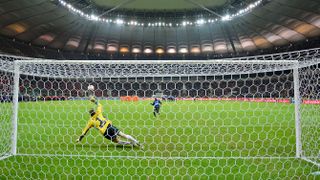 (Image credit: Unknown)
Nobody, nobody, wants to be a Southgate. The wrenching heartache. The national dissapointment. The long walk back to the teammates who you, with your wayward penalty kick, have just booked a long flight home for. "It's OK, mate," they say, tears welling up in their eyes and, you suspect, lying through their teeth.
This is exactly why we've compiled a list of must-know tips for anyone stepping up to the spot. Or, for anyone that needs something useful to scream at the TV when the match goes past extra time...
RECOMMENDED: Got a Footballing Brain? Make it Better
Do remember keepers rarely stay central
An Israeli study has shown players kick down the middle almost as often as left, or right. However, goalkeepers very rarely stayed central due to "action bias" – they feel worse when conceding without moving than they do when diving to no avail.
Do celebrate if you score!
If a player converts his penalty when the scores are level and celebrates with at least one hand (preferably two) above shoulder height, research shows his team are 82% more likely to win the shootout, while the following kicker is also more likely to miss.
Do radiate positive body language
Ricardo, hero of Portugal's shootout wins over England in 2004 and 2006, and Petr Cech, who saved two penalties in the 2012 Champions League final, have both spoken of the confidence they draw when seeing their opposition's angst-ridden faces.
RECOMMENDED: Pre-Season Football Fitness Drills
Do think about the target, not where the keeper will dive
Penalty-takers who are reminded to shoot away from the goalie spent less time focusing on their target and scored less often as a result. Fixating on where you want the ball to go is far more important.
Do stay mutually supportive
Teams should avoid passivity or self-isolation in the centre circle, found to be the most stressful part of the shootout. Zambia sang the "Chipolopolo Song" together throughout their 2012 Africa Cup of Nations final spot-kick win over Ivory Coast.
Do focus on power and aim
The prefrontal cortex is responsible for both decision-making and foreseeing the results of our actions. That power to envisage success – or failure – is counterproductive. Great athletes are able to silence their PFCs under pressure and just live in the moment.
RECOMMENDED: 5-a-Side Football Tips
Don't rely on luck
Players with low perceived competence and contingency (who believe the outcome is dependent on luck or the keeper's actions rather than skill) experienced more cognitive anxiety symptoms than those who perceived their competence and contingency level as high.
Don't dwell on past history of team failure
A 2012 study showed kickers from teams that won their previous two World Cup or European Championship shootouts were 32% more likely to score than a team that had lost their last two.
Don't spot the ball in a rush
A study of nearly 400 major tournament shootout penalties showed players who took less than a second to position the ball on the spot scored just 58% of the time, while those who took more than a second bagged 80% of their efforts.
RECOMMENDED: Football Training Drills Used by Memphis Depay
Don't get stressed
Individual physiological reactions to high-pressure situations mean some people produce less cortisol (a hormone released in response to stress that has adverse effects on mood and performance) than others, meaning they feel less stressed.
Don't turn your back on the keeper
In 2012, an analysis of 309 World Cup or European Championship penalties showed an enormous 57% of England penalty-takers adopted an avoidance strategy by turning their backs on the keeper after spotting the ball.
Don't let anxiety take hold
Anxiety increases the amount of attention paid to the goalkeeper and increases the likelihood that takers will produce shots that are hit significantly closer to the goalkeeper and are, therefore, more "saveable".
Sign up for workout ideas, training advice, reviews of the latest gear and more.