How To Perform CrossFit Open Workout 23.1 Scaled
The complex gymnastic movements mean many people are looking to scale this workout – here's how to do it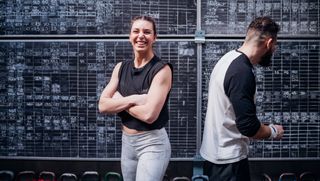 (Image credit: Getty Images /Eugenio Marongiu)
The CrossFit Open 23.1 workout has been unveiled, and it features complex, high-volume gymnastic exercises like ring muscle-ups and toes-to-bars. No wonder so many people are looking to perform the scaled and foundations forms of 23.1 – the easier versions of the workout.
The full-fat RX version of this CrossFit Open workout tasks athletes with completing as many rounds as possible of a 60-calorie row, 50 toes-to-bars, 40 wall balls, 30 cleans and 20 ring muscle-ups in 14 minutes.
The scaled and foundations version of 23.1 use lighter weights for the cleans and wall balls, and swap in regressions for the gymnastic movements included in the workout.
We have listed the details for all three variations of this CrossFit workout below, so you can choose which one is right for you.
RX
Complete as many reps as possible in 14 minutes:
60-calorie row
50 toes-to-bars
40 wall balls (9kg/20lb medicine ball for men, 6kg/14lb for women)
30 cleans (61kg/135lb barbell for men, 43kg/95lb for women)
20 ring muscle-ups
Scaled (16-54 Years Old)
Complete as many rounds of this routine as possible in 14 minutes:
60-calorie row
40 wall balls (6kg/14lb medicine ball for men, 4kg/10lb for women)
30 cleans (43kg/95lb barbell for men, 29kg/65lb for women)
20 chin-over-bar pull-ups
Foundations
60 strokes on the rower
50 sit-ups
40 wall balls (4kg/10lb medicine ball for men, 3kg/6lb for women)
30 cleans (20kg/45lb barbell for men, 15kg/35lb for women)
20 press-ups
---
Deciding which version of the workout to take on will depend on your proficiency with each of the movements, and your goal for the event.
To rank as high on the leaderboard as possible, choose the RX version, even if you are still working towards your first ring muscle-up.
People who attempt the RX workout will place above anyone who does the scaled or foundation versions, regardless of the number of reps completed. And who knows? With the adrenaline pumping, you may just pull off your first ring muscle-up.
There is also a tie-break after you complete the cleans. This means that you should record the time it takes you to reach this point of the workout and then, when submitting a score, you can enter your total number of reps completed as well as the time at which you completed your last clean. This will be used to separate people who reach this point of the workout and cannot complete a muscle-up.
However, if you struggle with the tricky gymnastic movements in the RX workout and would prefer an all-out blast with moves you have mastered, take on the scaled or foundations version. As for which to choose, we recommend the version that allows you to keep moving at a steady pace for as long as possible.
Sign up for workout ideas, training advice, reviews of the latest gear and more.
Harry covers news, reviews and features for Coach, Fit&Well (opens in new tab) and Live Science (opens in new tab). With over a decade of training experience, he has tried everything from powerlifting to gymnastics, cardio to CrossFit, all in a bid to find fun ways of building a healthy, functional body.