How To Watch The HYROX World Championships 2023 And Who To Look Out For
Live stream the Elite 15 men's and women's races on Friday 26th May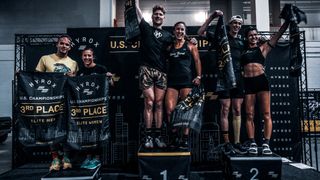 (Image credit: HYROX)
There's something quite enjoyable about watching other people tackle grueling workouts from the comfort of your couch, and workouts don't come much more grueling than a HYROX event. Just ask the thousands across Europe and North America who have competed in the indoor fitness race.
Or see for yourself by live-streaming the HYROX World Championships on Friday 26th May, when some of the world's top functional-fitness athletes will compete for the title of Elite World Champion and $85,000 in prize money.
The event is being held in Manchester, England, and is the culmination of the 2022/23 World Series of Fitness Racing season, with 15 elite male and 15 elite female athletes qualifying for the aptly-named Elite 15 competition.
You can watch the race live on the Red Bull TV app or SPONTENT's Twitch channel. The women's event begins 2pm EDT / 7pm BST, followed by the men's at 3.15pm EDT / 8.15pm BST.
"Our vision is to host the World Championships for HYROX in iconic cities across the globe, starting with Las Vegas last year, and I'm delighted to make Manchester the next location," says HYROX founder Christian Toetzke.
What Is HYROX?
HYROX is a fitness race featuring eight functional fitness movements separated by a series of 1km runs.
Here's the sequence.
Run 1km
SkiErg 1km
Run 1km
Sled push 50m
Run 1km
Sled pull 50m
Run 1km
Burpee broad jump 80m
Run 1km
Row 1km
Run 1km
Farmer's walk 200m
Run 1km
Sandbag lunge 100m
Run 1km
Wall ball 100 (male) / 75 (female)
Male Athletes To Look Out For In The Elite 15 Race
The face of the sport and reigning world champion is the US's Hunter McIntyre. He's also achieved HYROX's fastest time of 54min 7sec, although he believes a time of 52 minutes is possible.
"Hunter is the favorite—his combination of physical capacity and determination to win makes him a fearsome competitor," says HYROX global head of sports Mintra Tilly, who contributed this HYROX workout and guide to HYROX training in her former role as master trainer. "If everything clicks on the day it's his race to lose."
McIntyre will face stiff competition from compatriot and perennial podium contender Ryan Kent, and the UK duo of Michael Sandbach and Graham Halliday.
"Kent is a formidable athlete and has all the makings of a champion," says Tilly. "He beat McIntyre at the US National Championships last year."
Kent arrives in the UK having hit form at the right end of the season, running a PB of 56min 52sec in Houston.
Tilly told us Sandbach is quick out of the blocks and has been a consistent performer throughout the season, while Halliday has impressed with a series of sub-60min finishes. Both athletes will be hoping for a podium spot on home soil.
Female Athletes To Look Out For In The Elite 15 Race
The elite female division is shaping up to be a three-horse race between Mikaela Norman, Lauren Weeks and Megan Jacoby.
Weeks took ninth spot at last year's World Championships while six months pregnant, with a time of 1hr 13min. She also has a European Championships win to her name this season, finishing in 1hr 1min.
"One of the most respected athletes in the field and one of the nicest people off it," says Tilly of Weeks. "I expect to see a big fight between her and fellow American athlete Megan Jacoby."
Former collegiate track athlete Jacoby holds the elite female HYROX world record, with a time of 58min 58sec, which also earned her bragging rights as the first woman to break the one-hour barrier.
"If she can keep her focus and execute the race without mistakes, this might be her year," says Tilly. "Few athletes can match her sheer physical capacity on the course."
Another name that shouldn't be overlooked is Kris Rugloski. The current World Champion surprised a lot of people in Las Vegas last year by taking the title despite not being one of the top-seeded athletes.
"This year she qualified in 14th place with a best time of 1hr 5min, which she ran in Dallas," says Tilly. "One of the strongest minds in the field. She will believe she can win and draw on all of her expert knowledge to make it happen."
Sign up for workout ideas, training advice, reviews of the latest gear and more.
Harry covers news, reviews and features for Coach, Fit&Well and Live Science. With over a decade of training experience, he has tried everything from powerlifting to gymnastics, cardio to CrossFit, all in a bid to find fun ways of building a healthy, functional body.