Open-Water Swimming: Three Tips For Dealing With The Cold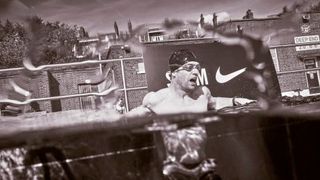 (Image credit: Unknown)
Give us the option and we'd choose running or cycling in the great outdoors over a treadmill or exercise bike. But we'd be less sure about picking between swimming in a heated, indoor pool or outside.
One reason is, of course, convenience. Because of the added risks, you're advised to head out in open water with a group or at least one other experienced person, so you're reliant on finding a willing partner. Another is that some people freak out if they can't see the bottom and start imagining what's going to come up from the murky depths. The other is the cold.
And yeah, it's cold. We got a small taste recently at a training session held by London-based swim club Swim Dem Crew on behalf of Nike Swim. Within five minutes of doing technique exercises including training aids like hand paddles, Coach's jaw was shivering uncontrollably – highly embarrassing when surrounded by fitness professionals. Thankfully, for our pride at least, everyone was shivering uncontrollably by the end.
"You get better at dealing with it," Swim Dem co-founder Nathaniel Cole tells me afterwards. "It's always going to be cold, it's always going to be annoying, but it's nice at the same time. For me, your skin kind of goes in and your heart's beating and it gives you a bit of a rush. I say embrace that rush because you feel really alive after it."
Nathaniel Cole (right) with fellow Swim Dem co-founder Peigh Asante
It's not all learning to tolerate discomfort, thankfully. "I like open-water swimming in London because most of the lidos are in nice locations and I like that I can float on my back and look up to the sky, and only be an hour away from the office. It's so different to the indoor environment and the chlorine."
Cole also says the style of swimming outside suits him better. "You kick less – you just use your legs for balance really because you tend to have a wetsuit on and that takes care of buoyancy." That means it's worth working on your arm technique, especially since many open-water events involve swimming a long way. It's best to find a local club or coach near you to nail the finer points of your stroke and master essential techniques like sighting, but Cole did give us three simple ways to help you acclimatise to the cold. It's still not going away.
How To Do Deal With The Cold
A simple one, but worthwhile. "To ease the transition, go to an unheated lido first and get used to what cold water feels like," says Cole. You'll be able to see the bottom, too.
While you're at the lido, practise regulating your breathing as you enter the water. "A lot of people who go into cold water for the first time hyperventilate and start panicking – and nothing good comes from that," says Cole. "So regulated breathing is trying to keep calm: 'I'm breathing in, I'm breathing out', you go into cold water, 'I'm breathing in, I'm breathing out'. That helps your body adjust quicker because it's not going through this big change internally through your breathing."
Finally, don't skimp on the essentials. "Invest in a good wetsuit," says Cole. "They are expensive but there's a big difference between £20 and £40, and what you can get for your money."
Sign up for workout ideas, training advice, reviews of the latest gear and more.
Jonathan Shannon has been the editor of the Coach website since 2016, developing a wide-ranging experience of health and fitness. Jonathan took up running while editing Coach and has run a sub-40min 10K and 1hr 28min half marathon. His next ambition is to complete a marathon. He's an advocate of cycling to work and is Coach's e-bike reviewer, and not just because he lives up a bit of a hill. He also reviews fitness trackers and other workout gear.