Cool Bike Gear Alert: The Shoka Bell
Preorder this all-in-one handlebar gadget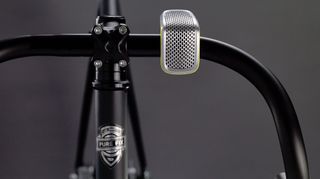 (Image credit: Unknown)
Handlebars are valuable real estate on any bike. Before you even get to optional extras, you need to find space for brakes, gear shifters, lights and ideally somewhere to put your hands. Then there's a bell, which might be of little use in terms of clearing a path in the age of headphones, but is certainly fun to ring, and if you're feeling fancy, some kind of bike computer and an alarm.
As a result, any innovation that manages to combine a few of these into one svelte body is certainly to be applauded. Start clapping then, for Shoka Bell, which crams a multitude of cycling accessories into its casing.
The checklist of bases Shoka Bell covers is quite lengthy, so take a deep breath if you're reading this out loud…
Front light: Shoka Bell's eight LEDs adjust their brightness depending on the ambient light and also how fast you're going.
Bell: Just one noise would do, but Shoka Bell gives you eight different options, so you're sure to be heard in any situation – you can even record your own bell sound (keep it civil). The volume also adjusts itself automatically based on background noise.
Navigation: Shoka Bell links to your smartphone to provide directions on the go using LED arrows. It also collects data from every time the bell is rung, and warns other Shoka users of busy areas.
Motion sensor: The bulk of Shoka Bell is attached magnetically, so you can easily grab it and take it with you. However, the clamp that remains on the handlebars will alert you should your bike be moved – as long as you're still within 250m of it.
Cycle tracker: Plenty of apps are available to track your ride, but if you've somehow managed to avoid all of them, you'll be pleased to know Shoka Bell will record it for you.
Despite all these features, Shoka Bell should deliver an impressive 200 hours of battery life before needing a recharge. And it comes in six colours. What's not to like?
£60 early-bird price, Shoka Bell recently launched on Kickstarter and is expected to ship in spring 2017, getshoka.com
Sign up for workout ideas, training advice, reviews of the latest gear and more.