How To Eat More Protein
If you're struggling to reach your target protein intake, try these five tips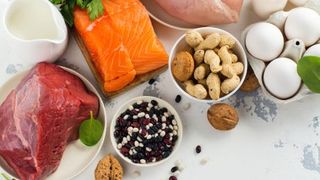 (Image credit: Unknown)
Whether you want to build more lean muscle mass or strip away unwanted body fat, you need to eat protein– it'll keep you feeling full, help your body add muscle quickly and free up fat stores for fuel. Here are five ways to increase your daily intake so you can make big changes to your body – fast
1. Eat bigger breakfasts
Ending your overnight fast with a high-protein breakfast will start your day as you mean to go on and help you hit your daily protein target. Aim for around 35g of protein for breakfast (three eggs and two rashers of lean bacon) because research from the University of Missouri found this improves appetite control and reduces snacking.
2. Start snacking smarter
It goes without saying that your midday meal should be high in lean, good-quality protein: a salad piled high with chicken, tuna or beef – so it's what you eat between meals that will make or break you hitting your daily protein target. A Greek yogurt and a handful of seeds or nuts will provide muscle-building protein and hunger-quelling fats, as well as keeping blood sugar levels stable, which is crucial for fat-burning success.
RECOMMENDED: High-Protein Snacks
3. Post-workout power up
To help your muscles recover faster from a tough session you should drink a protein shake with high-quality whey protein powder within an hour of finishing your session. Most serving suggestions are around 30g, but if you struggle to add muscle, renowned strength coach Charles Poliquin suggests drinking a 30g whey protein shake once you're done, then another 30-60 minutes later to double your intake.
4. Super suppers
Your evening meal, like lunch, should be high in fresh vegetables and low in simple carbs: roasted veg and salad trump rice, pasta and potatoes every time. But this is your chance to give your body more of what it needs to help it change shape, so the key is to eat a large serving of fresh meat or fish. A steak, salmon or chicken breast should take up half your plate.
5. Pre-bed protein
If you're still short of your daily protein target and it's almost bedtime, then you should consider having one last late-night snack to sneak in a few more grams of protein. Foods high in casein, a type of slow-release protein that will be slowly drip-fed into your muscles as you sleep, are ideal. That means dairy products like yogurt or milk, or you could have a shake with casein protein powder to ensure you hit your daily protein quota.
Sign up for workout ideas, training advice, reviews of the latest gear and more.