Dockless E-Bikes Are Coming To London
If you live in Brent or Ealing you'll be able to jump on a Lime e-bike before the end of 2018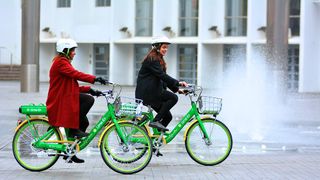 (Image credit: Unknown)
The next wave of dockless bikes is about to hit London and this time it's going to be electric. Lime, a company backed by Uber and Google, plans to launch 1,000 of its Lime-E dockless electric bikes in to the boroughs of Brent and Ealing before the end of 2018, making cycling more accessible than ever – in north-west London at least.
Here at Coach we're fans of anything that will get people cycling and we've long championed the e-bike as pretty much the perfect option for commuting in cities as long as you don't have to lug the heavy beasts up a stairwell to your flat, so this is a development we're excited to see. That said, the potential problems that can arise from all dockless bikes – that people will leave them in inconvenient or dangerous locations – could be exacerbated by the fact the Lime-E weighs a hefty 35kg (consumer versions are generally between 20kg and 25kg). Let's assume the best of people, however, and rely on them leaving the e-bikes in sensible places.
The Lime-E, like all e-bikes, will only assist riders up to the speed of around 25km/h, after which you're on your own. Before that point the 250-watt motor will aid your pedalling to make cycling accessible to all, no matter what your fitness level.
See related
Hiring one of Lime's bright green e-bikes is pricier than non-motorised options: it will cost £1 to unlock the bike and a further 15p for every minute you ride. A journey of 30 minutes will set you back £5.50 in total, then, while the Santander-sponsored docked bikes cost £2 to unlock for 24 hours and rides of 30 minutes or less are free, while you pay £2 for every additional 30-minute period.
As with other dockless bikes you use an app to locate and unlock Lime bikes, which have a range of around 100km when fully charged. You can check the battery level of the bike in the partner app to ensure you don't run out of juice halfway up a massive hill.
Lime launched its first wave of e-bikes in the UK in Milton Keynes in late November, but the American company's signature hire vehicle – an electric scooter – is currently only legal to ride on private land in the UK.

Download the Lime App for Apple (opens in new tab) or Android (opens in new tab)
Sign up for workout ideas, training advice, reviews of the latest gear and more.