Strava's Heatmaps Show The Most Popular Running And Cycling Routes In The UK
Check out these maps for some inspiration for your next run or ride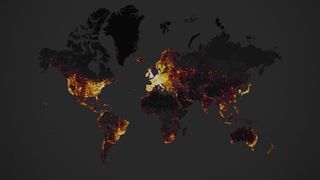 (Image credit: unknown)
Every week a massive 11 million activities are posted on Strava and the number is only set to rise, with one million people joining the Strava community every 40 days.
That's a lot of people uploading a lot of activities – ten million people and one billion activities, which cover 2.7 billion kilometres and 5% of all land on Earth, in fact. All of this gives Strava a pretty good idea of where people like to go for their activities, and the athlete's social network has decided to share that info with its global heatmap of everything it has tracked.
While runs and cycles make up the vast majority of the data collected, there are also swims, including epic efforts like crossing the Channel, hikes and even mountaineering. Zoom in on Everest to find activities that will make your elevation chart from riding up Swains Lane, arguably London's toughest climb, look as flat as a pancake.
You can access an interactive heatmap on the Strava website, which allows you to zoom in to your location and check out where people are running and riding around you. If you use the Strava route planner to map your activities, you can use the heatmap as an overlay to help you determine which roads and paths to take in any areas you don't know.
RECOMMENDED: Eight Essential Tips For Strava Beginners
Strava has also created running and cycling heatmaps for the UK and London. With the UK heatmap you can see how runners tend to congregate around cities, while cyclists are able to cover far more ground.
Pictured left to right: UK running heatmap, UK cycling heatmap
In London, however, the opposite is true, with cyclists mainly sticking to main roads and cycleways, while runners fill in the gaps on the map by pounding the pavements of side streets and zigzagging around park paths.
Pictured left to right: London running heatmap, London cycling heatmap
Both runners and riders appear to be huge fans of both Regent's Park and the paths that run alongside the River Thames, while Hyde Park is a haven for runners but less popular with cyclists. To be fair, cyclists are banned from many paths in the centre of Hyde Park, so it's good to see they're following the rule book there…
Sign up for workout ideas, training advice, reviews of the latest gear and more.