GymKit Makes The Apple Watch 3 The Smartest Fitness Tracker In The Gym
You can now pair your watch with select cardio equipment with just one tap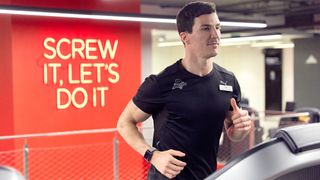 (Image credit: Unknown)
This is a public service announcement for all you Apple Watch 3 owners currently ignoring the notifications gently suggesting you should update your software. It's time to update your software, because you're missing out on an excellent new feature.
GymKit has arrived to make indoor workout tracking more accurate, and it's incredibly easy to use. One caveat is that it's not available in very many locations, but you can expect it to spread like wildfire over the coming months.
It's not an app – it's just part of the operating system. That means with one tap on a GymKit-enabled piece of cardio equipment, your Apple Watch 3 is linked privately with that treadmill, exercise bike, elliptical or stepper with information beaming both ways.
Stats like distance and elevation climbed, which are nigh on impossible to measure accurately indoors on a wrist wearable, will fly over from the machine to the Apple Watch.
For its part, the Apple Watch will share stats like heart rate and active calories burned (as well as total calories). The Watch will also give the machine personal info like your weight, which is crucial for accurate calorie measurements (and which only the most committed gym-goers remember to set up before a workout).
You can tap your Apple Watch on the machine at any point during your workout and it will match with all the info on the machine. This is great for those who forget to start recording a workout on the watch when they start on the treadmill – the Watch will catch up instantly when you tap it on the machine and start recording.
Apple has done an admirable job of making GymKit easy to use – you really do just have to tap the Watch on the machine to get going. The only current downside is the limited availability of compatible machines. In the UK, GymKit-enabled equipment is currently only available in Virgin Active's Mansion House club, although it is likely to be rolled out to other Virgin gyms in the near future.
However, as the tech is available on TechnoGym equipment and is expected to come soon to other major cardio machine manufacturers like Life Fitness and Matrix Fitness, you'd imagine GymKit will be available in most commercial gyms soon.
Sign up for workout ideas, training advice, reviews of the latest gear and more.