Fitbit Premium Aims To Coach You To A Healthier Lifestyle
The company's new subscription service will help you make changes that matter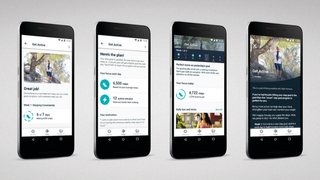 (Image credit: Unknown)
While Fitbit is responsible for some of the most popular fitness trackers in the world, its success based is as much on the software as on the hardware, building an app that takes the data from the sensors and turns it something useful – whether that's setting up friendly step competitions to motivate you to be more active, or more insightful sleep tracking. Last week, Fitbit announced a new paid-for service – Fitbit Premium – that promises to deliver more personalised advice to enable you to make an even more significant difference to your health and fitness.
At launch, it will contain thousands of video and audio workouts, a series of coached programmes that target all aspects of health and fitness, and in-depth sleep analysis. In the future Fitbit plans to add challenges and games that allow you to collaborate with a friend or compete against them – whatever motivates you most to get moving.
The coached programmes look particularly interesting to us, because they go beyond standard options like running or gym training plans (readily available for free on the web) to focus on specific things you can do to become healthier, like reduce your sugar or salt intake or create habits that will lead to better sleep. That said, there is also a beginner running programme, so you're covered on that front too; the advantage of this is that it'll integrate with Fitbit's smart devices – the Versa range and Ionic.
Fitbit has also partnered with other companies to offer sessions from them within Fitbit Premium. These include mindfulness sessions with Headspace, workouts from Daily Burn and yoga from Yoga Studio by Gaiam.
See related
The in-depth sleep analysis in Fitbit Premium is accompanied by guided programmes that should help you to sleep better. At the launch of the Fitbit Versa 2 the company announced several new sleep features, including Sleep Score, which is a rating of your night's rest based on duration, time spent in deep and REM sleep, and how restorative your sleep was. There's also Smart Wake, a new alarm function that wakes you when you're not in deep sleep so you feel refreshed rather than groggy.
These will be available to any Fitbit user with a compatible device, but Fitbit Premium subscribers will get more analysis of their Sleep Score, plus audio relaxation tools to help you fall asleep and correlated insights into your sleep. So, for example, Fitbit might flag up that when you take an above-average number of steps in a day, your sleep improves in a certain way.
The service will exist within the Fitbit app and costs £7.99 a month or £79.99 a year, though all Fitbit users will get a seven-day free trial. And if you buy the special edition of the new Versa 2 you also get a 90-day trial of Fitbit Premium.
Sign up for workout ideas, training advice, reviews of the latest gear and more.