How To Build Confidence Lifting Weights If You Can't Afford A PT
New Learn To Lift weightlifting classes are coming to all PureGym locations to help people get more confident with free weights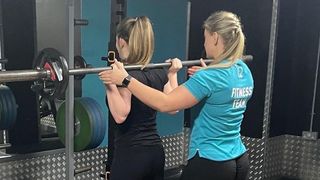 (Image credit: PureGym)
When you're new to the gym, the weights room can be a daunting place, and many people avoid using free weights entirely in favour of cardio and weights machines that seem easier to get to grips with as a beginner. There's nothing wrong with using those pieces of equipment for your gym workouts, of course, but there are extra benefits that come with mastering free weights.
Signing up with a PT and getting expert one-on-one tuition is a surefire way to learn the correct technique for the big lifts with the big benefits – we're talking about the deadlift, back squat and bench press – but PTs do not come cheap.
A more affordable option is the new Learn To Lift classes at PureGym, one of the more affordable gym chains in the UK and one which doesn't tie you in to multi-month contracts.
The classes launched as a pilot scheme earlier this year and were aimed exclusively at women, but have now become a permanent fixture on the schedule of every PureGym across the country and are open to all members.
Designed to help beginners get comfortable with free weights, the classes will teach people the technique for fundamental barbell exercises like the deadlift, back squat and bench press. The content of the classes will change each month to help members continue to learn about weightlifting.
Even if you are pretty confident in the gym, the classes should be a great opportunity to brush up on your technique and achieve the perfect form that helps you avoid injury. You'll also be able to learn more advanced variations of these lifts through the programme to add to your own barbell workouts in the future.
"The confidence and success of each of our members in their own fitness journeys is the most important thing to us," said PureGym's Stephen Rowe. "We want every individual to feel comfortable from the moment they enter our gyms, and feel happy with how their workout went when they leave."
It's a great idea and we hope to see other gym chains follow suit, but if you're a member of another gym then ask around to see if one of your friends is a PureGym member and can spare you one of their monthly guest passes. Or you can get started with these gym workouts for beginners, or use this weights machine workout if you want to lift heavy but aren't sure about grabbing the free weights yet.
Sign up for workout ideas, training advice, reviews of the latest gear and more.