How Long Can You Run At Eliud Kipchoge's World Record Marathon Pace?
Unless you're an elite athlete, the answer is likely to be not long at all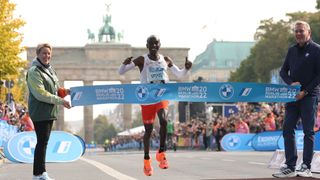 (Image credit: Alexander Hassenstein / Getty Images)
Eliud Kipchoge is running the 127th Boston Marathon on Monday 17th April and will be attempting to win his fifth World Marathon Major and set a new course record—breaking the current mark of 2hr 3min 2sec set by Kenyan Geoffrey Mutai in 2011.
Kipchoge set the overall world marathon record last year in Berlin, where he ran 2hr 1min 9sec. He can't break that official record in Boston, which is not a world record-eligible course because it is a point-to-point race. Records can only be set on courses where the start is near to the finish.
For the world record In Berlin, Kipchoge ran at an astonishing average pace of 4min 37sec/mile (2min 52sec/km). That's 21mph, a speed most treadmills don't go up to.
Prior to the marathon in Boston, the watch brand Coros, which sponsors Kipchoge, is staging a challenge to show how fast Kipchoge ran in Berlin. The challenge is a simple one: Can you run at Kipchoge's world record pace? If so, for how long?
If you're using a Coros watch (or a Decathlon Kiprun watch that uses the Coros platform), you have the chance to earn badges if you can hit Kipchoge's pace. Coros lists this as 4min 36sec/mile. There's a badge just for hitting it at all, another one for running 200m at that pace, and one for 400m.
To put Kipchoge's speed into context, I also ran the Berlin Marathon in 2022 where I set my PR of 2hr 28min 34sec and finished 125th. I'm nothing like an elite runner, but as amateurs go I'm good. I can only run one mile at Kipchoge's marathon pace—it's exactly my one-mile PR in fact, which I ran indoors in spikes.
If you want to try the Coros challenge, it is open until Monday 24th April. I picked up two of the Coros badges in my track session this week before I knew exactly what the challenge involved, and will try to nab the third with a speedy 400m next week. With the Boston and London marathons imminent, it's a great way to showcase how ridiculously quick the best marathon runners in the world are.
Sign up for workout ideas, training advice, reviews of the latest gear and more.