I've Run The London Marathon Five Times And This Is My Top Tip For The Race
It's easy to get carried away in the first half of the London Marathon, as I've discovered to my cost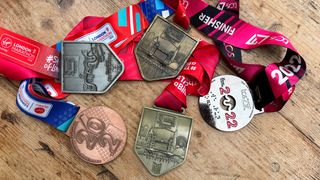 (Image credit: Nick Harris-Fry / Future)
I've run five of the past six London Marathons, only missing the 2020 virtual event during the COVID-19 pandemic. In those races I've run two marathon PRs, had two major blow-ups, run in all conditions including the freakishly hot 2018 event, and generally had a great time.
I've picked up lots of London Marathon tips along the way, and it's certainly wise to get acquainted with the London Marathon route ahead of time and join the line for the toilets the moment you arrive at the starting area. However, if there's one piece of advice I'd give to anyone running, it's not to get carried away after the big downhill in the first half of the race.
For the most part the London Marathon route is flat, though a couple of small uphills in the second half can feel like mountains. Between miles two and four, however, there is a significant downhill section where you drop around 131ft/40m.
This is obviously good news for the most part. You're fresh because it's near the start of the race and can fly down this hill way ahead of your target pace without it feeling like any effort at all. It's free speed, essentially.
Once you hit the bottom of the hill and the course flattens out again, it's absolutely essential to slow down again to your planned race pace. It's all too easy to get carried away after storming down the hill and run too fast for the next few miles, especially since the crowds will be roaring you on and you'll want to keep pace with the same group of runners you ran down the hill with, who probably aren't slowing down.
This can result in running too fast all the way to Tower Bridge, with the crowd at the Cutty Sark giving you another big adrenaline boost at six miles. If you do this, you'll suddenly hit the halfway mark of the race realizing that you've gone way too quick, and irrecoverable damage might already be done.
I've done this twice, and the second half of the race has been a real struggle as a result. All the pace you might pick up from the early downhill means nothing when you end up walking in the second half and your hopes of a PR go up in smoke.
Running any marathon well involves a lot of discipline. You need to stick to a sensible pace in the first half of the race, and ideally then speed up to run a negative split. The London Marathon takes more discipline than most thanks to that early downhill, so watch your pace carefully once you hit the flat again.
Sign up for workout ideas, training advice, reviews of the latest gear and more.