Six Valuable Lessons I Learned From Working With A Running Coach
The best decision I ever made as a runner was to start working with a coach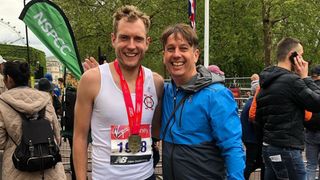 (Image credit: Nick Harris-Fry)
Just over five years ago I started working with running coach Andy Hobdell. This was my first taste of individual run coaching and my first time working with a long-distance coach. Pretty much each and every week since then Andy has texted me a plan and I've followed it religiously.
In that time I've become a lot quicker. Marathons are my main distance, and my marathon PR has gone from 2hr 53min to 2hr 28min, and I've also knocked minutes off my previous best times for every other standard distance as well.
There's no doubt that Andy, who has coached elite runners such as Olympian Andy Baddeley, knows how to train people to run faster. I could have guessed that within a week of working with him. It's all the other stuff I've learned about running along the way that makes it really interesting, and covers the main reasons why I think it's worth getting a coach.
Here are six of the biggest lessons I've learned from working with a running coach, plus how to find your ideal training partner.
1. Some Of The Most Important Runs Are The Ones You Don't Do
I've lost count of the number of times Andy has stepped in when I've had a little niggle, or been a bit ill, or just generally tired, and told me to skip a run or two. This is not groundbreaking stuff, but something a lot of diehard long-distance runners like me struggle with.
Having a coach takes the decision out of your hands and gives it to someone smarter than you. I've never lost fitness through these short breaks, and I've *touches all the wood* never had a long lay-off with injury while working with Andy. A lot of that is down to luck, but some of it is thanks to skipping runs when it was the smart thing to do.
2. A Coach Is Even More Important When You're Busy
In the time I've worked with Andy I've had two kids, and as you might expect my training week now looks very different from when I started with him. Throughout this time, though, I've continued to get fitter and faster because a coach can reshape your training to suit your situation. Andy has taught me how to maximize my fitness without compromising on the areas of my life that matter even more than running, and it has paid off.
3. Accountability Works
I was highly motivated and exercised regularly before working with Andy but even so, having a coach that sets you a plan that you have paid for and committed to means that you are more likely to do those runs, and hit your targets. It also makes you accountable in a way that stops you doing more running than the plan requires, or pushing too hard, which is equally important.
4. A Coach Stops You Doing Silly Things
There's a lot of information out there about running, including a lot of ways that you can improve. I've had my head turned by a few of these and might have embarked on a number of silly ventures—such as suddenly making a wholesale change to my running form for no good reason—if Andy were not there to gently dissuade me.
5. Consistency Is Key
This is a cliché, but that doesn't stop it being true. To get quicker you need to bank training miles week in, week out, building up to a few select races each year. And if you want to stick with running, you make sure you're enjoying the process as much as the results. A coach helps you do all of the above.
The biggest improvements I made as a runner came throughout the period of COVID-19 lockdowns in the UK. I had no races to look forward to but was still loving running every day thanks to my plan from Andy. Once races did return I ran my first sub-2hr 30min marathon off the back of the fitness I'd built up from many months of consistent training.
6. You Can Run Faster Than You Think You Can
Andy has set me ambitious targets from the off and early on I doubted them. Right up until he predicted the time I'd run in a mile race to the second, when I thought I'd be at least five seconds slower (that's a long time in a mile race).
I didn't think I could run a sub-2hr 30min marathon before I worked with Andy. I was aiming for a sub-17min 5K when I first started within him, and have now run 15min 30sec. When he sets me targets, I now know I can commit to the distance and trust that it's an achievable goal.
I believe that, with the help of a running coach, most runners can run faster times than they realize they are capable of. That is, if they want to, of course. The times come from enjoying the training, and I acknowledge that not everyone loves running as much as I do!
How To Choose A Running Coach
There are qualifications to look out for when picking a running coach. In the USA the Road Runners Club of America has level 1 and 2 certifications that indicate someone is well prepared to coach road runners, and there are qualifications from other bodies like USA Track and Field as well. In the UK look for the Coach in Running Fitness (CiRF) qualification and/or a UK Athletics (UKA) license.
The qualifications are useful indicators that someone is trained to coach safely, but they don't always say a huge amount about a coach beyond that. Testimonials from other clients will give insight into the coach's approach and whether it will work for you, and it's always worth having a chat with a coach before you start to see if you're likely to get on.
Sign up for workout ideas, training advice, reviews of the latest gear and more.