The Best Low-Impact Workouts Combine HIIT With Pilates – Like This One
Draw on these two disciplines to boost core strength and cardiovascular conditioning in double-quick time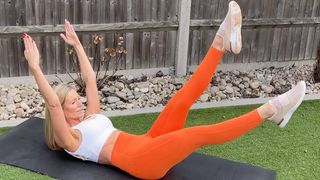 (Image credit: Korin Nolan)
High-intensity interval training involves bouts of fast-paced, full-throttle effort designed to to improve your cardiovascular fitness by keeping your heart rate elevated. Pilates, meanwhile, revolves around slow and controlled moves that target and strengthen deep, stabilising muscles.
You'd be forgiven for thinking these two long-established training protocols couldn't be further apart. However, when combined effectively, HIIT and Pilates can deliver the best of both worlds: double the strength and conditioning in half the time.
"HIIT Pilates is one of my favourite ways to train," says Korin Nolan, Pilates expert and co-founder of Dynamic Pilates TV, who devised this bodyweight circuit. "It's quick, usually taking no longer than half an hour, which is perfect for anyone on a tight schedule."
The Workout
This workout is made up of four pairs of complementary exercises, combining low-intensity, Pilates-based moves with high-intensity, low-impact HIIT-style bouts of effort.
Perform exercises A and B back to back, then move on to the next pair of moves. Complete the circuit, then repeat it. As your fitness improves, you can repeat each pair of moves more than once or the full circuit more than twice to keep progressing.
"Whichever way you approach this circuit, the emphasis should always be on quality movement over quantity to stay true to the principles of Pilates – control, alignment, breath and core connection," Nolan adds.
Reps 16-20
From standing, step one leg back into a reverse lunge, lowering until your back knee is just off the floor. As you return to standing, kick that leg through in front of you, then return it to the start position. Switch legs and repeat. Keep your torso upright and core strong, and use your arms to help maintain balance.
1B Leg flutters
Time 20-45sec
Lie on your back with your chin tucked into your chest and arms reaching up past your ears. Engage your core and press your lower back into the floor, and raise your legs until they are around 20-30cm off the floor, then flutter your legs up and down using small movements. The closer your legs are to the floor, the greater the challenge to your core. Keep inhaling and exhaling throughout.
2A Side skip tap
Reps 16-20
From standing, take four side steps to one side, then bend down to tap the floor with one hand before rising to stand. That's one rep. Repeat in the other direction, staying light on your feet and keeping the tempo high. Keep your core switched on throughout.
Reps 8-12
Sit on the floor with your legs extended and hands on the floor behind you. Inhale to prepare, then as you exhale lift your hips up, pressing down into your heels and engaging your glutes to rise into a reverse plank. Pause for two seconds, then lower your bum back to the floor and draw your knees towards your chest with your shins parallel to the floor to find a V-sit balance for two seconds. That's one rep.
Reps 16-20
From standing, bend down and place your hands on the floor, then step or jump your feet back into a high plank, engaging your core. Rotate your torso and raise one hand towards the ceiling. Return to the high plank, then repeat on the other side. Step or jump your feet back either side of your hands and stand back up.
3B Half side plank with hip rotation to extension
Reps 8-12 each side
Start in a half side plank, resting your weight on one forearm and knee, with your knees one on top of the other and your hips lifted. Place your top hand behind your head to open your chest. Inwardly rotate your hip to tap the floor in front of you with your top knee. Rotate your hip the other way to raise your top knee in the air, then extend your leg. For a greater challenge, perform this in a side plank position with your knees raised off the floor throughout.
4A High plank with side sweep tap to downward dog
Reps 8-12
Start in a high plank, drawing your shoulders down to lengthen your spine. Engage your core, thighs and glutes. Inhale to prepare and as you exhale, sweep one leg out in a wide arc to the side along the floor. Return it to the start and repeat with the other leg. Raise your hips to move into a downward dog pose with your back flat, then return to the high plank.
4B Plié squat to rise
Reps 16-20
A variation on the classic ballet move. Stand with your feet wide, toes pointing out. As you squat down, lower your hands to lightly tap the floor and then stand back up, reaching your hands to the ceiling. You can pop up onto the balls of your feet to make it more dynamic or keep your feet flat. Make sure to engage your core as you squat down, keeping your back flat and shoulders higher than your hips to challenge your range of motion.
---
Try These Workouts Next
Sign up for workout ideas, training advice, reviews of the latest gear and more.
Sam Rider is an experienced freelance journalist, specialising in health, fitness and wellness. For over a decade he's reported on Olympic Games, CrossFit Games and World Cups, and quizzed luminaries of elite sport, nutrition and strength and conditioning. Sam is also a REPS level 3 qualified personal trainer, online coach and founder of Your Daily Fix. Sam is also Coach's designated reviewer of massage guns and fitness mirrors.