The Best Skipping Ropes For Your Workouts
Pick up a skipping rope for a high-intensity but low-impact cardio workout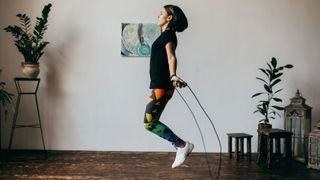 (Image credit: PR)
Adding a skipping rope to your home workout arsenal is a savvy move that pretty much any fitness enthusiast should make. It's easy to underestimate how comprehensive a workout you can get from skipping. Jumping on the spot while swinging the rope works muscles in both the upper and lower body while also getting your heart pumping.
It also qualifies as a low-impact workout since the idea is to land softly on the balls of your feet, which makes it a great cardio option for those who struggle with the impact of something like running or HIIT. But even if you are lucky enough to have a body that can withstand such punishment, skipping is an excellent cross-training activity.
Getting started is easy – there are plenty of good ropes available for not much money at all. Then, if you want to progress, invest in one that has ball bearings so you can practise speed skipping, or one that is more durable and suitable for skipping on rough surfaces outdoors, or a weighted model that will increase the upper-body benefits of the exercise. There are even some smart ropes that can count your reps.
Below you'll find a selection of skipping ropes to suit all users.
---
Domyos JR100 Skipping Rope
Simply looking for the cheapest rope that won't fall apart after your first swing? Look no further than this £2 job from sports retailer Decathlon, which is designed for beginners working at slower speeds. The length can be adjusted to suit your height, but it's built for indoor use only and doesn't have ball bearings in the handles so speed skipping is off the table.
---
When your skipping progresses to the point where you're nailing double-unders, you need a speed rope that can keep up with you. The Beast Rope is lightweight, durable, speedy as heck, and excellent value.
---
Enter your weight into this smart rope and it will use the jump counter and timer to estimate the amount of calories you burn during workouts more precisely. There are ball bearings in the handle to enable speed work, while its memory foam handle is comfortable to grip for longer sessions.
---
This set contains handles, two ropes and 50g and 100g weights you can insert into the handles to increase the challenge to your upper body. It all comes in a sleek case too, which is a nice bonus.
---
This is skipping taken very seriously indeed. Start by entering your vital stats and fitness goals on the Crossrope app or website, and you'll be recommended a set of ropes and handles tailored to those aims. There is a range of weighted ropes depending on whether you're looking to get fitter or build strength, and the Crossrope app is full of workouts, tutorials and challenges to help put those ropes to good use. While the free version of the app contains loads of workouts, you do have to pay for the Pro version to unlock everything.
Sign up for workout ideas, training advice, reviews of the latest gear and more.