Garmin Clipboard App For Remote Coaching Now Available Worldwide
Coaches can connect with their athletes, set workouts and track their progress with the free Garmin Clipboard app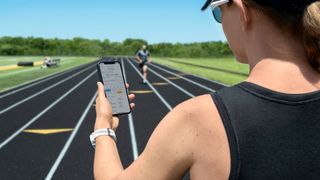 (Image credit: Garmin)
Garmin has rolled out its Clipboard coaching app across the world, having previously restricted access to the USA since its launch in 2020. The app allows coaches and athletes to connect and share detailed information about performance more easily.
The Clipboard app is free to use and available on both the App Store and Google Play. It will be a boon for athletes who work remotely with coaches, helping them receive feedback on their training, and for coaches to set them workouts to follow.
The service brings Garmin into line with other sports watch brands. Polar has offered this through its Polar Flow ecosystem for some time, and Coros provides it via Training Hub, which launched last year.
The third-party app TrainingPeaks is the most popular app for this kind of virtual coaching, and it is a more sophisticated option than Clipboard with many more metrics covered. However, TrainingPeaks is not free and the simplicity of Garmin Clipboard may appeal to runners in particular, especially because workouts will sync to compatible Garmin watches easily (though you can also set this up with TrainingPeaks, which works with a variety of platforms).
As well as being able to see all the stats from their athletes' workouts on Clipboard, coaches can also use it to view the stress and sleep tracking collected by Garmin watches (as long as the athlete gives them access to this sensitive data). This will provide some extra insight and a more holistic view of the athlete, with dodgy sleep or high stress readings potential explanations for sub-par performances in workouts.
Both coaches and athletes can leave notes about individual workouts, and athletes can also log injuries and their recovery process. You can also see the weather forecast for upcoming workouts to let you get your wind- and rain-related excuses to your coach early.
Garmin Clipboard is a platform that's primarily aimed at sports teams based at schools and colleges, but remote coaching became more popular during the COVID pandemic for obvious reasons – and Clipboard is another useful, free and relatively simple tool coaches can use to interact with their athletes.
Sign up for workout ideas, training advice, reviews of the latest gear and more.