Workout App Fiit Now Offers 44 Free Fitness Classes A Day
Just download the app and join in one of the scheduled workouts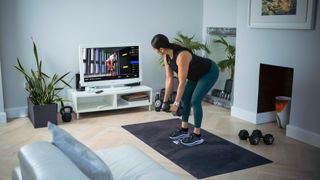 (Image credit: FIIT)
The fitness app Fiit has thrown open the doors of its virtual boutique gym, making all the group classes on its schedule free to all.
The classes available range from 10 to 60 minutes in duration and the schedule includes options suitable for people of all fitness levels. The classes cover a range of disciplines, including strength and yoga, as well as workouts designed to be done on a treadmill, exercise bike or rowing machine.
Group classes are scheduled around peak times: Monday to Friday that means four slots in the morning between 5.30am and 8am, three slots between 12.15pm and 1pm, and another four slots between 5.30pm and 8pm (all times GMT). On the weekend there's a scheduled class on the hour between 8am and 11am.
Fiit selects which workouts go on the schedule, but unlimited subscribers are able to schedule a group class for themselves and their friends and make it public for all to join, so you may find there are more than 44 workouts to choose from.
If you have a cardio machine at home, this is a fantastic way to motivate yourself to jump on it more regularly, with no limit to the amount of people who can book themselves into each class on the schedule. While it's not the same as training with other people in person, it's the next best thing, and just the idea that others are tackling the same session as you at that moment may help provide the burst of energy you need to finish a tough workout.
Fiit members with a premium subscription have access to live leaderboards during the classes as a little extra incentive to push themselves, but otherwise free users get the same excellent experience that we loved when testing the app for our review of Fiit.
Yet more motivation to train comes through Fiit's new Burn-to-earn feature, which encourages you to train each day by letting you spin for a random reward after a completed workout. If you're a free user you can win discounts to use on a Fiit subscription or in the Fiit shop, while premium members can unlock discounts from Fiit's partners or charity discounts.
A full Fiit membership (opens in new tab) costs $20/£20 a month, or $120/£120 for 12 months, and opens up every on-demand class in the app, plus the training plans and group classes, but there is the cheaper Only Plans membership, which costs $7.99/£7.99 a month and gives access to the on-demand training plans.
Sign up for workout ideas, training advice, the latest gear and more.