Casio's New G-Shock Sports Watch Gets Polar's Training And Sleep Analysis In Major Upgrade
Polar's tried-and-tested insights should make the the G-Squad GBD-H2000 Casio's best sports watch yet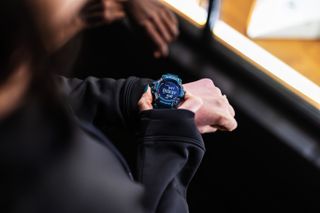 (Image credit: Casio)
It's fair to say we weren't impressed with Casio's first sports watch. Our review of the G-Squad GBD-H1000 found it was uncomfortable to wear, tracked nothing but running and was far from user-friendly.
Fortunately, Casio has overhauled the watch, adding more sports tracking to the new G-Squad GBD-H2000 and integrating excellent training and sleep analysis software from Polar, the company whose wearables include some of the best running watches going.
The G-Squad GBD-H2000 is slimmer and lighter than the GBD-H1000 while still retaining the distinctive look of a G-Shock watch. While the sleeker design is welcome, what we're most excited about is the upgraded sports tracking. The new watch tracks swimming, cycling and gym workouts as well as running, and offers useful insights into your training through the integration of Polar features.
These include cardio load and cardio status, so you can see if your training load is balanced and making you fitter, as well as Polar's Night Recharge feature, which tells you how well recovered you are in the morning so you can adjust the intensity of your training accordingly.
Other Polar features on the watch include Running Index, which is a VO2 max estimate based on your running fitness, and Fuelwise analysis that shows whether you mainly used fat or carbs as fuel during your workouts.
It remains to be seen if these new features will make the Casio G-Shock GBD-H2000 a match for the best sports watches from Garmin, Coros and Polar itself, but appropriate hardware specs are all present and correct. The GBD-H2000 is rugged and waterproof to 200m and has the key sensors needed, including an altimeter.
One thing that might have been sacrificed to make these improvements is battery life, since Polar's analysis features can be power-hungry judging by the relatively short battery lives of its own watches. The GBD-H2000 is also a smaller watch with a slimmer battery than the GBD-H1000, which impressed us with its longevity during our testing.
Casio says the GBD-H2000 will last around two months in watch mode, or 14 hours of sports tracking using the most accurate GPS setting. You can also extend the sports tracking to 19 hours with less accurate GPS tracking, and in power-saving mode the GBD-H2000 will essentially last forever in watch mode, especially in sunny environments because it has solar panels on the face.
We'll be testing the battery life and everything else on the watch as soon as we get our hands on it, but on paper the Casio G-Shock GBD-H2000 looks like a major upgrade on the GBD-H1000. The watch will be available from 10th March and costs £379 in the UK.
Sign up for workout ideas, training advice, reviews of the latest gear and more.