Garmin Epix 2 Vs Apple Watch Ultra
The best fitness smartwatch and our favourite sports watch go head to head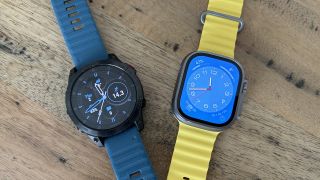 (Image credit: Nick Harris-Fry / Future)
The Apple Watch Ultra and Garmin Epix 2 excel in different areas, but are among the best sports watches, and if you're after the very best in your hunt for a new wearable they should be near the top of your list.
There are trade-offs to be made with both, and the final choice may come down to whether you want one of the best smartwatches, or one of the best running watches.
The Apple Watch Ultra is the best smartwatch available and a terrific sports tracker, with access to the incredible App Store filling in any gaps in the watch's native features.
For
Attractive design
App Store is excellent
Best smartwatch
Against
Short battery life
Native sports tracking not as good
Basic native navigation
No training analysis
The Epix 2 offers all of Garmin's exceptional sports tracking and navigation features in a device with a bright AMOLED display, making it more attractive than other sports watches.
For
Excellent sports tracking
Best navigation tools
Detailed training analysis
Against
Limited smart features
Not as much customisation
Garmin Epix 2 vs Apple Watch Ultra: Price And Availability
The Garmin Epix 2 launched in January 2022 and costs $899.99 in the US and £749.99 in the UK for the standard watch and $999.99/£899.99 for the sapphire models. In the UK you can also spend £999.99 on a sapphire watch with an extra band made of leather. The Apple Watch Ultra came out in September 2022 and costs $799/£849.
How I Tested These Watches
I've been wearing one or both of the Epix 2 and Apple Watch Ultra since the Epix came out in January 2022. I am a keen runner and wore both watches for three marathons last year in Berlin, London and Valencia, and also tested them throughout training, running 70-110km a week, as well as doing other sports.
Design
The Apple Watch Ultra has a 49mm silver titanium case around a sapphire crystal screen. The 410 x 502 pixel Retina OLED display is Apple's brightest yet at 2,000 nits. The Epix 2's 416 x 416 pixel AMOLED screen is bright, but not as impressive as the Apple Watch's display.
There is only one case option in the Apple Watch Ultra range, whereas there is more choice with the Epix, which has a 47mm case. The base model has a steel bezel and back cover and a gorilla glass screen, while the more expensive models have titanium bezels and cases and a sapphire crystal screen. You can get black or silver bezel colours.
One key difference between the base and sapphire Epix watches is that only the sapphire models offer multi-band GPS tracking – the steel watch has only all-systems-on tracking. The Apple Watch Ultra also has multi-band GPS.
The Epix has five buttons, while the Apple Watch Ultra has three, one of which is a rotating dial. The extra Action button distinguishes the Ultra from the standard Apple Watch, and can be used as a lap button in workouts.
You can use the Apple Watch Ultra to dive to depths of 40m, and it is water-resistant to 100m. The Epix 2 has a 10ATM rating which means it's waterproof to depths of 100m.
Both watches have an array of sensors on board, including a heart rate monitor, pulse oximeter, altimeter, barometer and compass, but the Ultra stands out by offering ECG readings as well as measuring your skin temperature at night.
Sports Tracking
Sports tracking is simple with the Garmin Epix 2 because the native tracking is as good as it gets. All the sports you can shake a stick at are tracked in great detail and you can pair any extra sensors you like, such as cycling power meters and running footpods, via Bluetooth and ANT+.
Things can get more complicated with the Apple Watch Ultra, but they don't have to be since the improvements made to the Workout app with the release of watchOS 9 mean that the native tracking is now very good. You can customise several data screens, and most stats are now available on the watch, including running power measured from the wrist.
You can pair only external heart rate monitors to the native app though, and only via Bluetooth. Cyclists and triathletes that use power and cadence meters will have to use third-party apps, and then can't use the native triathlon mode on the watch.
The App Store is laden with terrific sports tracking apps in general, which makes up for any shortcomings with the native tracking on the Apple Watch Ultra. WorkOutDoors is a particularly good app with lots of stats and customisation, as well as colour maps you can use for navigation.
Training Analysis
One area where the Epix 2 is streets ahead of the Apple Watch Ultra is training analysis, especially because there aren't third-party apps to make up the difference in the App Store.
The Epix 2 will analyse your recent training load to see if it's balanced, suggest daily workouts and even rate your training readiness each day based on your activity, sleep, heart rate variability and other factors. The Apple Watch Ultra doesn't try to compete in this area – it's just designed to track your sports.
GPS And HR Accuracy
The Apple Watch Ultra and Garmin Epix 2 are the two most accurate watches available for GPS tracking. The dual-band GPS is key to this, so if you're looking at the Epix 2, only the sapphire models have this.
Of the two watches the Epix 2 has proved more accurate for me most of the time, but because the Apple Watch Ultra also uses the watch's pedometer to calculate distance this can make it more accurate in situations where GPS struggles, such as under tree cover or tall buildings.
However, I find that this use of the pedometer sometimes results in less accurate distance readings than the GPS alone on the Apple Watch Ultra when using it in good conditions for GPS. That will differ from runner to runner though, because I think the pedometer may struggle with tracking the way my shuffling gait changes when running faster.
In the three marathons I've done with the watches, the Epix 2 provided more consistent pace and distance readings compared with the official 1km markers in Berlin and Valencia, but the Apple Watch Ultra was better in London – it was less inaccurate among the tall buildings around Canary Wharf.
On heart rate, I'd say the Apple Watch Ultra is better for accuracy, but both watches are regularly inaccurate for me, and I prefer to pair them with a chest strap to get better heart rate data during my workouts.
Activity And Sleep Tracking
Apple's daily activity rings are an engaging way to keep you moving each day and are more of a feature on the watch than activity tracking is on the Epix. The Garmin tracks all the same stats, but although you will be notified when you hit your goals, activity tracking is not the focus – that's sports.
The Epix 2 offers more detailed sleep tracking than the Apple Watch Ultra and feeds that data into your training readiness score. The Ultra will give a basic breakdown of your sleep, but you have to use native apps to get similar insights to those you get from Garmin natively.
Maps And Navigation
Garmin's native navigation tools are as good as it gets on a watch, with full colour maps and useful features like ClimbPro, which analyses the climbs and descents on your course. You can create routes on the Epix 2, use it to navigate back to the start of your activity, and get turn-by-turn directions when you are navigating.
The Apple Watch Ultra has new native navigation features that can help you retrace your steps or find waypoints, but these are in the Compass app, and aren't available easily during workouts. This is an area I suspect will be improved in Apple's next round of software and hardware updates, but for now you need to use third-party apps to navigate easily with the watch. WorkOutDoors and Footpath are two great workout apps where you can follow routes on a map during your activities.
Battery Life
This is another clear win for the Garmin Epix 2, which lasts me four to five days on a charge even with the always-on screen activated and when running 100km+ a week. The Apple Watch Ultra is the longest-lasting Apple Watch yet, but still needs charging every two days.
The Ultra offers 12 hours of GPS battery life, while the Epix provides 15 hours of dual-band tracking with the always-on screen on. Both have low-power modes that can extend battery life while reducing accuracy: the Epix offers 75 hours of tracking in max battery mode, and the Apple Watch Ultra 15 hours in low-power workout mode.
Smartwatch Features
The Epix 2 has the best smart features Garmin offers, including music storage, NFC payments and notifications. It also has access to the Connect IQ app store, but that mostly contains new watch faces and data fields.
There's no doubt the Apple Watch Ultra offers more as a smartwatch, with much better NFC payments through Apple Pay (Santander is the only high street bank that supports Garmin Pay in the UK), and the App Store, which has the biggest and best variety of apps available for any watch.
Sign up for workout ideas, training advice, reviews of the latest gear and more.