Here's What Apple Needs To Learn From Garmin's Map Features
Topographical maps are coming to the Apple Watch. That's promising news, but there's a lot Apple needs to do to match Garmin's navigation features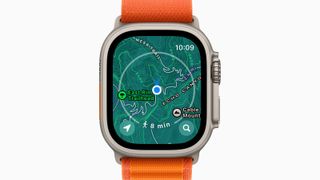 (Image credit: Apple)
Apple introduced watchOS 10 at the 2023 Worldwide Developers' Conference (WWDC) before its release in September, and there were several important updates for people who use the Apple Watch to track running and cycling. Those included the ability to link up with cycling power meters and to import workouts from third-party platforms like TrainingPeaks, as well as the arrival of topographical maps.
When the Apple Watch Ultra came out last year with the aim of rivaling the best sports watches, one of its shortcomings was that it did not allow you to navigate using maps, especially during activities. The introduction of topographical maps in watchOS 10 suggests Apple has understood that this is a problem, and that maps and routing are likely to feature on the next generation of the watch.
For now, however, details on the new maps are scarce. Apple has shown pictures of maps, but there's no mention of being able to plot a route or follow turn-by-turn directions. It also seems as if offline maps will be accessed via your phone, rather than stored on the watch itself.
More details will come when the next generation of the Apple Watch is launched in September, but if Apple is truly hoping to rival the navigation tools in high-end sports watches, it needs to take lessons from Garmin, which has been the market leader in this area for years. If Apple can get maps and navigation right, that will challenge one of the big reasons people stick with Garmin. But it's not going to be easy.
What Makes Garmin's Navigation Features So Good
Garmin has been offering maps for a long time and its features are fine-tuned. Garmin's watches with maps store the maps locally on the watch so you don't need your phone with you to use them. You also get turn-by-turn directions for routes, which can be created in the Garmin Connect app or website or imported from other route creators.
The maps are also visible during activities as part of your data screens, so you can switch between your route and your workout stats with one button press. One concern I have about Apple's forthcoming offering is that you'll have to leave the Workout app to view them.
You can also create routes on Garmin watches, whether that's a suggested loop (handy when you're in an unfamiliar location) or a back-to-start feature, which guides you home after you've gone off-piste.
Garmin also shows how popular paths and roads are with runners and cyclists in its route creator. The watches also use this popularity data when creating their own routes for you.
The more advanced navigation features on Garmin watches include Next Fork, which automatically identifies the next turn available on your trail and says how far it is, even if you don't have a route loaded, and Up Ahead, which allows you to plot certain key points on your route like aid stations, so you can see the distance to each.
However, the stand-out feature I love most on Garmin watches is ClimbPro. When you load a route on a Garmin watch it breaks out the individual climbs and descents so you can see how long and hard each is. This information is available in your workout data screens so you can see what's coming up, and manage your effort during a climb so you don't overcook it five minutes into a three-mile ascent.
Existing Navigation Apps On The Apple Watch
While waiting to see what Apple will do with its native maps, there are excellent third-party apps that offer navigation on the watch. Footpath has maps with routes and turn-by-turn directions you can see alongside your workout stats, and it also shows the elevation profile of your route.
Another great app is WorkOutDoors, which offers a variety of map styles and routes that are overlaid on the maps, though there aren't turn-by-turn directions for the routes (beyond alerts when you stray too far from the route).
Sign up for workout ideas, training advice, reviews of the latest gear and more.