My Big Hope For The New Polar Ignite 3 Titanium
The Polar Ignite 3 Titanium introduces new features like skin temperature tracking, but my biggest hope is that the GPS performance improves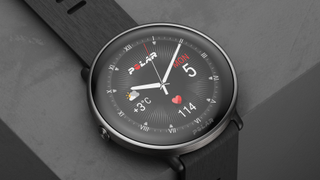 (Image credit: Polar)
When I tested the Polar Ignite 3, I concluded it was very close to being one of the best sports watches. It looked great, with a slim design and bright AMOLED screen, and was packed with Polar's best features for sports, activity and sleep tracking.
Unfortunately, a few performance problems kept cropping up and undermining my enjoyment of it, and chief among these was the watch's poor GPS accuracy.
Given that it was the first watch from Polar to offer dual-band GPS tracking, which should result in an improvement in accuracy (it does with dual-band watches from Garmin and Apple in particular), this was very disappointing.
So my big hope for the new Polar Ignite 3 Titanium is that the new design of the watch somehow improves its GPS performance. I'm not claiming to have any idea of how that might work, but GPS is a fickle thing, and factors like a watch's materials and antennae design play a part in how well it works. So there's a chance Polar has managed to improve the accuracy of the titanium model.
If not, then there are at least some other new upgrades to enjoy on the watch, not least the titanium bezel which improves both its look and its durability. Polar has also introduced two new features with the Ignite 3 Titanium: skin temperature measurements and a work-rest guide for interval workouts.
These new features will also be available on the Ignite 3 via a software update, and the skin temperature measurement is a particularly useful upgrade. Each night the watch will measure your skin temperature and compare it with your baseline from the last 28 days—unexpected rises in particular can be a sign of illness.
Skin temperature is often used with women's health tracking features on watches. Polar doesn't yet offer these features, but it says women can use the nightly readings to help inform which stage of their cycle they're at. I would guess that Polar is likely to start offering women's health features soon, though, to make the most of the new skin temperature-sensing feature.
The other big new feature is the Work-Rest Guide, which advises you on how long to rest between sets during workouts to get the best results from it, based on your heart rate. I imagine this will start with making sure your heart rate drops enough between sets to allow for proper recovery, but it will be interesting to see if you can tailor this feature to suit your aims for the workout—making sure you don't relax too much during supersets would be useful, for example.
I will be putting the new watch to the test for a full review as soon as possible, with all my fingers crossed that the GPS performance does improve. The Polar Ignite 3 Titanium costs $369.95/£324 or $399.95/£349 for the watch with an extra bronze leather band alongside the standard black silicone one. Given it has a titanium bezel the rise in price over the Ignite 3, which costs $329.95/£289, seems fair.
Sign up for workout ideas, training advice, reviews of the latest gear and more.