The Four Things Worth Knowing About The New Apple Watches
The Apple Watch Series 9 and Apple Watch Ultra 2 are brighter, faster, carbon neutral and add a clever gesture control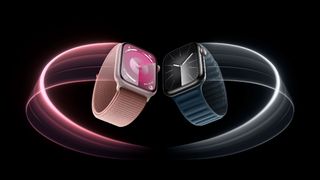 (Image credit: Apple)
Apple has unveiled the latest generations of its two best smartwatches at the annual Apple Event. The announcement of the Apple Watch Ultra 2 and Apple Watch Series 9 pointed to four notable improvements over the Apple Watch Ultra and Apple Watch Series 8, although we'll uncover more through our hands-on testing.
These hardware updates come on top of the watchOS 10 software update, which is now available following a public beta program over the summer. In particular, this brings improvements to the Apple Watch's cycling features.
The Apple Watch Series 9 and Apple Watch Ultra 2 are available to order online now and will be in stores from Friday September 22. The Apple Watch Ultra 2 costs $799 in the US and £799 in the UK, and the Apple Watch Series 9 costs from $399/£399.
Here's a rundown of what's new and notable.
1. They Are Faster
The new S9 SiP processor brings benefits that include an upgrade to the Find My Phone feature, which is now more precise in guiding you to your phone. There's also the ability for Siri to process requests locally on the watch. This means Siri responds faster on the watch and is more secure, so can be used for health and fitness queries, such as how much you slept last night.
2. They Are Brighter
The upgraded screens on both watches are 1,000 nits brighter, so the Apple Watch Ultra 2 now hits 3,000 nits at max brightness, while it's 2,000 nits with the Apple Watch Series 9. This will make them clearer to read in bright sunlight. Despite the brighter screens, the battery life remains the same: 18 hours on the Series 9 and 36 hours on the Ultra 2.
3. The Watches Can Be Controlled By Tapping Your Fingers Together
Video credit: Apple
The new Double Tap gesture control is the most intriguing day-to-day improvement. Tapping your index finger and thumb together twice will allow you to answer and end calls, and bring up your Smart Stack of apps.
The Double Tap feature activates the primary button within apps too, which left us wondering if you could use it to pause workouts or even take a lap during a run—something we'll be testing as soon as possible.
4. You Can Buy A Carbon-Neutral Apple Watch
Some iterations of the Ultra 2 and Series 9 are carbon neutral, including some of the most popular watch material and band combinations. Any aluminum Apple Watch Series 9 with a Sport Loop band is carbon neutral, as is the Apple Watch Ultra 2 when combined with the Trail or Alpine Loop.
The Apple Watch SE, which was not updated with a new model this year, is also carbon neutral when bought with a Sport Loop.
The carbon-neutral models are part of a focus on sustainability across Apple's announcements, which also included the news that it will no longer use leather in any new products, and a reaffirmation of its commitment to being carbon neutral as a company by 2030.
Sign up for workout ideas, training advice, reviews of the latest gear and more.