The Google Pixel Watch 2 Lasts A Whole Day On A Charge
Along with improvements to the battery life, the new Google Pixel Watch 2 has a more accurate heart rate sensor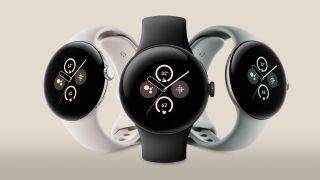 (Image credit: Google)
The Google Pixel Watch 2 has been announced and it features interesting upgrades on the Google Pixel Watch, with the one that grabbed us most being that the new watch will last 24 hours on a charge with the screen set to always-on.
To achieve that on the original Pixel Watch, you had to have the screen set to raise-to-wake, which was sub-par even compared with the Apple Watch. The Pixel Watch 2 will also last for 12 hours after a 30-minute charge.
The Pixel Watch 2 retains the lightweight, elegant and bright OLED display, but the 41mm circular case is now made from recycled aluminum instead of steel, which reduces the weight by 5g, to 31g.
Flip the watch over and you'll find a new heart rate sensor, which has more LEDs and photodiodes to create a "multipath" sensor that is more accurate than the single line of LEDs on the previous model.
Google has added new sensors to the watch, which add features from the Fitbit range. The electrodermal activity (EDA) sensor detects tiny amounts of sweat on your skin to gauge your stress levels, and the watch also has a skin temperature sensor. These add to other sensors on the watch that track heart rate variability and blood oxygen saturation.
There is a new safety check feature on the watch, where you set a certain amount of time for an activity; if you don't complete it within that time your emergency contacts will be notified and given your real-time location (after the watch checks with you to make sure you haven't just forgotten to turn the feature off).
You need a cellular version of the watch to use this feature, but don't actually need to have a cellular plan enabled—it will work through a Fitbit Premium subscription as well. The watch can now store a medical ID that people can view in an emergency.
Another new feature is that the Pixel Watch 2 can guide you through workouts, whether it's sticking to a goal pace on runs or remaining in a particular heart rate zone. This is a common feature on sports watches and a useful addition to the Pixel Watch 2. The watch can now detect seven types of workout automatically, including running and outdoor cycling, and prompt you to start a training session.
The Google Pixel Watch 2 costs $349 in the US and £349 in the UK for the standard model and $399/£399 for a cellular watch, and it comes with a six-month subscription to Fitbit Premium. There are three colors of the watch and some new bands have been introduced, including a more breathable sports band. The watch is available to order now and will ship from October 12.
Sign up for workout ideas, training advice, reviews of the latest gear and more.