The Withings U-Scan Health Tracker Lives In Your Toilet Bowl
This urine analyser has been launched at CES and it can keep your diet and hydration on point, as well as offering accurate menstrual cycle tracking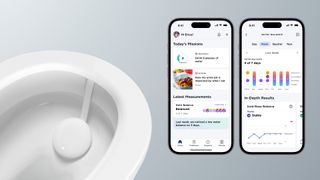 (Image credit: Withings)
Connected health company Withings has announced it will be taking its technology into hitherto unexplored realms with the launch of the U-Scan home urine analyser at CES in Las Vegas.
The Withings U-Scan is a pebble-shaped device that sits in your toilet bowl and automatically detects urine via a thermal sensor (so it can ignore other liquids), identifies who is urinating and analyses certain biomarkers. The results are sent to the Withings Health Mate app, which tells you if you are within the recommended range for these biomarkers, and then advises on action you can take to address any imbalances.
The U-Scan is expected to go on sale in Europe (including the UK) by the end of June, with a US launch expected later in the year once it is cleared by the FDA. The U-Scan uses cartridges that last for around three months before they need replacing. A U-Scan Starter Kit containing the U-Scan itself and one cartridge will cost £499.95/€499.95.
There are two different types of cartridge available at launch: one that analyses your hydration and diet, called Nutri Balance, and one that offers menstrual cycle tracking through hormone analysis, called Cycle Sync. You can use one cartridge at a time in the U-Scan and so far the two cartridges available are for consumers, with cartridges designed for medical purposes due for release following approval.
We spoke to Julius Dewavrin, product manager at Withings, for more information on what the two cartridges track and how they can help you maintain a healthy lifestyle.
What does the Nutri Balance cartridge track?
It's a way to follow your body's metabolism. Nutri Balance enables the detection of four biomarkers to monitor your hydration and nutrition. The first is specific gravity, which is a biomarker linked to your water balance level. You can see whether you have drunk enough water.
The second biomarker is urinary pH and it depends on what you eat. If you eat more acidic food or basic food you will see your urinary pH fluctuate. As a result it's a useful way to monitor the balance of your nutrition.
The third biomarker is vitamin C. It is well known that it's good to have enough vitamin C for various functions of your body, but it's also not so good if you have excessive vitamin C. Usually when you take vitamin C supplements the levels are so high that usually you have excess vitamin C in urine.
Lastly it tracks the biomarker called ketones. Our body metabolism uses sugar as fuel, but when you don't have enough sugar intake, then your body might use fat. When burning fat you go into a specific metabolism state which is ketosis. And we can detect ketones [chemicals produced by the liver when it breaks down fats] within your urine.
The overall goal is balance – to give insight to help you get your intakes to the right level.
Could people eating a low-carb diet use this to see if they are in ketosis?
It can be used for people on a keto diet. We did not build it for that purpose – we wanted to give a factual picture of your metabolism – but of course people can use those facts to adapt their metabolism as they want.
We believe that ketosis needs to be performed in specific conditions with suggestions from a nutritionist, which we don't provide. So our recommendations on ketones are based on alerting you if your metabolism is lacking sugar. But we do give a range for the ketones, so it will have an estimate of how high your ketosis level is.
What does the Cycle Scan cartridge do?
This is intended for women. It is designed to monitor their hormonal health. Women go through different phases during their cycle, and those phases influence their life in many ways. We wanted to develop the ultimate solution for cycle syncing.
Cycle syncing is being able to follow the phases of your cycle. What is unique in our solution is that it is based on hormone detection. Wider cycle tracking is usually based on manual logging. We enable the detection of hormones that allows us to infer accurate cycle tracking. We combine that with the app, where we offer symptom journaling, so you can correlate what happens during your cycle with all your symptoms, and then act to improve it.
What sort of thing could you improve?
An example would be that based on the accurate cycle precision, you can know when you are in the phase before your period. This is called the luteal phase, and it's between the ovulation phase and the period. It can be a phase with digestive issues, and you can become dehydrated more easily. It's a time where Cycle Scan will follow your water balance level, and recommend improving water intake during that specific period.
There are also certain symptoms during different phases, such as bloating, and by noticing at which time of your cycle you have bloating you can try to act on it, to adapt your schedule based on that.
Sign up for workout ideas, training advice, reviews of the latest gear and more.